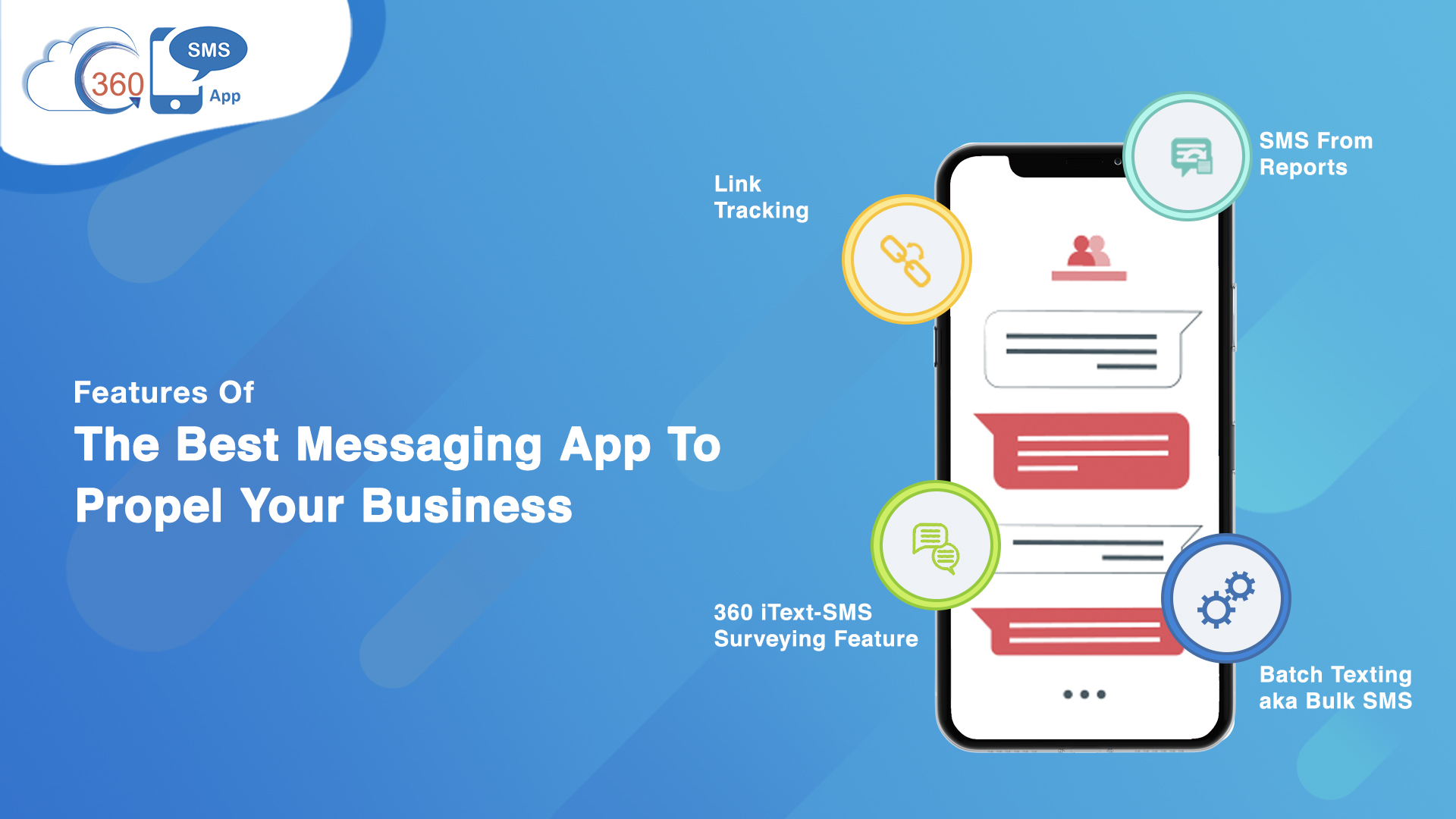 The introduction of SMSes in business operational activities has transformed the old order of customer interaction, enabling instant connectivity. Part of that is because where SMS can go where the internet just can't. SMS simply has greater 'On-person' device penetration. And industries are picking up on this too.
47% of consumers prefer native SMS for enterprise messaging compared to 34% of consumers that prefer to use native SMS for messaging family and friends.
(Source: Twilio's Messaging Consumer Report)
Contributing to texting's growth story, 360 SMS App has taken upon itself to lead from the innovation effort at the very frontier of modern enterprise texting. With that, comes the responsibility of proving itself as a robust, one-stop text messaging solution for businesses, and to a much greater extent, a truly no-code solution for customizing messaging automation. 
Here's a rundown of some key features that differentiate 360 SMS from its contemporary in the business SMS space. 
Link Tracking
Link tracking enables businesses and users to round out recipient experiences with links to supporting articles, web forms, appointment calendars, product listings, and some much more.
Equally importantly, to gauge interest levels, the feature lets administrators track the number of clicks made on a specific link, first and last clicks made, along with the date and time.
Also, to account for character limits, when you embed any link in the text through the 360 SMS App, the link automatically gets shortened so that the character limit is not exhausted. Links can also be shortened to an on-brand contraction to instill confidence and encourage recipients to click the link.
Batch Texting aka Bulk SMS
As is frequently the case, business operations encounter the need to broadcast bulk messages to users in a shorter time frame.
In a pinch like that, nothing compares to a bulk SMS capability. This is all because it cuts down on manual work and time-investment to send messages in bulk.
The 360 SMS App lets you send templated bulk SMS once, daily, or monthly in a given period. Better yet, you can take advantage of Bulk Messaging for Objects with Reports if you're sending out messages to over 2k Leads or Contacts (Report Constituents). 
SMS From Reports
This feature has revamped enterprise texting by extending SMSes' functionalities.
Usage of SMS From Reports feature is preferable if you're sending out messages to over 2k Leads/Contacts/(Report Constituents).
In ListViews, beyond a certain cap of sending SMSes, you'll need to select the records one-by-one that makes it quite tedious.
But with the help of this feature, you can send millions of messages just in one shot, through reports. 
Consequently, the feature empowers you to send numerous messages without limiting the number of texts you can send to users.
360 iText-SMS Surveying Feature
This feature brings you closer to possibly the best-known way of conducting surveys, live voting, and SMS polls with minimal response times.
A favorite at 360 SMS and all the enterprises that use it, this is the only 'no-code' text automation that lives up to its name. It's the 'fully automatic' answer to the 'semi-automatic' solutions in this space that are really much more work than they're worth. 
iText lets you experience the power of intelligent texting, enabling keyword-triggered automated conversations with the customers. 
Admins can easily configure survey questions, answers, Salesforce actions, and automated responses to assist users with instant replies if the user response contains auto-response keywords. In sharp contrast to this, all its contemporaries in this space are rigid and need custom Process Builder code written each time a survey response needs to be changed or used to trigger an action. This adds substantially to development costs, delays, opportunity loss, and dependence.
The prized feature drives down manual work and maximizes time savings.
Conclusion
The SMSes' ability to connect instantly has made it a popular choice among businesses over other mediums of interaction. As a Salesforce-native messaging solution, it brings the enormous latent potential of automated texts and smart texting to the fore.
Increasingly, industries have come to recognize the value that texting brings to business and have started counting on text messages rather than emails.
And while near perfect open rates and better responses are encouraging, there are many other compelling users to opt for SMS campaigns. More on that
here.