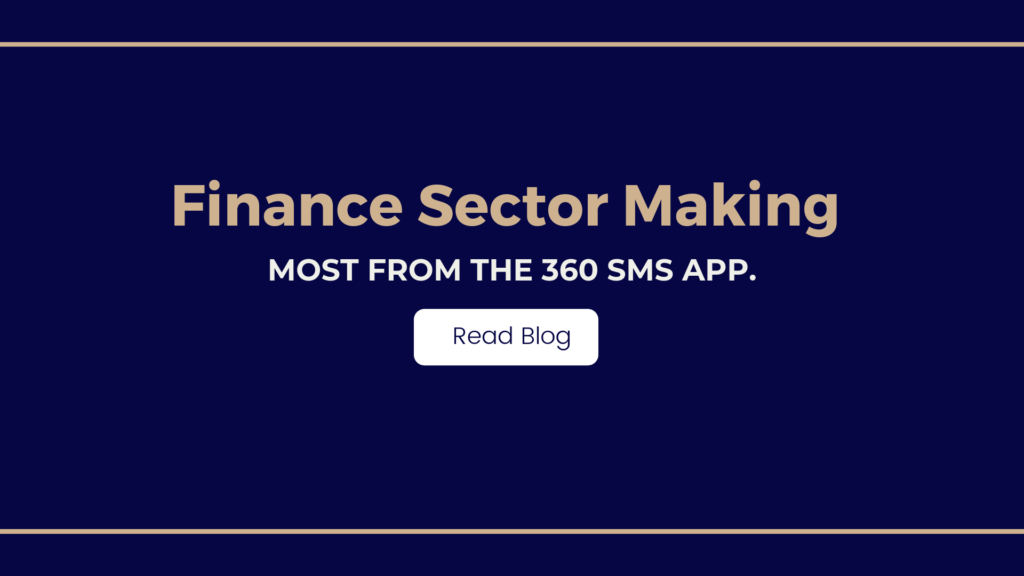 Finance Sector Making Most from the 360 SMS App
In the present era where almost everyone is bound using technology in their daily tasks, people have started looking for new methods to grab the attention of the maximum audience in one go. Text messages or texts or SMS are just the same things. These are among one of the most used communication mediums to connect with the wider audience. Texting has been creating milestones for years now. Today, you will hardly find any sector which is using this amazing medium to grow or increase their business. Major industries like Healthcare, Hospitality, Media, Finance, etc. are utilizing the power of text messages very well. This blog will make you well aware of how you can use texting for your commercial or promotional purposes apart from the personal ones. Continue reading to get some more interesting insights on this matter.
Talking specifically about the Finance sector, texting can also be utilized very well in this sector too. Undoubtedly, this is a huge sector and the people working in this sector surely need different communication mediums to complete their day-to-day activities. Imagine a person working in the 'Loan Department' of a reputed bank, and he approves a loan for some person. Now to ensure that all the required EMIs are paid on time and all the reminders are delivered to that respective person on time, calls or emails cannot be trusted upon. As now people have been so busy in their lives, they would not attend a call most of the times, they may not even read their daily emails. But if the reminders are sent to them using text messages, it would work well. As per the survey conducted in the US, 97% people have their smartphones in hand almost every time, that further leads to the conclusion that SMS has highest open rates and most of the people read them within the first few minutes only.
So, if it is the case, don't you think text messages are the best way to approach people and also to get your job done more easily. Salesforce being the most popular CRM solution available in the market provides its users with a wide range of Salesforce powered texting apps on its AppExchange platform. These apps can be easily accessed from the Salesforce users after getting their respective licenses. Wish to try out your hands on the best SMS app for Salesforce? This blog might help you in choosing the one that would completely fit your business needs and requirements. 360 SMS App, natively built on Salesforce can be your one-stop texting solution working as per your business interests. We have our team of more than 300 experts working 24*5 for customer satisfaction. Wish to give us a try? Visit https://360smsapp.com/ now and book a free demo for yourself today! Unleash the power of texting and explore the vast opportunities that you were missing until now.