Traffic Analysis by our clients
has shown that text-based conversions
have gone up by a third
since the pandemic started.
What Bulk Messaging In 360 SMS lets you do
Bulk messaging in 360 SMS lets you scale communications over any channel conveniently.
It lets businesses schedule automated bulk messages to cut back on manual work and time-investment.
360 SMS is the ONLY commercially available Salesforce Application
that lets you send Bulk SMS from Salesforce Reports
to Millions of recipients over ANY channel.
As is frequently the case, business operations encounter the need to broadcast bulk messages to users in a shorter time frame. In a pinch like that, nothing compares to a proven bulk SMS capability. It lets businesses cut back on manual work and time-investment to send messages in bulk.
With 360 SMS you can automate and send bulk, scheduled messages to any number of recipients from Listviews, Campaigns, and even Reports.
Great for large segmented lists
so you're done effortlessly in a few clicks without missing out on any contacts
Can be automated and scheduled
for greater productivity
Accounts for dark hours and peak activity
to max out engagement
Admin-friendly
and completely configurable in 'zero-code'
Can also be triggered by business logic
Process Builders, Flows, Workflows, Integrations, and Custom Apex Code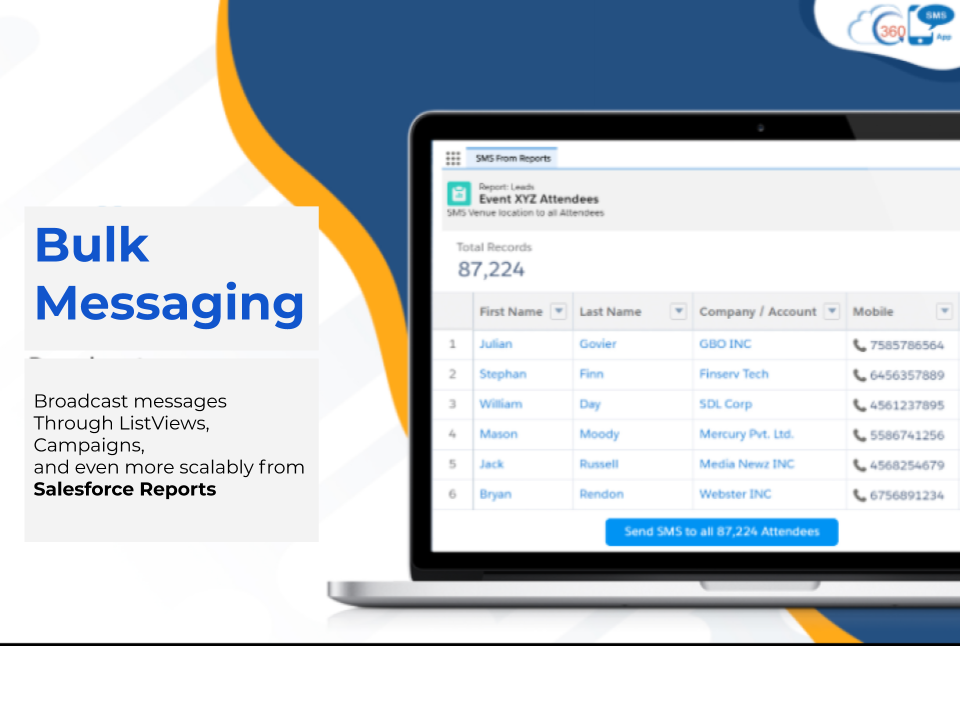 Your audience likes writing SMS and other text over the phone,
not in emails on a desktop.
Bulk Messaging in 360 SMS makes the app a highly potent, Salesforce-native capability suited to uses like public service announcements, massive campaigns, or product launches.
More recently, in 2020, large-scale public campaigns, doubled down on the use of SMS to reach out to supporters for funds and volunteering during the pandemic. It helped the campaigns replicate their 'at-the-door' approach.
These have been undeniably the best proving grounds for bulk texting activity in large volumes, with all the elements of a marketing and social-giving campaign put together. The results have been highly encouraging, with an absolute likelihood of one in ten respondents converting to a cause.
With Salesforce Reports,
you can push messages to millions,
in one fell swoop

Those familiar with ListViews would quickly remind you that beyond a threshold of 100 recipients, you'd need to select the records one-by-one – a tedious, unscalable process, at best.
Marketing teams also find Reports it far simpler compared to ListViews and Campaigns, even when selecting fewer than a hundred records.
Enter – the 360 SMS App.
It lets you send templated bulk SMS – once, daily, or monthly – in a given period.
Better yet, if you're sending out messages to over 2k Leads or Contacts or other recipients, you're going to like Bulk Messaging capabilities from reports because they don't have thresholds (governor limits).