Need a CHATBOT FOR ANOTHER CRM or INDUSTRY? No sweat, it's just drag and drop.
We give you all the tools you need to create your own texting chatbot that works on 11 channels
Communicate Productively, Always
Automate and scale 2-way interactions with point-and-click

Be where customers are
Merge and control 11 in-built communication channels from one chatbot
Move the chatting needle
Capture details and progress to trigger the next  conversation.
Get Extensible in-built tools for bespoke usage
Save millions in spend. Configure processes with point and click tools in days, not years.
Need a CHATBOT FOR ANOTHER CRM or INDUSTRY?
No sweat, it's just drag and drop.
An IDEAL SALESFORCE CHATBOT INTEGRATION – Win them on the mobile, win them over completely. 
Ditch boring forms completely and make lead qualification more interactive and engaging over mobile.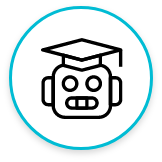 Education and Edutech Chatbot
Using a Salesforce CRM for higher education? 
Help student counselors scale student engagement and enroll more students with an admissions chatbot for your institution. 
Financial Services Chatbot
Build trustworthy relationships for financial services.
Pre-qualify customers for loans with automated chatbots, respond to them fast and reduce anxiety.
Healthcare Services Chatbot
Increase treatment adherence for treatment programs and dosages.
Communicate compliantly over Veeva or any other CRM. Get 11 channels with user defined opt ins and outs for HIPAA compliance.
Real Estate Chatbot
Respond to serious home buyers immediately and get the conversation to an open house appointment faster. 
Get all the buyer's details even before the open house to ensure success and suggest listings.
Want this for your industry? You can set this up yourself without technical knowledge.
An ideal Salesforce Chatbot Integration
Considering an Einstein Chatbot for Salesforce? 360 SMS may surprise you
Chatbot Salesforce Integration with 360 SMS is much cheaper in comparison to a Salesforce Einstein Chatbot.
It's also completely predictable and super easy to set up.
And there's no limit on the number of simultaneous customer
conversations you can automate.
Tailor complete conversation journeys on a chatbot
for your industry in minutes.
Save months and thousands of dollars on custom code.
Contact Us
No matter where you are from, we provide Global Coverage.