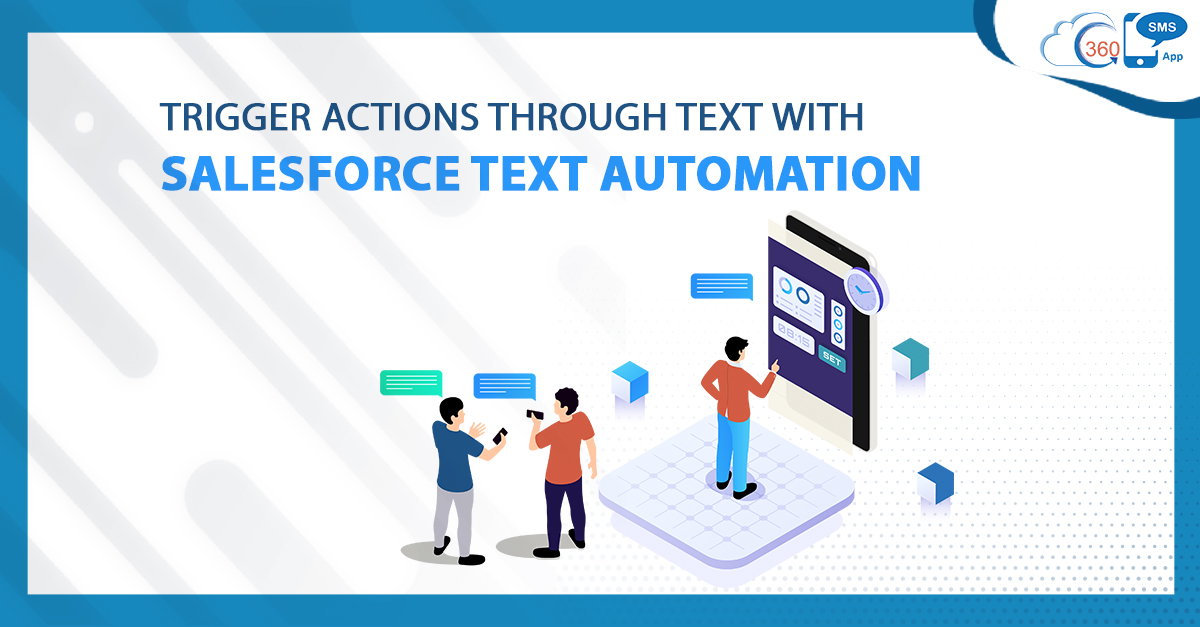 Trigger Actions through Text with Salesforce Text Automation
In a world where everything is at fingertips, organizations look forward to speedy outcome and quality results in no time. Thus, in a world of automation, dependency on manual labor is more like increasing the time- consumption, labor cost, and decreasing efficiency along with productivity.
Perhaps, this is the reason driving business ventures to head towards more automated processes rather than depending on manual labor.
Therefore, to let users avail of the power of automation, while outreaching clients with the most popular tool that is SMS, the 360 SMS app accommodates the dynamic automation needs with ease.
Salesforce tools supporting 360 SMS Text Automation 
Undoubtedly, automated processes have redefined the operational capacity of businesses making it more convenient to complete tasks in much-reduced time and improve scalability.
Usually, the time employees invest in sending and scheduling text messages, through 360 SMS extended automation capabilities, employees can automate the process and trigger messages on completion of defined actions.
Apart from this, with the help of 360 functionality, you can schedule messages to go out at the allotted time with the help of different modes.
Let's check out distinct ways supported by 360 SMS to drive an automated texting process effortlessly.
Drive Automation with Zero-code Usage Workflow
The incorporation of the power of automation in any business process can drastically change your clients' opinions towards your application from just Nice to Useful. And Workflow is one of the brilliant tools for admins supporting automation in Salesforce and allowing magic to happen.
With zero coding knowledge, Workflows allow its user to trigger text messages whenever one creates a record, or it meets certain conditions. A user can easily automate the sending or scheduling of outbound messages on a specific action.
Non-coder's Salesforce tool, Automate With Ease
There's nothing wrong with addressing Process Builder as a more powerful tool than Workflows. With more extended capabilities, PB eliminates the limitations associated with performing specific actions through Workflows. 
Again it's a simple no-code tool that allows end-users to update any field on the related records or put in required criteria and automate the sending of messages.
PB enables an admin to set the order of actions and have a hold on the sequence.
Something for code-centric automation  
Salesforce is well-equipped to serve all kinds of users, whether it is coders or non-coders. Apex code automating methodology is more of a technical affair that requires a certified developer to write and automate the message sending phenomenon through codes. So, if a user is more convinced towards making use of codes instead, no-code automated texting process, Apex code is the perfect fit to get the automation done and head towards automated texting.
Game-changing Integrations
Integration is another method that allows you to automate texting. Like if you integrate your website with Salesforce, you can make use of those integrations and trigger messages. In another way, you can make use of Salesforce APIs to self-trigger messages for specified actions from third-party platforms.
Self-triggered messages, Extended Reach within minutes
No matter whether it is about reaching millions of customers in one go or scheduling messages out on a specific date and time, texting automation has paved the way to achieve desired goals. So, unlocking the potential of self-triggered messages, the 360 SMS app has made it feasible for coders and non-coders to avail of benefits of automatized texting through various modes and cut back on manual labor, time, and operational cost.
To know more about 360 SMS app, reach us at https://360smsapp.com/contact-us/