7 Automation Ideas to Make your Sales Team Super Efficient
SMS automation in sales operations can drastically improve your Sales team efficiency when used at the right time.
You might have observed that your sales teams are often inundated with several tasks. This leaves no time for other activities like exploring new ideas and adding creativity to sales strategies. Without a doubt, SMS marketing has eased up and helped sales teams to accelerate the sales process, but SMS automation can make a world of difference to your sales process. In addition, automation can help your sales teams cut back on time investment and be super-efficient at work.

Automation Ideas to Improve Sales Teams Efficiency
Automated interaction can help sales teams in many ways, and one of the crucial use cases of automation is for support. Often customers are on the verge of buying your business offerings, but before that, they need a few answers for more clarity.
So, with the help of chatbots, your sales teams can automate interactions for the most common and frequently asked questions and route inquiries to the relevant department in the event of complex inquiries. This way, you and your teams can be available round the clock for your customers, resolve their inquiries faster, and help them with purchase decisions.

Bringing new business has always been a challenging part for sales teams. It takes a lot of effort to present your business offerings as the best solution and convince new customers to choose your brand over your competitor.

So, holding on to existing customers can be a good idea as they trust you, and your sales teams can leverage their trust to improve sales by sending renewal reminders. They can send automated renewal texts two or three days before the expiry of a subscription, membership, insurance policy, etc., and retain customers to drive repeat purchases.

For Example

Reminder text for Membership Renewal
Reminder text for Policy Renewal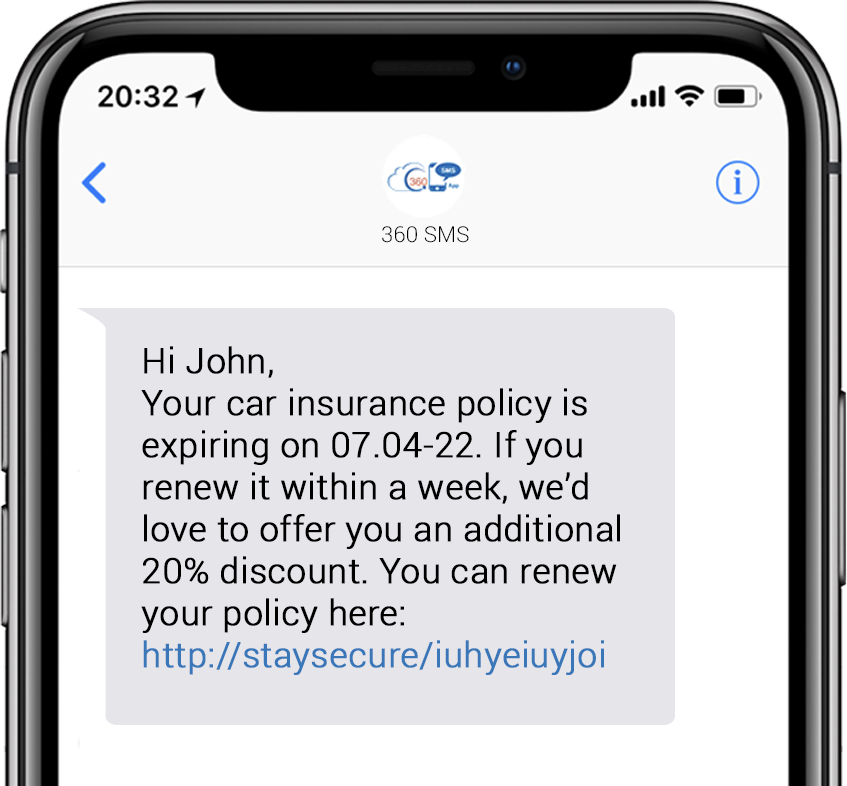 Communicate New Product Launch
Communicating about a new product launch to your existing customers can also help your sales teams to improve sales.
Whenever your firm launches a new product or product line, your sales teams can send automated texts to communicate about the new product and offer a free trial or discount. This will help to intrigue customers and drive sales for new business offerings.

Text for announcing new product launch along with an offer.
Notify about Upcoming Sale
Customers eagerly wait for exclusive deals and offers. So, whenever you are about to roll out any new deal, discount, or offer on your business offerings, your sales teams can notify customers in advance using automated texts.
Also, they can create a sense of scarcity and send URLs to allow customers to book early slots for purchase.
Text for notifying customers about upcoming sale
Remind Clients of Appointments
An automated reminder is one of the best ways to prevent your sales teams from losing out on many sales deals. If you're a service provider, no-shows at the time of appointment adversely affect revenue.
So, you and your sales teams can send automated reminders a few days before an appointment to reduce no-shows. This prevents your sales teams from investing time in managing appointments and keeping track of them.
Send Automated Greetings on Life Events with Offers
Several life events are important to customers. But one life event that applies to all is a Birthday. So, Sales teams can use customer life events to value them and improve sales. Thus, they can schedule texts using Birthday SMS templates or create a new text adding an offer or an exclusive discount to make customers feel special on their special occasions.

Greeting text with offers
Sales agents can't pay heed to every incoming inquiry or lead. So, they can count on automated texts to take communication further or engage with prospects.

They can automate texts to schedule a call or a meeting, prompt customers to fill out a form, help customers with their queries, and much more, depending on the goal, and generate more leads.

Follow-up text to schedule a call
Follow-up text to get a form filled by a customer
Some Interesting Outcomes
It should come as no surprise to hear that based on the interviews of our clients who incorporated text automation capabilities in their sales process witnessed:


Employee efficiency increases by 50% simply because of the reduced workload.

Overall sales increase by 40% for our clients because of engagement at the right time and meaningful conversations.

Customer retention improves by 40% due to automated engagement texts.

Great team!
What an amazing sales and support team! With their guidance and their great product, we were able to automate our communication. Highly recommended!

CHRISTINE BROCKSTEDT
Verified Review, Excerpted from AppExchange
Wrapping Up
Communicating with customers at the right time leads to valuable and meaningful conversations. The best part is sales teams do not have to intervene and keep track of every time-sensitive message they need to send. They can schedule and automate texts and focus on high-value tasks.