Strategize & Orchestrate
Bulk WhatsApp Responses
Over A Shared Universal Console
that business agents love
– the Conversation View.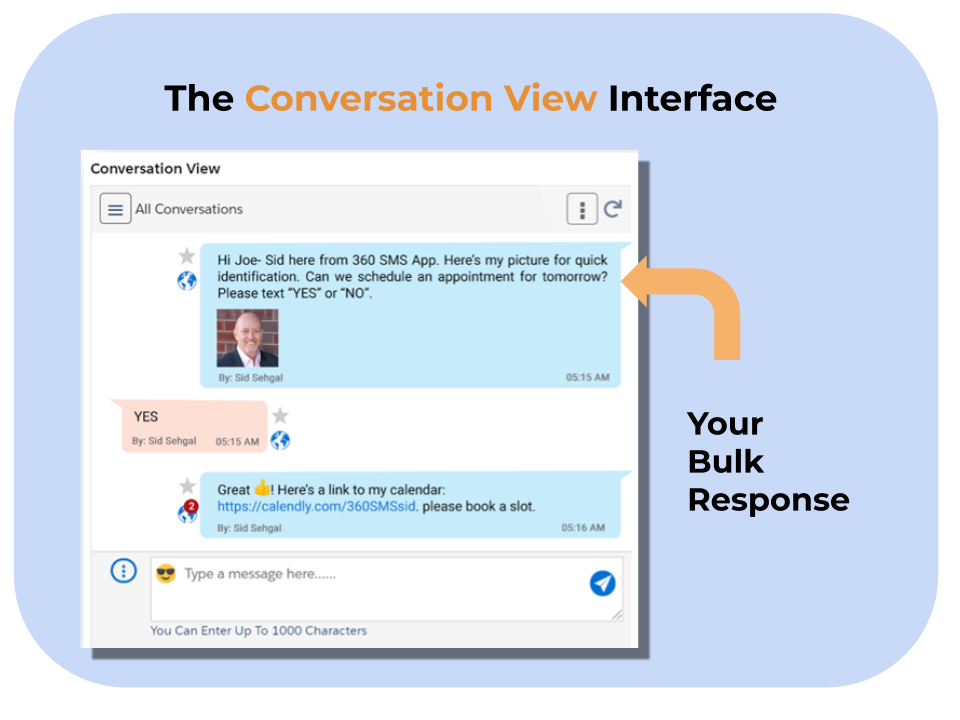 Integrate WhatsApp seamlessly
to send richer messages and multimedia to countries with high SMS tariffs and limited MMS capability.
With added capabilities and extensions that make scaling operations a breeze.
Put only your best foot forward on WhatsApp, the only popular, widely supported OTT (over-the-top) platform.
under 4.5 MB from popular formats like JPG, JPEG, PNG, MP3, OGG, AMR, PDF, and MP4
and drive campaigns with automation over 360 SMS
to prospects and customers.
The 360 SMS support staff takes care of applying for a WhatsApp Business account on your behalf.
A WhatsApp-enabled number Is then issued to your Salesforce Org.
Tight Salesforce integration makes the WhatsApp-enabled number you receive, just another 'channel' in 360 SMS.
Another channel that you can toggle between, among others like SMS, FB, MMS, Voicemail.
WhatsApp messages have a special notification badge to differentiate them.
This way, the learning curve stays low for your agents, while keeping WhatsApp messages distinguishable.
With 360 SMS -enabled profiling on Whatsapp,
you could gather all the required info on your lead,
auto-update this info in your Salesforce Org,
and free-up your sales reps to build customer relations.
Track any links shared over Whatsapp messages for metrics.
Trigger messages from Process Builder, Campaigns, Reports, and Flows, or Schedule & automate 1-on-1 as well as Bulk Whatsapp messages with powerful WhatsApp integration in Salesforce.
You can also add a Whatsapp-powered Web-Chat to your website, and get your agents to reply instantly from your Salesforce, in real-time.
See sent messages from SMS and Whatsapp trails in the same pane under 'Conversation View' & the 'Utility bar' with separate notification badges for SMS & WhatsApp messages.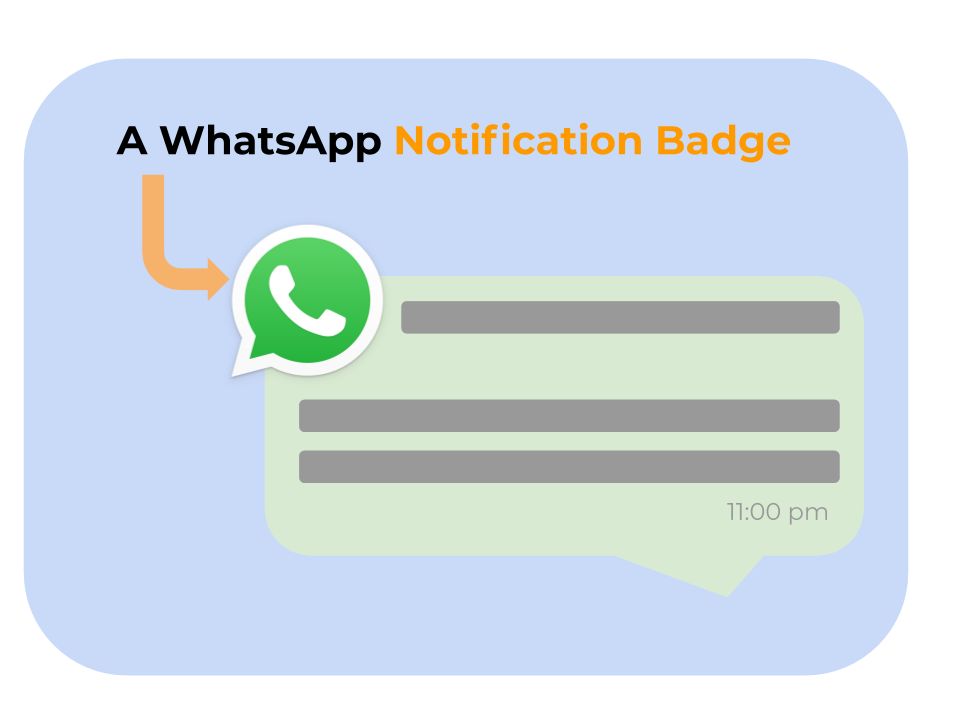 Get pre-made Templates to ensure first-message approval.We'll set you up with a Whatsapp templates folder and a Whatsapp business API integration, whose approval process we'll handle for you within 4 weeks.
How is WhatsApp different from SMS?"
WhatsApp for business lets you speak to customers in one of two ways – Customer Care Interactions and notifications.
Customer Care Interactions
Customer-initiated conversations that require a response from the business representative within 24 hours. It's easy to accommodate these requests with WhatsApp Live Chat for Salesforce
Notification messages
Business-initiated, pre-approved, templated messages that can be sent at any time.
If you frequently find your business sharing PDFs and plans, that's where you use WhatsApp messaging in Salesforce.
You can't expect the viewer to print or sign and then upload and share. This may take days. While on WhatsApp nearly 7% of users have auto-download enabled. This makes ownloading, e-signing over a touchscreen, and sharing documents a matter of mere minutes.
Blow away the competition with our Salesforce WhatsApp Integration

Let 360 SMS be the secret weapon for impactful Salesforce integration with WhatsApp that lets you do things on WhatsApp that competitors can't. Build a formidable WhatsApp presence with us whether you're using WhatsApp for Business or a personal WhatsApp Number.
What's more, we've even got your Sales teams covered with our Chrome Extension for Remote Sales Teams – keep teams accountable and monitored, even if they're out of the office or use personal numbers to contact customers.
Ensure all conversations and leads are captured right inside your organization's Salesforce CRM.
WhatsApp from Salesforce, but way better
WhatsApp Messaging in Salesforce was never this impactful.
Get all the pioneering features of 360 SMS on WhatsApp too for both text and multimedia.
Chatbots, Surveys, Trigged messages, Lead and Case Capture, Drip Campaigns, Consent and Compliance Management, Phone Number Management (Sticky Sender), and Bulk and Batched Messages from Salesforce Reports
– your teams will have it all right on Salesforce and love you for it.
Marketing Cloud and Pardot WhatsApp Integration
Using Marketing Cloud or Pardot to send Messages? You're in for a treat.
Most WhatsApp users think of it as their daily driver, they can't live without it.
Capitalize on all the leads and data captured from Marketing Cloud and Pardot to convert and retain them effectively and run parallel texting initiatives on WhatsApp to increase impact and mobile engagement.
Use approved message templates and multimedia to profile and convert convert customers and retain new prospects by building tighter relationships over WhatsApp.
Salesforce WhatsApp Integration
Break country-to-country texting barriers and connect with audiences globally through WhatsApp for Salesforce.
Contact Us
No matter where you are from, we provide Global Coverage.