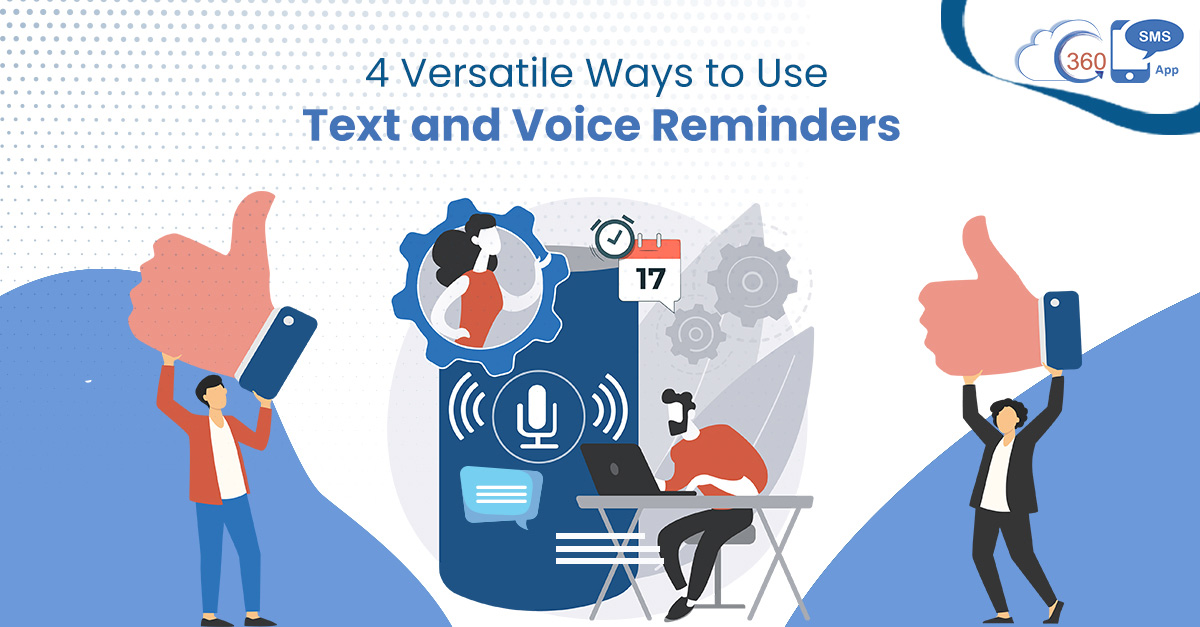 4 Versatile Ways to Use Text and Voice Reminders
It's never too easy for people to memorize every due date and perform the required action beforehand, especially when they're busy with their hectic lifestyle. After all, we humans can't act like robots when it comes to keeping track of important dates. As a result of missed due dates, people have to bear various consequences like late payment fees, missed interviews, missed appointments, and much more. This is where you can help your audiences take necessary actions before or on due dates through text and voice reminders.
What makes Text and Voice Reminders Effective?
It's quite obvious that everyone can't remember everything. Taking advantage of the situation, organizations can use text or voice reminders to apprise their customers about an upcoming event, appointment, payment due date, seminars, interview, and many more. This way, text reminders are a reliable weapon to reduce no-shows and avoid wastage of time and effort.
Besides, SMS reminders improve user experiences with your brand and build a positive reputation too. Thus, business ventures can use text and voice reminders in various ways to aid their audiences and deliver quality services, irrespective of their vertical.
Payment Reminder for Renewals
It's always good to pitch to your current customers for repeat business rather than your past customers. This is because they're availing of your services, and experience is fresh in their mind. So, if you're a service provider, you can drive repeat business by sending a text or voice reminder about the end date of the subscription. This would help a customer to make the payment before the end date and renew it.
You could also do with 360 SMS Drip campaigns. It enables you to schedule messages at various intervals and decide frequency based on whether you want SMS to go out weekly, monthly, or bi-monthly. 
Appointment Reminder to Reduce no-shows
Appointments are fixed after confirming the availability of both parties, whether it's an appointment with a doctor, beautician, realtors, or any other. So, it could cause inconvenience to both, once missed. On the one hand, it could cause a loss of revenue and time for the service provider. On the other hand, users may have to face long queues, increased wait times, and delayed actions. Thus, organizations can send appointment reminders and improve the attendance rate. This way, meetings can take place on a defined day and time.
Exam Reminder for high attendance
Text and voice reminders can help educational institutions as well. It can be a good idea to send a reminder before each exam to reduce student's no-shows. Thus, educational institutions can remind students about the exam commencement date and time by sending a reminder. Also, they can ensure that students are preparing for the correct subject by mentioning the subject name in the reminder text.
Medicine Replenishment Reminder for timely refilling
Medicines are one such important element that a patient can't afford to miss even for a single day. Thus, pharmacists can also use text or voice reminders to apprise patients about the medication refilling. This would help patients to refill medications beforehand and avoid the inconvenience that may occur without medicines.
remind customers of important dates & improve their Experiences
No matter which industry you belong to, reminders always serve as a powerful means to reduce no-shows and increase revenue. In addition to this, text or voice reminders prevent your prospects and customers from keeping track of every important date. This further adds to their convenience and improves their experience with your brand. As a result, you witness better retention and customer acquisition rate. The best part is, you can easily set up drip campaigns with the 360 SMS and reduce manual intervention while sending time-sensitive texts by scheduling them in advance.
Apart from reminders, there's much more beyond texting that you can do with the 360 SMS app. To know more about its capabilities, reach out to us at sales@360smsapp.com or contact us here.