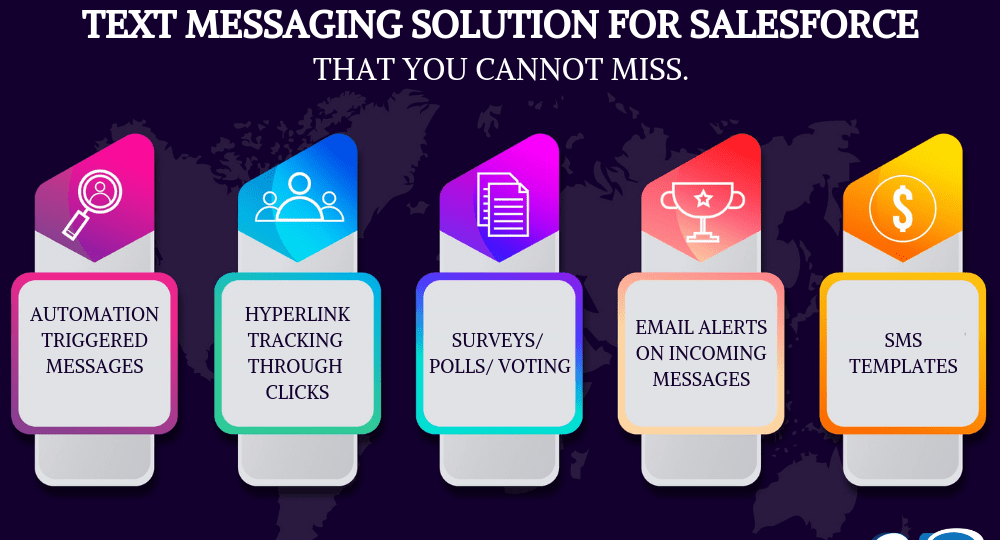 Amazing Points about Text Messaging Solution for Salesforce That You Cannot Miss
Today, people may refer to the term Text Marketing by many other different names like 'SMS Marketing', 'Mobile Marketing' or even 'Messaging Marketing'. All these terms carry the same meaning in terms of Marketing. Text messages have been creating a buzz among the masses for years now. People have now started shifting their focus from other methods of marketing to text messages. They have now been considering texts as their prime mode of communication with their customers. Also, almost all kinds of business enterprises use CRM solutions in order to achieve their desired targets. Salesforce is the most widely used CRM platform worldwide.
As many business firms rely on it for running a smooth business, it is never behind in inventing new functionalities in order to help the customers in the best way possible. One of its best discoveries was the invention of 'Text Messaging Solution for Salesforce' which allows customers to send single/ bulk messages to the people with other wonderful features as well.
Prime Benefits of Opting the Right Salesforce SMS App
There are certain additional benefits of choosing the best text messaging solution for Salesforce apart from just the basic ones like sending or receiving SMS. The following mentioned are the other features that a Salesforce powered texting app can provide you with:
1) Automation triggered messages
2) Hyperlink Tracking 
3) Surveys/ Campaigns   
4) Email Alerts on Incoming messages   
5) SMS Templates
So, the above-mentioned were just a few functionalities that the texting apps powered by Salesforce can provide you with. All such apps are easily available on the AppExchange platform of Salesforce, where you can also find other related apps as well that can help you to run your business in a smooth manner, without any hassle. A good texting app is the one which is completely customizable as per your business needs and requirements, also which works with total project transparency and fits in your budget as well. It must provide you with complete value for your money, in fact maybe more than that but not less at any cost. There are certain apps which claim to be the best on AppExchange but not all are even worth it. So, it may require you have a good knowledge and experience in this field if you wish to choose the right app for your company.
Looking for an expert who may help you in the matter? You are just in the right place. 360 SMS App can be your complete one-stop texting solution, providing you with all of the above-mentioned advanced functionalities and many more others too. Try giving us a chance and you will never be disappointed. Connect with our team of tech experts today, and start with the best Salesforce powered texting app you would ever come across.