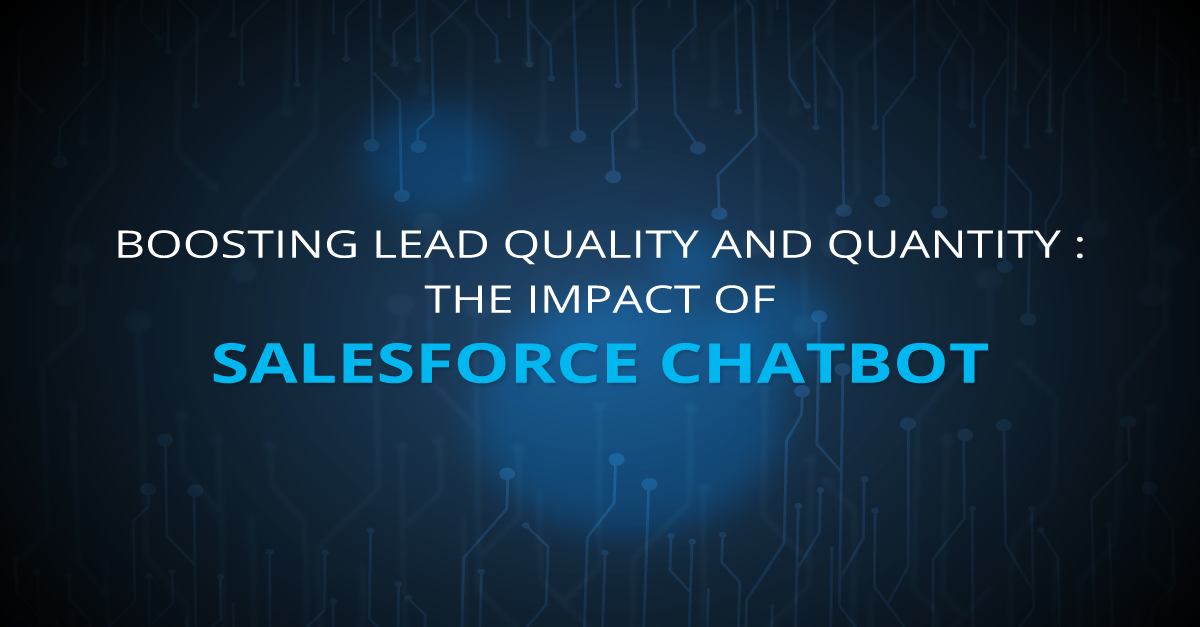 Boosting Lead Quality and Quantity: The Impact of Chatbot in Salesforce 
Lead generation is the lifeblood that fuels growth and success in business. Yet, despite the countless efforts businesses put into attracting potential customers, the challenge of generating high-quality leads remains a daunting task. Many businesses find themselves in a frustrating position where they have invested significant time and resources only to yield a handful of leads. But what if a solution could revolutionize the lead generation process? 
Yes, you read it right. 
Quantity and quality of leads are crucial matters of concern for every business, and Salesforce Chatbot can boost them both for you. 
This blog will discuss how incorporating the chatbot in Salesforce can make a prominent difference in your lead quality and quantity. You'll learn how chatbots can help to improve your business lead quality to drive more conversions. Let's dive deeper into valuable information for transforming your lead generation effort.
Using Chatbot for Salesforce for Improving Lead Quality and Quantity
Mark 24/7 Availability for Your Prospects
You might be thinking about how round-the-clock availability to address incoming inquiries can help you generate more leads.
But yes, it can significantly affect your business lead counts. With 24*7 availability, you can gear up to attend to your customers irrespective of the time they reach you. Also, you can prevent them from getting frustrated due to the non-availability of customer service after operating hours.
According to Drift, customers' frustration increased 1.4x from 2019 to 2020 due to no support availability after business hours.
By addressing more inquiries in a day, you can resolve more queries and generate more leads for your business.
Reply Instantly to Seize the Opportunity Right Away
Salesforce chatbots can provide instant responses to customer inquiries no matter how many prospects are trying to interact simultaneously.
By deploying a chatbot for Salesforce, your prospects do not have to wait in queue for your responses. They get an immediate response which helps to seize the opportunity right away and generate more leads, preventing your prospects from switching to other brands due to late responses.
On the flip side, it also leads to enhanced customer satisfaction and engagement. The ability to respond instantly helps capture leads in real time, improving lead quality and increasing the chances of conversion.
According to Userlike, 68% of customers like how quickly chatbots respond.
Automate the Process of Lead Qualification 
You can deploy a Salesforce chatbot to collect different types of information to qualify leads. By collecting key information such as demographics, interests, and purchase intent, chatbots can filter out unqualified leads and prioritize those with a higher potential for conversion. 
This prevents sales teams from investing their time and effort in leads that are less likely to convert and can shift their focus to leads with high purchase intent.
Get into Personalized and Targeted Engagement
Unlike humans, Salesforce chatbots can engage with multiple prospects at the same time. They can understand the concerns and preferences of each prospect and personalize their communications accordingly while handling multiple customers simultaneously. 
This is something impossible to achieve with human resources. Personalized interactions make it easy to build meaningful connections and convert incoming inquiries into business leads. They can leverage customer data to communicate more personally, enhancing customer experiences. 
Generate New Business from Existing Customers with Salesforce Chatbots
Chatbots can play a vital role in lead nurturing by delivering relevant information. As the Salesforce chatbot can get into personalized conversations, it can even cross-sell or upsell business offerings based on customer queries. 
This can help you drive more business from the same customer, which again works as your business lead. This kind of engagement with leads can help you generate new opportunities for business.
Collect Valuable Information to Improve Lead-Generation Efforts
It might be you are unaware, but Chatbot Salesforce can be your powerful tool o collect what is needed to generate quality leads. With the help of Salesforce chatbot integration, You can set up a chatbot to collect valuable information from customers. 
This can include customer pain points, preferences, etc. Armed with such kind of information, you can run more targeted lead-generation campaigns and improve your marketing strategies to increase your lead numbers.
Bonus Tip For Getting Chatbot for Salesforce 
If the Salesforce chatbot pricing is high and the chatbot development process is time-consuming, these factors could become roadblocks to reaping the benefits of chatbots for a firm.
To steer clear of such factors, what's needed here is DIY chatbots.  this means you should be able to deploy chatbots without coding and expert assistance. This type of capability for chatbot building will be time and effort-saving for you. Moreover, it will be cost-effective as you can configure multiple chatbots depending on your requirement without investing a single penny.
Accelerating and Simplifying Lead-Generation with
Chatbot for
Salesforce 
Business leads are an important ingredient that is crucial for business growth. Every marketing team puts their wholehearted efforts into generating more quality leads so that the sales team can work on them and drive more conversions. Salesforce Chatbot integration is a productive approach to automate the lead generation process to a great degree. From providing 24*7 assistance to qualifying leads, you can use Salesforce chatbots for different purposes concerning lead generation. You can personalize conversations with every prospect improving their customer experience and giving them a reason to buy from your brand.
So, don't miss out on this game-changing opportunity to boost your lead quality and quantity with the power of Salesforce chatbots. Turn to our experts at care@360smsapp.com or click here to contact us.
FAQs
The best capability to get a chatbot in Salesforce is DIY configurability, as it is costly and time-consuming to get a chatbot developed by experts. With DIY configurable chatbots, you can create chat with simple point-and-click without needing coding knowledge or expert assistance. You do not have to depend on others to make trivial changes in a chatbot for Salesforce. Also, you do not have to beer development and maintenance costs, which makes no-code chatbots cost-effective. More importantly, you do not have to invest much time building a chatbot.
Yes, you can create a Salesforce chatbot for free with the right capability. By choosing a Salesforce texting solution that supports no-code chatbots, you can create a chatbot in Salesforce for free. You can build and deploy chatbots to cater to different business use cases yourself and automate your business interactions effectively. You can set up as many chatbots as you want without investing a single penny in chatbot building.