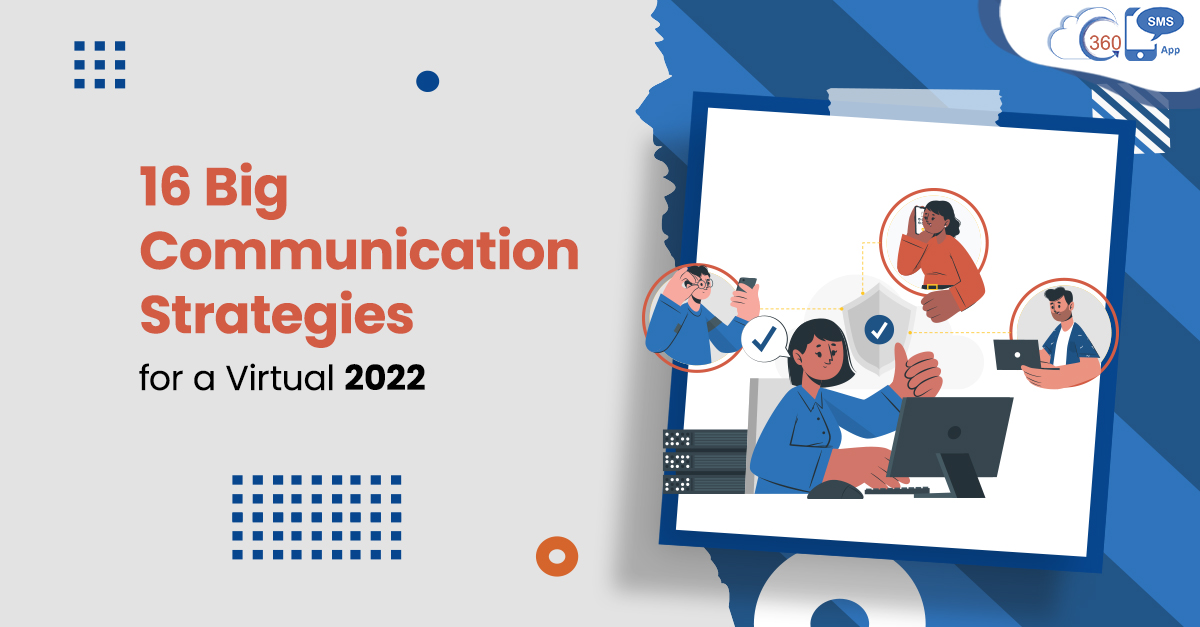 16 Big Communication Strategies for a Virtual 2022
Effective communication strategies have become a critical priority for businesses. The absence of constructive strategies for communication in place is a roadblock to many opportunities on the way. The reason depends on how effectively you communicate with your clients at every stage, from prospecting to closing a deal. 
With changing scenarios, the working methodologies of businesses also evolve to cater to the dynamic requirements of customers. One of the perfect instances of evolution is virtual business communications. Businesses are realizing the possibilities of partially and fully remote workforces. Thus, we can say, remote working is taking a pace in business operations, and adapting to virtual communications can be a futuristic approach to flourish a business. Several aspects can help build up concrete virtual communication strategies.
Communication Strategies for 2022
CCM (Customer Communication Management)should be one of the Communication Strategies
Analyze brand usage and Personalize for satisfying experiences
Customer communication management (CCM) is all about delivering consistent brand messaging and support across all channels. For this, you can analyze the usage of your brand to find out the extent to which users buy your brand compared to others. Further, you can deliver a more personalized journey across all channels without the need to start conversations from scratch.
Redefine
Communication Strategies with 
Active Listening 
Feedback and opinions
Active listening should also be a part of your virtual communication strategies to find out business downsides and improve them to make yourself better every day. But this might pose a question for readers-
"How active listening is possible in a virtual world?"
Yes, it is possible in the form of feedback. Feedback is the mirror of customer experiences with a brand. So, you can send feedback form URLs using Salesforce texting for quick data capturing.
Customer Support Etiquette is Critical
Support executives 'Are' the company. 
Yes, you heard it right.
"As Per McKinsey, 70% of the customer journey is dictated by treatment".
In the world of online business, people do not interact with an organization physically or in person. So, the first point of contact to interact with a brand are the support executives, and they are the one who represents your brand. Therefore, their etiquettes are critical to every business venture for a brand reputation. 
Rude behavior, unprofessional tone, and foul language are a few aspects that adversely affect the brand's reputation. Thus, how a customer service agent handles customers over a call or chat is crucial to boost virtual communications.
Knowledge Bases Hold the Key to CSAT
Customers are shorter on patience and won't jump through hoops for issues.
A rating close to 5 stars and reviews plays a vital role in increasing purchases.
In a virtual world, customer opinions are based on online reviews, and businesses are judged based on that as people do not get in touch with organizations physically or in person. 
Further, reviews heavily depend on the quality of customer service and the way a service representative interact with customers. Most importantly, how fast a customer gets an answer to the inquiry matters the most. 
So, if a service agent resolves the issue on a first call, this contributes to the improved CSAT score, reduced customer effort, better support, and ratings. This is where Knowledge bases can help agents to close support tickets faster with ready-to-serve information. They can send relevant resources based on customer inquiries and resolve inquiries at the very first call.
Repetition is the Enemy
Use connected multi-channel messaging for an experience boost, so customers don't have to repeat themselves.
When customers have to repeat themselves and start a conversation from scratch while switching to a different channel for interaction, this is one of the worst instances of customer experience. So, a shared chatting interface where you can go through chat histories to pick up the conversation from where customers left can help to boost customer experiences.
For example:
The chat interface in 360 SMS lets you see messages that customers sent from all channels in one place. In addition, your customers will have context for why you're sending them certain messages. Also, customers do not have to start conversations from scratch when they switch between different channels.
Besides, repeated messages over every channel can hamper customer satisfaction. But a shared inbox where you can access chats of different messaging channels in one place can prevent you from sending repeated messages. The best part is, you can easily personalize communications and keep them relevant.
Users are App-Hoppers 
Increase exposure to your brand across channels.
While staying and working at home, people have become more digital and hop apps for every trivial work. They change apps repeatedly and use different apps at different day times. 
So, it's always good to opt for multi-channel messaging to increase brand exposure. This allows users to use their preferred apps like WhatsApp, Facebook, WeChat, etc., to connect with your brand.
Engagement is a Mood 
More channels catch customers in different states of mind and usage patterns.
Another advantage of having a multi-channel communication strategy is better virtual engagement. At different channels, customers are in a different mood. For instance- People are in the mood to do business on LinkedIn. 
On the contrary, people are in the mood to enjoy rather than explore business opportunities on Instagram. Thus, you can effortlessly catch people in different states of mind and usage patterns over various platforms and improve engagement.
Tracking and Reminders will Play Big Roles
With more home-bound audiences than ever, the fight for attention and re-engagement will get fierce.
Since the outbreak of the pandemic, lots of people are at home. So, the fight for attention will get intense for brands and apps will keep asking for attention to re-engage. For re-engagement, no move can be better than tracking and sending reminders.
For instance, there can be webinar reminders, payment due date reminders, appointment reminders, etc. to help customers remember important dates without keeping track of them.
SMS and WhatsApp Retain the Top Spots
With fewer barriers than email and ubiquitous usage, response rates and conversions are much higher.
Undoubtedly, SMS and WhatsApp tops the spot when it comes to quick, convenient, scalable, and secured virtual communications. With fewer barriers than email, it makes it easier for you to connect with audiences on the go over their ubiquitous devices. The best part is texts have a 7.5 times higher response rate than emails which leads to more conversions.
Texting Tools are an Early Advantage
Most marketers still want to get started with text but can't because of fewer fully-featured tools for texting
Fewer fully-featured tools for texting have prevented many marketers from using SMS for communication. But, if you have a full-featured texting solution for your business then surely it will be an early advantage and strengthen your communication strategies.
Further, you should expect more and more regulations in the coming years with all other communication mediums. But, if you have a texting solution in place, you are already in the game before communication gets more regulated.
Integrate at the CMS
Manage and personalize SMS campaigns with data directly from the website. 
You need to integrate SMS marketing with interactions to achieve personalization at the SMS. Whether you are sending messages, SMS, or email, you need to integrate the channel with the CMS. This will help you get an idea of how people are using your website. Thus, you can run more personalized and targeted campaigns for better returns.
Zoom Anxiety is Here to Stay
Interruptions and 15-minute calls still aren't welcome. You'll need more convenience and accessibility.  
A 15-minute zoom call for interactions is not always Welcome by attendees. People may not be comfortable being on calls all the time. Sometimes they may want to connect or reply at their own convenience.  
If a customer has been on a call throughout the day, an individual will obviously avoid going on another call with a customer service agent.
With zoom calls, people get stuck, and they can't respond at their convenience. Thus, people need a convenient and easily accessible channel like SMS to respond whenever they want to.
Retention Takes Revision
A continuous presence at different times of day leaves an imprint, even if the customer leaves a channel.
It doesn't matter whether a customer is present on the channel or not, but an agent's presence can make a world of difference in customer services. Being available at different channels at different times leaves a lasting brand impression on customers and improves brand recall. This further results in customer loyalty and retention.
Put Mobile Devices First
More users own mobile devices, and notification alerts can put you ahead by leagues.
Mobile phones have made it feasible for organizations to connect with audiences right over their hand-held devices. So, if messages are not mobile optimized, businesses can lose many customers. Besides, it becomes easier for firms to stay on top of the game with alerts and notifications by catching the immediate attention of mobile users.
The Day will Have Tighter Boundaries
Customers are waking up to how app notifications seek attention as soon the workday ends – Better Scheduling Wins.
Alerts and notifications are a good way to capture the immediate user's attention. But sending notifications during working hours is not a good idea, and it may not capture the user's attention immediately. So, the entire game is about scheduling notifications at the right time. People are usually bombarded with notifications as soon as they get off work. Thus, the ones who schedule notifications better are more likely to win the game.
Preferences, Not Promotions
This is fairly understood by marketers, but important enough to reiterate. The digital space is unforgiving.
People are more interested in listening to what they like rather than witnessing promotional calls and messages. Thus, it is crucial to understand and segment them based on preferences. People look for context for every information being sent to them. So, adding value to customers and maintaining relevancy in text messages makes more sense compared to just sending promotional messages as digital space is unforgiving.
Why is Digital Space is Unforgiving
Digital Perceptions Stick Longer
As people stay on digital channels longer these days and step out less, they have fewer distractions to forget about anything, even if it's a brand. Whether a brand experience is good or bad, it will have longer aftertaste and penalties. Therefore, it's better to deliver satisfactory experiences for a better brand reputation.
Accessibility will Payoff Hugely
Better accessibility is another way to add to customer experiences. Allowing customers to start conversations at their own convenience helps to improve brand accessibility. Without a convenient means to initiate conversations, it will be difficult for customers to reach a brand, and they have to wait for organizations to initiate a conversation. This may cost losing many opportunities for brands.
Brands put a lot of effort and time into running higher-effort campaigns.
They have to track potential customers' profiles on various platforms to understand their hobbies, interests, etc., and send something valuable to drive engagement. So, if a campaign is not adding any value to customers, they may feel it's a low-effort campaign and do not dedicate their time to it.
More Regulations and Compliance
The landscape for regulations changes every day. So, companies have pressure to take stands on privacy. Eventually, the conversation drives towards a product created considering privacy or can facilitate privacy by design to regulate messages. 
Also, marketers have to start respecting people's privacy more because this also forms a larger part of virtual space. As more regulations come, marketers can't keep making changes to meet the requirements of each regulation. So, the best solution is to opt for a product that supports privacy by design.
Get a Competitive Edge and Make a Remarkable Presence in the Virtual World
In the coming years, the fight for attention in the virtual world will be more fierce. Consequently, organizations have to put their best face forward and add the best possible convenience to customers to win their loyalty. Thus, by emphasizing virtual communication strategies, ventures can redefine their interaction pattern to meet the requirements of a state-of-the-art business paradigm and get a competitive edge to make a remarkable presence in the virtual world.
To know more about how 360 SMS can help reinforce virtual communications for your business, turn to our experts at sales@360smsapp.com or contact us here.