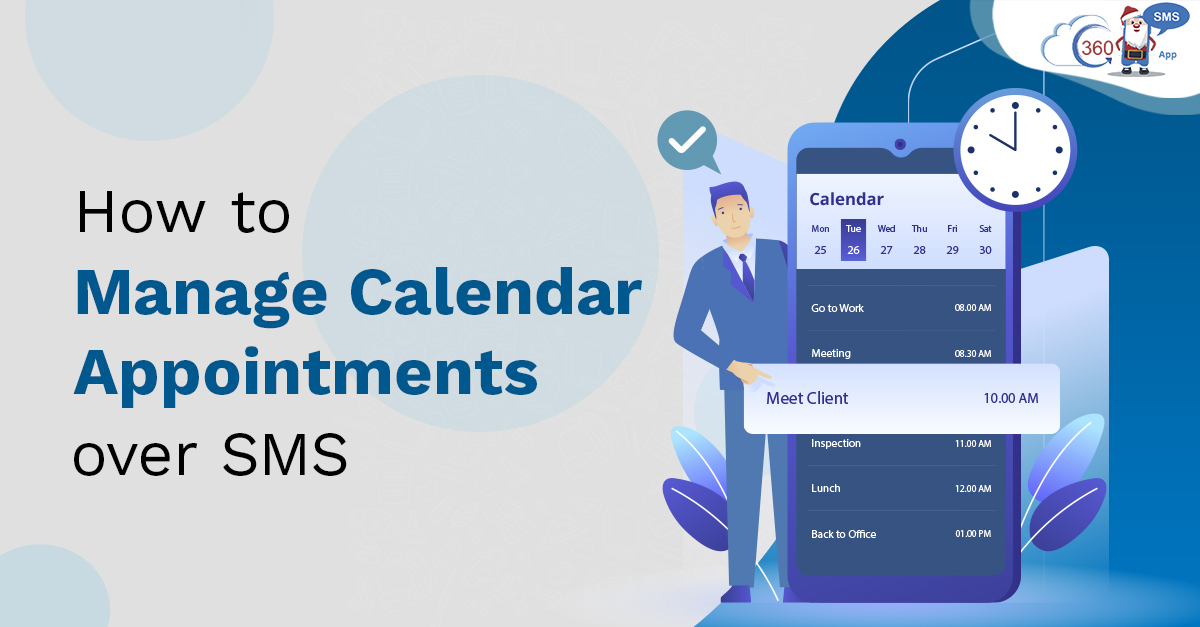 How to Manage Calendar Appointments over SMS
Effective business operations management has become a critical business priority. And one of the crucial business activities involves appointment and meeting scheduling. Appointments and meetings pave the way to meet your prospects in person, understand their requirements, and close deals faster. So, SMS paves the easiest way for managing calendar appointments faster and conveniently.
Besides, effective scheduling and successful meetings without no-shows can prove to be a game-changer for your business revenue. A streamlined process for appointment and scheduling meetings helps employees stay more organized. Further, they can plan other priority tasks effectively. Let's check out how to manage calendar appointments over SMS.
Managing Calendar Appointments with SMS
Let Customers Choose the Best Time to Meet
For managing calendar appointments, a customer-centric approach can help improve customer experiences. Ultimately it is all about customers. So, rather than providing a date and time as per your convenience, it is better to let customers decide.  This will make a world of difference in the customer experience and satisfaction.
So, using Salesforce messaging, you can send a calendar URL in a text message so that customers can book meetings at their preferred date and time. Compared to emails, texting makes it even easier to schedule meetings and appointments. In fact, not only just appointments, URLs can help with branding too.
Sample Text 1:
Hi James,

This is Alex from BZ Properties. Are you available next week? We'd like to understand your requirements in a more detailed way. Here's my calendar link http.//calendly.com/hiuyius
Sample Text 2:
Hi James, 

For more information on available properties and further discussion, let's catch up on Tuesday between 3 to 4. If this doesn't suit your schedule, feel free to book a meeting on my calendar http.//calendly.com/nidugi 
Let Customers Know about Scheduled Meeting Instantly 
Apart from scheduling meetings over SMS, you can use texts at various turns for managing calendar appointments also. As soon as any potential customer books a meeting using a calendar, you can use automation to send a confirmation text immediately. This will help to send appointment or meeting confirmation automatically without any manual intervention of employees.
Sample Text 3:
Your meeting is scheduled with us on 31-12-21 at 11:00 A.M. 

The venue is the 3rd Floor, BZ Properties corporate office.

See you soon.
Remind Customers of Appointments While Managing Calendar Appointments
No-show at the time of appointment with a doctor, loan officer, realtor, etc., can lead to loss of many opportunities. This is because organizations reserve a slot to meet specific clients, and if clients are unavailable at the specified time, they cannot schedule appointments with other clients immediately. 
This costs them a loss of opportunities. So, to avoid all such hassle, they can send an appointment reminder over Salesforce SMS with all the details like date, time, and venue. 
Sample Text 4:
A Gentle Reminder!

Hi Alex, 

You have an appointment scheduled with us on 31-12-21 at 11:00 A.M., in BZ Properties corporate office. To confirm your presence, text OK to 25256 or reschedule on my calendar http.//calendly.com/kilouie.
Texts Easing Scheduling and Rescheduling Appointments
Regardless of which industry you belong to, appointments and meetings are an integral part of every business. From scheduling to final meetings, there are various turns where firms need to communicate with clients to confirm their presence and avoid no-shows. Salesforce text messaging serves as the most convenient way to manage calendar appointments and connect with clients faster. 
To know about how you can use SMS to improve your business interactions, get in touch with our experts at sales@360smsapp.com or contact us here.