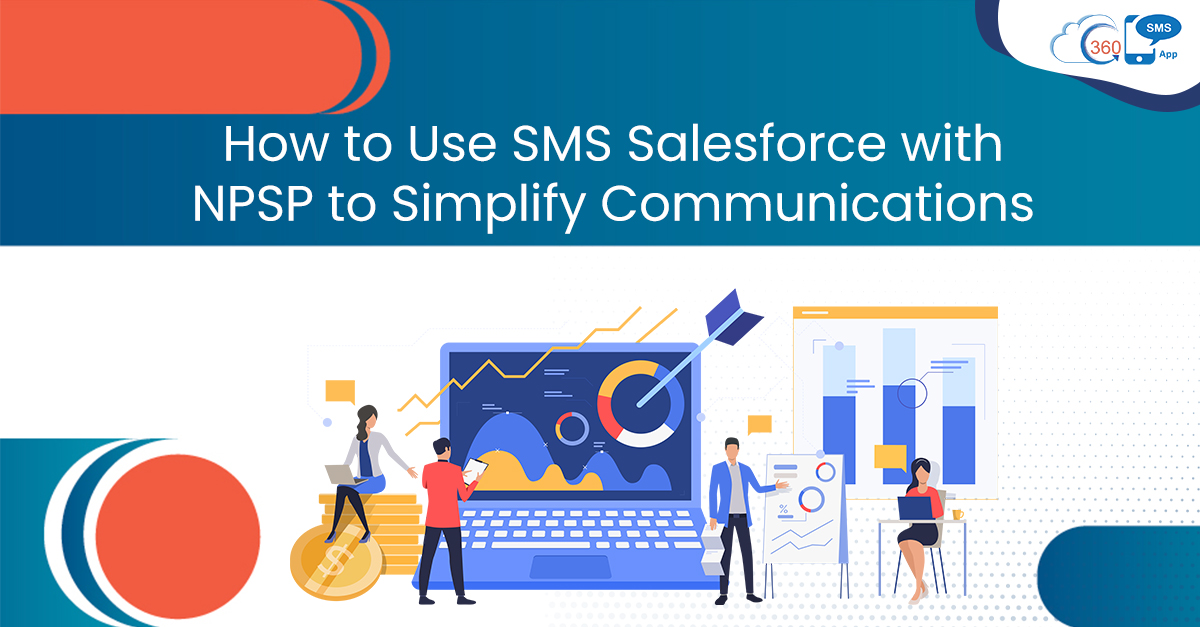 How to Use SMS Salesforce with NPSP to Simplify Communications
Salesforce is a no. #1 CRM that offers a wide range of clouds to market, serve, sell, and manage customer relationships. Salesforce cloud includes marketing, sales, service, health, and many more to cater to the unique requirements of every industry. Even nonprofit organizations are no exception when it comes to leveraging Salesforce Cloud. Salesforce provides a separate nonprofit cloud that is designed to support specific use-cases of nonprofits organizations. So, the power of SMS Salesforce with nonprofit cloud and NPSP can make a world of difference to nonprofit workflows.
What is NPSP?
Nonprofit cloud includes sales, marketing, and communities, and product like NPSP. NPSP is a nonprofit Success Pack that is a primary product of the nonprofit cloud. Also, it contains a pre-configured data architecture that supports nonprofit use-cases like fundraising, donor management, and much more.
Salesforce Standard Objects available in NPSP
NPSP uses the standard objects of Salesforce like Accounts, Contacts, Opportunities, and Campaigns. 
The account field is for maintaining the records of the donors, companies, households, and other funding sources.

The Contact field is for maintaining the data of individuals like a donor, volunteer, or any other member.

The Opportunity field is for maintaining records of donors who were about to make donations or made donations.

The campaign field is for tracking each task and activity progress going on in a nonprofit organization.
The best part is, users can get additional custom objects in NPSP to cater to the specific requirements.
SMS Salesforce and NPSP:
Send payment URLs and Information about Campaigns and Events
The opportunity object provides you with the data of donors who promised to make donations or already made donations. Using this information, you can send donation reminders and payment URLs to reduce navigation and foster quick and hassle-free donations.
Further, you can also update your past donors about upcoming and future events to drive donations.
Attract Volunteers
Contact object provides you the data about every donor and volunteer.
Thus, by deriving data from contact objects, you segment volunteers and create lists. Further, you can use these lists to appeal to volunteers and ask them to participate in upcoming events. Also, you can use SMS Salesforce to send venue details to the interested volunteers.
Send Updates on Donation Spent
The best way to win the trust of the donors is to keep them updated about how their donation is being spent. So, you can again rely on texts to send such updates. This way, you can leave a positive impact on your donors and instill confidence that their donations are in the right hands. This would help to drive more donations in the future.
Foster Internal and External Communications with SMS Salesforce for NPSP
Text messaging not only provides a quick and convenient means to connect with donors and volunteers but fosters internal communications also.
Texts allow nonprofits to collect information with remote teams about the various events faster. So, whether it is about making donation appeals, quick donations, event updates, nonprofit news, or any other purpose. SMS Salesforce for NPSP is the best bet for convenient internal and external communications at scale.
To know more about how you can simplify the process of driving donations with texts, get in touch with our experts at sales@360smsapp.com or contact us here.