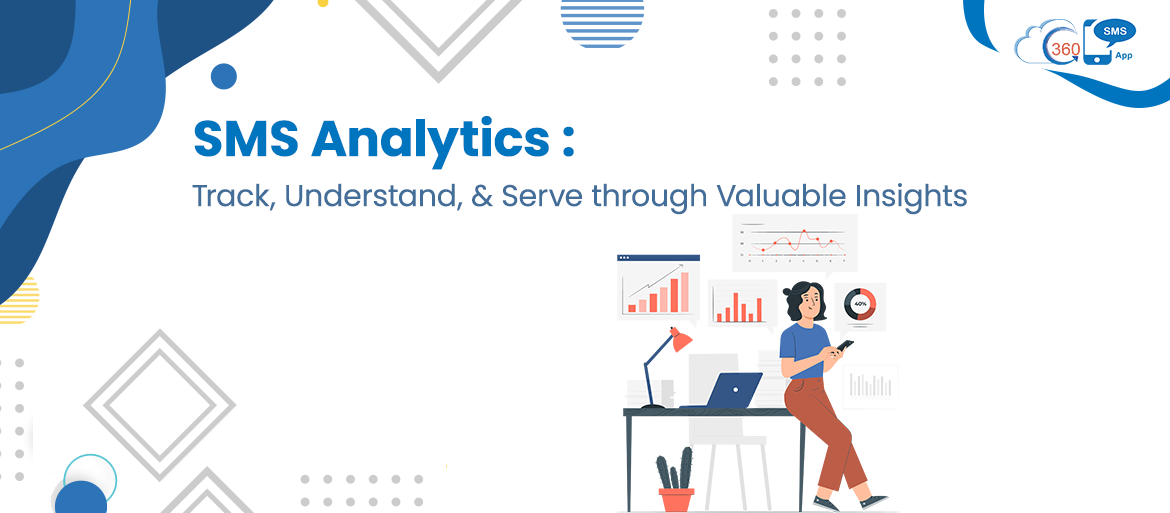 SMS Analytics-Track, Understand, & Serve through Valuable Insights 
Tuning campaigns and content based on the opt-out behavior of customers is what takes you closer to campaign success. And the chief ingredient that contributes to success is the data that gives you meaningful insights into your customer's behavioral patterns. 
With SMS Analytics over text messages, the power of data that was relegated to only gauging email campaign effectiveness is now gaining ground with text.
Thus, embedding the power of SMS Analytics in the Salesforce native texting solution, the 360 SMS app has equipped its users to track how customers interact with their brand and dig out every possibility of maximizing ROI in business.
What is 360 SMS Analytics?
Sidestepping the dependency on final results and guesswork, SMS analytics helps you in many ways. It lets you find out sales-driving components like real-time messaging data, mobile marketing performance, and gauge each SMS performance effortlessly.
With built-in 360 SMS analytics tools, it is easier to gain insights into marketing performance. You can find out how many users were contacted, how many new subscribers made to your list, which campaign produced good results, and much more. Based on such data, you can tweak campaigns and optimize performance to attract new customers, improve product sales, etc.
Let's have a look at how SMS Analytics proves its worth across verticals.
E-commerce: Gauge responses and deliver what users like 
A seller running campaigns to inform customers about offers, discounts and maximize sales would obviously want to track campaign performance. But without SMS analytics, it's not possible to find what worked and what not until the campaigns are not over.
But with the help of SMS analytics and 360 SMS Link Tracking feature, users can find out what kind of texts secure good responses. Also, you can track which product is attracting users and offer and discount links click-through rate sent in an SMS.
Real Estate- Know users intent and hit the spot  
Real estate is one of the busiest industries with numerous tasks to handle on a daily basis. To measure the purchase intent of users, you can connect with millions of users using the 360 Bulk SMS feature and apprise them about newly listed properties in their area. 
Further, with SMS Analytics, you can find out information about messaging delivery and failures, how many prospects responded, how many new clients made up to your potential buyer's list, what kind of properties gaining users traction, and much more. Based on the responses, you can plan your next campaign and improve your deal closure rate.
Recruitment- Track recruiting-sergeant performance, Discover improvement rooms
Reaching out to several job-seekers and then following-ups with them & taking confirmation becomes really tedious for the recruiters. So, easing the recruitment process, SMS analytics lets you track the total number of messages sent, the number of employees replied, incoming replies, SMS delivery status, and much more.
Such meaningful insights help you track the recruiter's performance, and of course, the number of job profiles closed. Further, you can find the improvement areas that need to be worked upon and improve overall outcomes.
Eliminate Guesswork, rely on concrete metrics
Analytics in 360 SMS gives you detailed insights into meaningful data, eliminating reliance on guesswork to improve marketing returns. Real-time text data empowers you to track every message sent and its value-addition. Whether you're analyzing customer's interests or understanding reasons for opt-out, SMS analytics lets you do that much conveniently. Text Analytics is no less than a report card that lets you find room for improvement and achieve desired results.