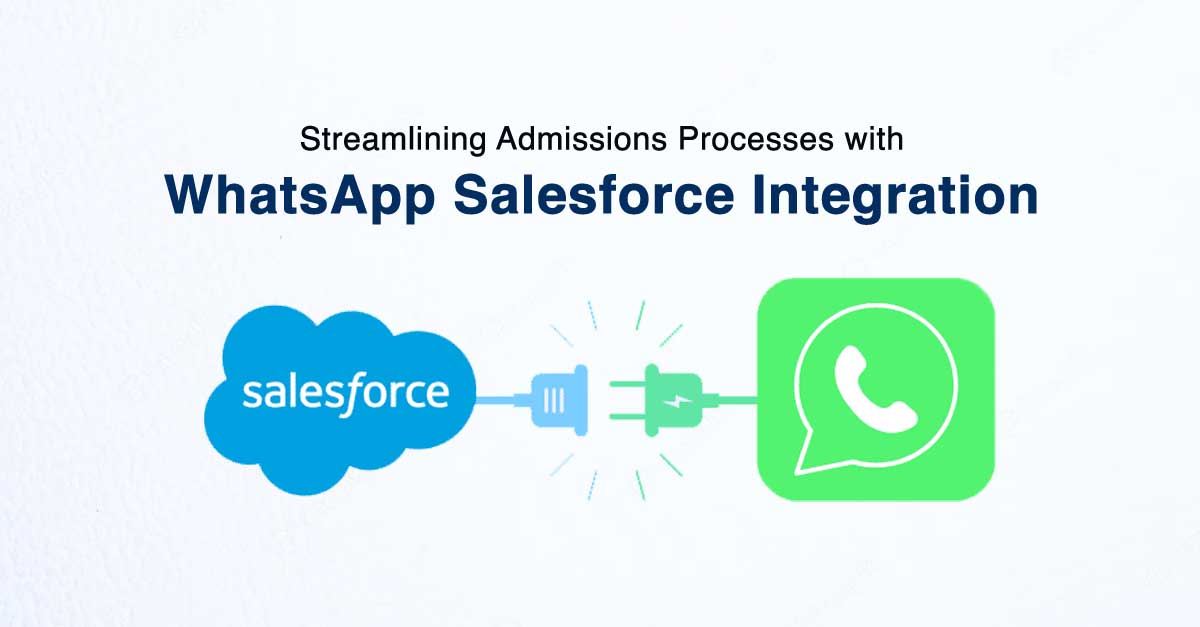 Streamlining Admissions Processes with WhatsApp Salesforce Integration
In today's digital age, where instant communication is key, leveraging the power of WhatsApp and Salesforce can revolutionize the way educational institutions handle their admissions procedures. 
By integrating WhatsApp directly into the Salesforce platform, admissions teams can enhance their efficiency, improve engagement with prospective students, and simplify the entire admissions journey. 
In this blog, we will delve into the various ways WhatsApp Salesforce integration can optimize admissions processes, from initial inquiries and document collection to personalized communication and automated workflows.
Get ready to discover how this powerful combination can transform your admissions operations and help you easily attract the best talent. Let's dive in!
Why choose WhatsApp Salesforce for Admissions?
Different channels have different benefits for any business operation. As we are discussing WhatsApp today, let's find out the potential of Whatsapp Salesforce for Admissions.
When it comes to streamlining admissions processes, focusing on WhatsApp can provide unique benefits that make it an ideal platform for effective communication. WhatsApp offers a wide range of features that are perfectly suited for handling admissions-related tasks. Using WhatsApp Salesforce in India and other countries, admission officers can make the admission process much faster and simpler.
Undoubtedly, WhatsApp is a globally popular channel for daily interactions, which makes it a more accessible channel. Educational institutions can use this to their advantage. Using WhatsApp, a large segment of prospective students is approachable, which paves the way for more interactions.
According to Statista, there are 487 million WhatsApp users in India, making it the leading country for WhatsApp users.
Images, videos, text, audio, etc.—all these formats are supported by WhatsApp, allowing easy and seamless document exchange and accelerating the admission process. Moreover, WhatsApp's end-to-end encryption provides a secure communication channel, assuring both the admissions team and applicants of data privacy and confidentiality. 
By leveraging WhatsApp's user-friendly interface, multimedia support, and secure messaging, educational institutions can create a streamlined admissions process that fosters personalized engagement, simplifies document collection, and ultimately enhances the overall experience for prospective students.
Streamlining the Process Using WhatsApp Salesforce for Admissions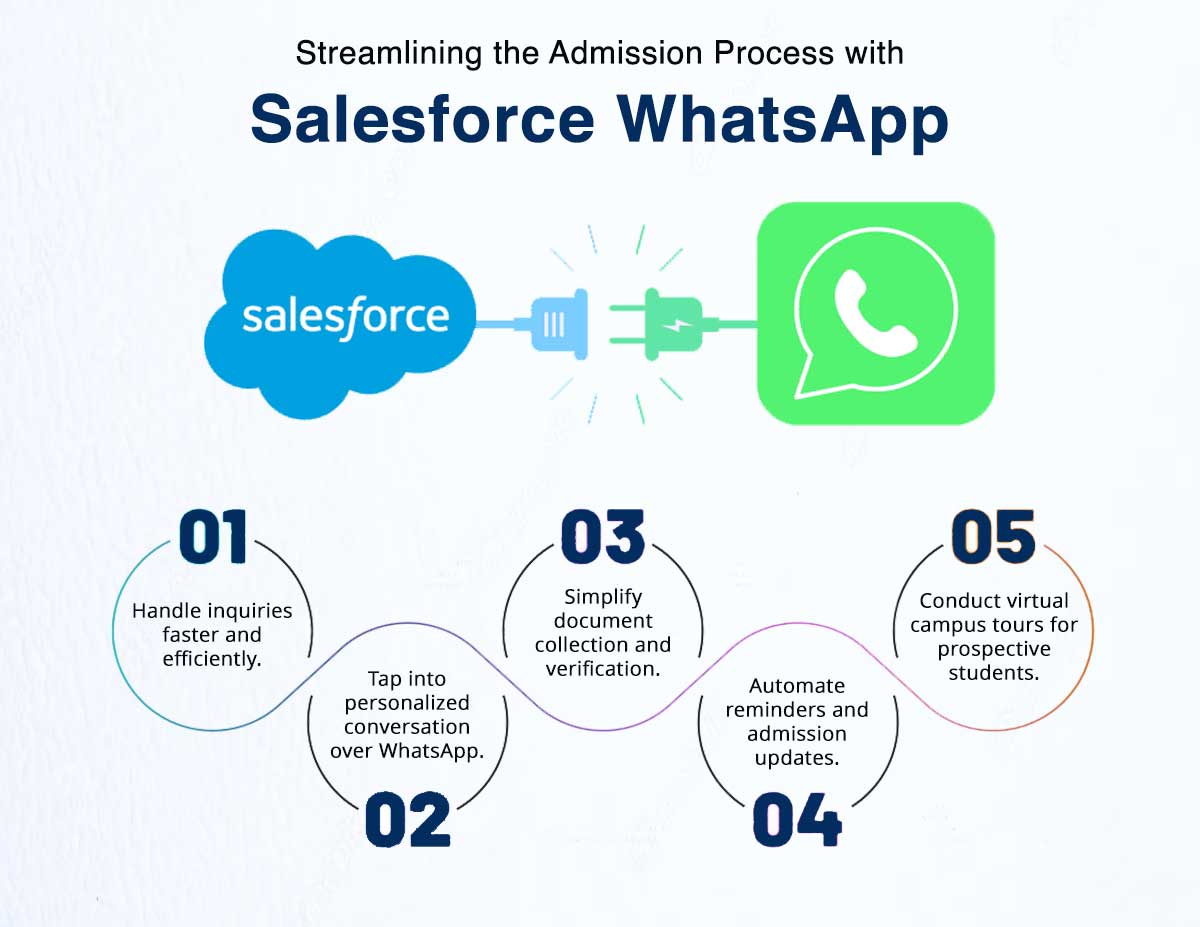 There are numerous ways to use Whatsapp Salesforce for Admissions at different stages of the admissions process, saving time and effort. With the help of automated WhatsApp messaging, the process can be simplified further.
Instant Inquiry Handling
During admissions, admission officers can expect an inflood of inquiries. And effective handling of inquiries leads to more enrollments and admissions.
Salesforce WhatsApp integration allows admissions teams to handle inquiries from prospective students in real time with the help of WhatsApp live chat for Salesforce.
A quick or immediate response is one of the aspects that contribute to effective inquiry handling. Whenever any inquiry comes in from any prospective student, admission officers can chat with them live and resolve their inquiries faster. Also, admission officers can use automated WhatsApp Salesforce texting to respond to inquiries immediately. This saves the prospective student's time.
According to Forrester Research, 77% of customers admitted that valuing their time is an important thing a firm can do to offer quality customer service.
This ensures no inquiry goes unanswered, enabling prompt and efficient responses to prospective students' questions and concerns.
Personalized Conversations Over the Most Familiar Chatting Interface
Using WhatsApp Salesforce for admissions, teams can engage in personalized conversations with individual students and their families.
Every prospective student may have a unique concern that needs to be addressed effectively. This is why personalized conversations are necessary. You can count on the Salesforce WhatsApp chatbot to handle multiple prospects simultaneously and offer faster and more personalized conversations at scale. 
While chatting one-on-one, it is easy to personalize interactions as per their needs and requests.  you can develop a personal connection, which increases the trust of prospecting students in your institution and increases the chances of enrollment. 
Document Collection and Verification
Document collection on time from students is a  cumbersome task, but Salesforce WhatsApp integration can help you simplify it. Through WhatsApp, you can easily share and request necessary documents. Through WhatsApp, students can easily share documents, such as transcripts or identification. 
This makes it easier for admission teams to manage documentation in Salesforce. The best part is that manual intervention is greatly reduced, leading to a more streamlined and organized admission process.
Automated Reminders and Admission Updates
Integrating WhatsApp with Salesforce allows educational institutions to set up automated reminders and updates for important admission deadlines, document submissions, or interview schedules. 
As the admission process moves forward and stage changes, an automated update or reminder can be sent to the applicants. This helps you keep them updated throughout the admissions process. Automated reminders reduce the chances of missed deadlines related to admissions.
Moreover, admissions teams can provide regular updates on application statuses, admission decisions, and enrollment procedures, demonstrating the institution's commitment to clear and timely communication and enhancing the overall applicant experience.
Virtual Campus Tours
With the shift to remote learning and virtual experiences, Salesforce WhatsApp integration enables educational institutions to conduct virtual campus tours. 
Using WhatsApp Salesforce for admissions, teams can arrange Virtual campus tours to deliver immersive experiences to prospective students. 
You can share Virtual campus tours with students through WhatsApp. Students can explore the campus remotely and get a feel for the institution.
Transform the Admission Process Drastically with WhatsApp Salesforce Chatbot, Live Chat, and More
WhatsApp Salesforce for admissions allows educational institutions to simplify and accelerate their admission-related tasks. Whether it is about handling prospective students' inquiries faster or delivering personalized service and support, WhatsApp Salesforce allows you to reach and connect over the most popular messaging platform. With WhatsApp Salesforce integration, prospective students and their families can connect with you where they already are. This eliminates the need for switching channels. With the advanced capabilities provided by a proper Salesforce WhatsApp integration and rich media format, you can be more innovative while managing enrollment and admissions. 
Want to acquire advanced Salesforce WhatsApp messaging capabilities for faster and more admissions? Turn to our experts at care@360smsapp.com or click here to contact us.
FAQs
To use Salesforce WhatsApp in India, the easiest method is the integration of a Salesforce native messaging app into Salesforce that supports WhatsApp. This way, you can integrate WhatsApp into Salesforce within 5-10 minutes and start with WhatsApp messaging. You also get access to advanced pre-built capabilities for automation, scalable messaging, and interaction management over WhatsApp, which helps you with seamless WhatsApp operations.
Salesforce WhatsApp chatbot provides the best way to automate business interactions and save time, improving employee efficiency. You can automate the process of answering FAQs and lead qualification, mark your 24*7 availability, and make personalized product or service recommendations with the help of a chatbot. You can render personalized experiences at scale and interact with multiple audiences at once. You can also ensure that response is immediate to incoming inqueries, improving customer experiences.