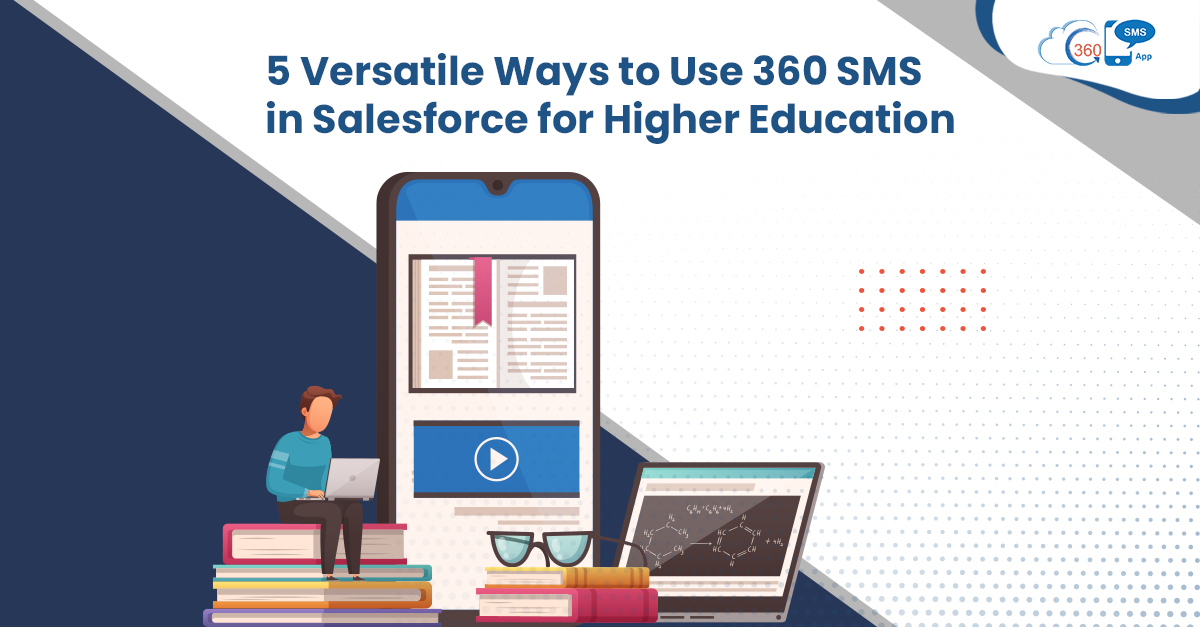 5 Versatile Ways to Use 360 SMS in Salesforce for Higher Education
Like any other industry, the education realm also comes across prospecting, lead generation, and student qualification. Thus, education professionals also look forward to a convenient and quick communication channel to connect, engage, and serve students. So, whether it is about internal or external communication, SMS salesforce for Higher Education can help connect with prospective students at scale and streamline communication among various educational departments. Further, multiple communication channels help to engage differently and add versatility to interactions.
5 Versatile Ways to use 360 SMS in Salesforce for Higher Education
360 SMS for Higher education to
Attract Applications Across the World
The use of SMS Salesforce for Higher Education could limit the reach and restrict the number of applications due to country-to-country texting barriers.
This is where you can take advantage of WhatsApp Salesforce for Education workflows. You can use WhatsApp for prospecting and attract student applications from all over the world.
Automate Student's Qualification Process
with 360 SMS for Higher education
Every higher education institution has its own standard, criteria, academic requirements to grant admission in different courses. Thus, before pitching and educating a prospect about any course, it is vital to qualify and identify if a prospective student is fit for your school or not. Here you can use texts for higher education.
This could be a time-draining process but not with automated interactions. So, texting apps allow you to design and run Surveys on your own and automate student's qualification processes to reduce manual intervention.
This way, you can hand over a qualified list to education counselors, and they can invest their time and effort on students who are worth chasing.
Assign Leads Automatically to the Right Lead Owner
Education professionals can also cut back on manual lead assignments to relevant departments and save plenty of time. 
This feature is dubbed as Sticky Sender in 360 SMS. So, you can start with bulk messaging and probe about the courses that students are interested in. Further, as prospective students would reply with the course name, the lead would be automatically assigned to the relevant department. After this, concerned department members can indulge in 1-on-1 conversations with students to educate them and resolve their queries faster.
Send Videos on Difficult and Crucial Topics
In a student's lifecycle, students come across complex topics now and then. As a result, they look forward to someone who can explain and help them understand the topic thoroughly.
This is where educational institutions can rely on Salesforce WhatsApp for higher education for rich media conversation. They can use it to send small videos or audios to explain complex topics. This way, students can access those videos as many times as they want without any need for seeking other's help.
Use Voice Messages for Reminders and Announcement 
For more speedy communications at scale, you can send voice messages using Salesforce WhatsApp or SMS for educational workflows. You can either use pre-recorded voice templates or record voice messages instantly to send exam reminders or make important announcements.
You can send these voice messages through MMS or WhatsApp and improve student's experiences.
Be There at Every Turn for Students with 360 SMS and Improve Engagement
There are enormous opportunities to interact, engage and communicate with students and streamline communications within and outside educational institutions. 360 SMS makes it feasible for educational professionals to hit the spot with automated as well as manual text messaging and make use of multi interaction channels to communicate with students over their preferred channel.
To know more about how the 360 SMS app can help to distill weeks of educational tasks into hours, get in touch with our experts at sales@360smsapp.com or contact us here.