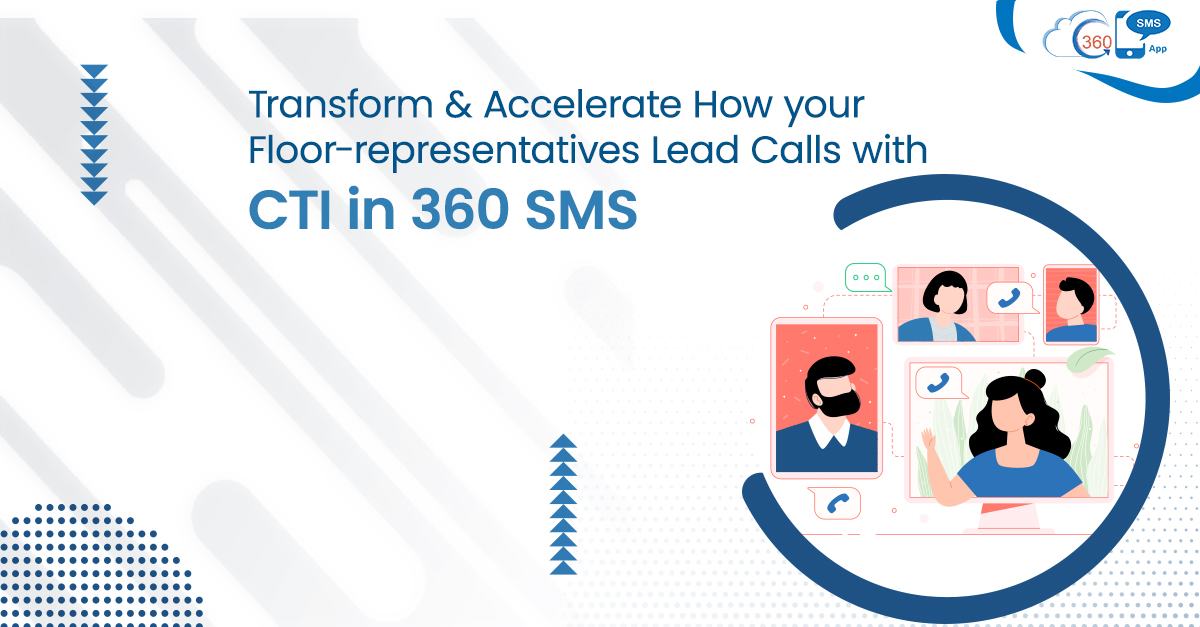 Transform & Accelerate How your Floor-representatives Lead Calls with CTI in 360 SMS
Work within timelines has become a requisite to speed up processes in the business. Serving customers or assisting them over call sometimes stretch the timeframe to an unexpected limit due to a lack of required data by their side. To lead a customer call effectively, first, executives have to struggle with finding relevant data or caller history to know about the customer and their past interactions. 
Power Telephony
with parallel multitasking capabilities
The situation even deteriorates for executives when the volume of calls is too large to deal with. So, relieving executives from the stress of handling too many texts or calls and routing them, Salesforce's 360 SMS app provides a much powerful texting solution. Featured with CTI, not only does it help with advanced phone control, but let its users incorporate the power of automation, intelligent routing, call authentication, recording, and monitoring capabilities into the business call management strategies.
Let's find out more about 360SMS apps' CTI feature capabilities to redefine business workflows.
E-commerce 
Resolve inquiries, Extend discounts
Offers and discounts always excite users. Knowing the fact, e-commerce companies make every possible move to let their prospects know about deals and discounts. With 360 bulk SMS feature, you can reach millions in one go or schedule messages to go out on a specific day. 
But only text conversation may not let you close a deal or sell your product. A user may have multiple queries before purchasing that need to be resolved in no time, and this is where CTI helps your sales representatives to do that. The moment a user calls, with all relevant information on the screen, an executive can provide the best assistance.
Banking Automate
Accelerate Dialing For Banks
Customers tend to receive multiple calls form banking officers checking requirements of loans, credit cards, and much more. From banking officers, it can be quite tedious to pull out contact numbers and dial one after another. Thus, cutting back on manual work, the banks can automate the dialing process through CTI and contact the relevant person. 
On the contrary, eliminating manual efforts further, you can record and drop a voice message in bulk through the Ringless Voicedrop feature checking requirements and ask them to call back. Further, as interested clients call, executives can aid them effectively, being aware of who the customer is, and route calls to the relevant department.
Service Sector
Send Packages through text, Assist Customers over call
Events and parties have become an integral part of people's lives.
So, fetching data from CRM and using 360 SMS features, one can make a customized list of customers applying filters and logics based on their upcoming occasions like birthdays and anniversaries. Further, you can schedule or send bulk messages through List Views, letting customers know about suitable venues and packages. In the next step, as customers call to enquire more, the executives can handle them more efficiently with all the customer's information in front of their eyes.
Conclusion
With not just limiting to improving customer experience, CTI allows organizations to gain insights into employees' interaction approach. CTI's ability to record calls help you to gauge employee's performance and support quality provided to clients. Consequently, with enough room for improvement, seniors can train and guide employees well for their weak areas. Overall, CTI renders a complete package to save time, improve the employee's efficiency, and results that drive up revenue figures.