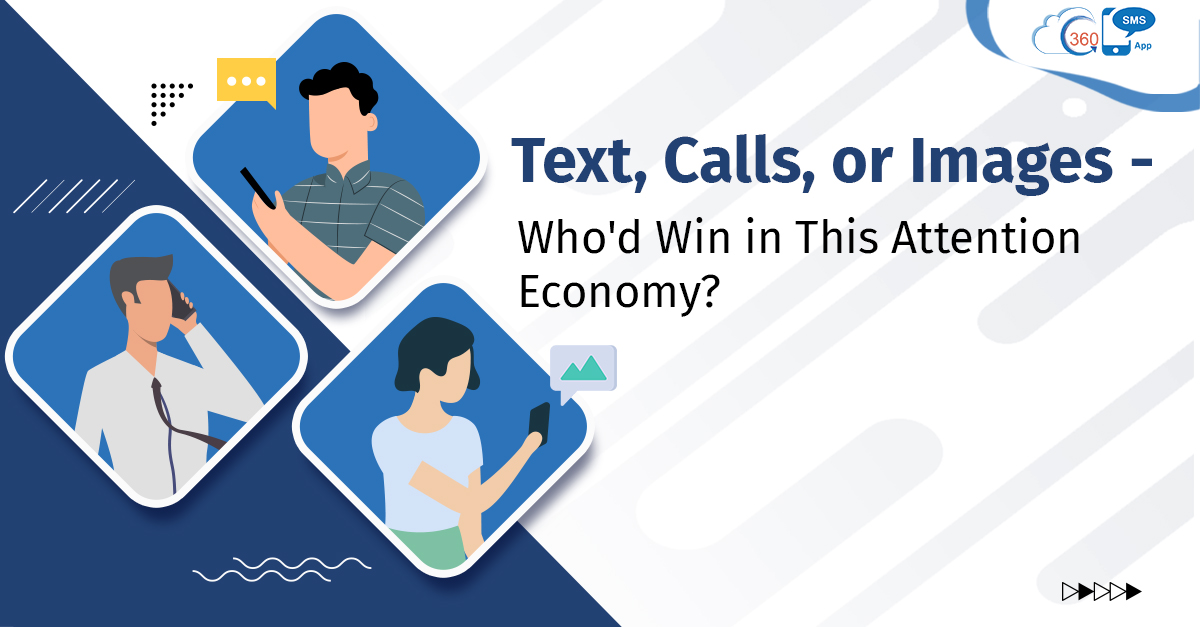 Text, Calls, or Images – Who'd Win in This Attention Economy?
In this attention economy, it's the customer's attention that every business strives for. The use of the right business communication channel is a crucial factor to consider for grabbing the customer's attention. Every communication channel has its own significance and serves a specific purpose while communicating with prospects and customers. 
SMS can be a perfect channel to communicate through words, while images can help to add a visual appeal to simple and plain text messages. Similarly, calls serve a different purpose and help businesses connect with customers in real-time and communicate verbally. Thus, choosing the right communication channel in Salesforce is equally important to achieve the desired goal effectively. So, to get the right one for your business, a comparative analysis of texts, calls, and images can help to a great extent.
Text, Calls, or Images-Which Business Communication Channel to Choose for Attention?
Text as a business Communication Channel
According to a Chicago Tribune report,
Americans spend only six minutes a day making calls and 26 minutes texting. Also, 90% of leads prefer texts over calls for communication. But only 48% of businesses have texting capabilities.
The stats show how much people are leaning towards texting. 
Call operations are more time-consuming compared to text. With texting, employees can save much of their time and devote it to other high-value projects. Thus, employees can be more efficient at work. More importantly, there's a great importance of a notification bar for grabbing the prospect's attention. The notification bar allows employees to respond immediately to an incoming text and capture the immediate attention of prospects right away.
How it Grabs
Attention 
90% of people open a text within 3 minutes. This shows text messages are much more capable of grabbing attention in a short span than any other communication channel. This is why firms can expect a quick response from customers when they send Salesforce text.
Calls As a
business Communication Channel
Calls can be the best pick for certain types of humanized communications. For example, to convert leads with high buying intent, calls can help close deals faster. But for other types of communications, like marketing, follow-up, conveying time-sensitive information, phone call interaction can be a time-consuming option. As an alternate, voice notes are much faster than calls. This is why voice notes work for businesses.
Interaction over call leads to additional communication steps because employees have to dial each phone number manually. Also, phone calls demand the undivided attention of both caller and receiver, due to which employees cannot focus on any other task.
How it Grabs Attention 
SMS delivery is not dependent on the other end recipient. But in the case of calls, callers have to depend on the receiver to pick up a call and take conversations forward. Though a phone ring is enough to grab the customer's attention, the response from the other end is subjective.
Images as a
business Communication Channel
Images are the best option to make any content more appealing. But many times, an image is not sufficient to convey the intended message. An image without text can mislead customers and hamper the brand reputation.
How it Grabs
Attention 
An image alone is not enough to grab the customer's attention. Instead, an image performs better when paired up with some catchy content.
Which is the best business communication channel: Text, Calls, or Images?
Text messages paired up with a visual or an image work the best to grab the immediate attention of customers. SMS with visuals, or MMS, helps make a piece of content more catchy, compelling, and innovative. Thus, visual content tends to attract customers more than content without visuals. You can easily break a wall of texts and add a relevant image to keep engaging customers, and you can have the reader's attention even when they stop reading.
Grab Instant Attention of Customers and Improve Responses
Texts, calls, and images are used for different purposes and have their own capacity to grab the customer's attention uniquely. But SMS allied to images make more sense due to the visual appeal and more clarity of information. More importantly, SMS has the highest open rate and is quite scalable compared to call. And this makes it the best communication medium to attract the instant attention of customers.
To know more about how you can grab the prospect's attention using automated messaging, turn to our experts at sales@360smsapp.com or contact us here.