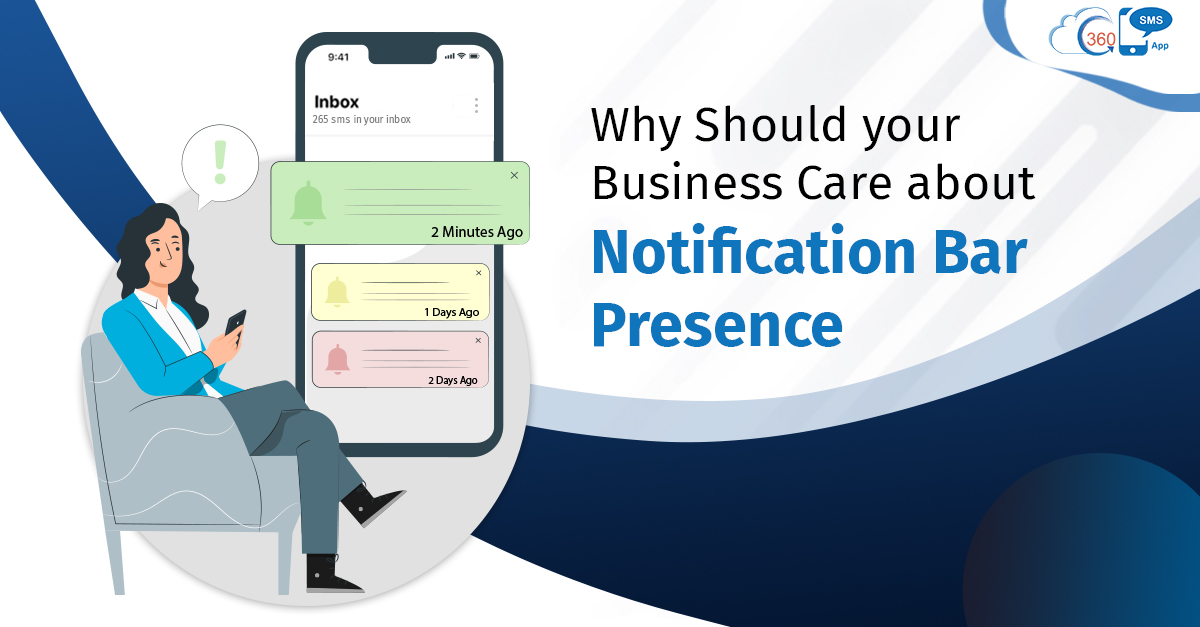 Why Should your Business Care about Notification Bar Presence
Every incoming text can be a real revenue opportunity that organizations can't afford to miss at any cost. Whether it is a general inquiry text or a text from an interested buyer, both texts are crucial for business and can lead to conversions. Thus, it becomes vital to address every incoming text faster as it can cost users a loss of business opportunities. This is where the notification bar comes to the rescue. The presence of a notification bar can make a world of difference in business communications and help to provide better services to your customers.
What is a Notification Bar?
Notification Bar is an interface located at the top of the mobile devices, which users can access by swiping from top to bottom. The status bar displays a brief of various types of information so that customers can get an idea of what information is all about.
Similarly, organizations can handle incoming text responses in a much better way with the help of a notification bar. Whether they are running an SMS campaign or conversing one-on-one with customers, the notification bar allows agents to be fast with their responses and seize every opportunity right away.
Notification Bar and 360 SMS
Knowing the importance of the notifications bar, the 360 SMS app provides an incoming sidebar to manage responses better. It is also known as the Utility bar.
It allows users to identify newer and older messages based on the color codes assigned by them and prioritize messages. Users can allocate color-codes based on the time gap or how long ago messages were received.
Why should your business care about notification bar presence
Improve Customer Experiences
Customers often hate waiting for so long when they need a resolution or answers to their questions. Therefore, they expect a quick inquiry resolution or response from a brand or an organization.
The notification bar lets you do that much conveniently. As you get instantly notified in the event of an incoming text, you can respond immediately and grab the customer's immediate attention. And it's the attention-grabbing capability only why voice notes work for businesses.
Improve Employee Efficiency
Notification bar can drive the immediate attention of users through notifications. This can help improve employee efficiency. Rather than keeping an eye on every incoming text, they can perform other priority tasks without losing focus and respond faster simultaneously.
Generate More Opportunities
Delayed response is the major cause of losing out on opportunities. If customers don't get a response in a short time, they are more likely to switch to some other competitor.
But with the help of an incoming sidebar, you can prioritize responses considering how long ago messages were received and seize the opportunity by responding faster. Also, you can respond to every Salesforce text within a timeline without a miss and generate more opportunities.
Drive Conversions
More business leads in the pipeline lead to more conversions. The message bar notifies you about an SMS through a sound or phone vibration (if you're using the SF1 mobile app). Thus, you can immediately respond to the customer's queries to help them with purchase decisions. This way, you can improve lead generation and conversions too.
Manage Responses Better and Accelerate Conversions
The incoming bar provides the best way for agents to stay on their toes and respond to every incoming faster. This could be beneficial for both organizations and customers. The notification bar empowers organizations to handle responses in a much better way. And this could further help to improve brand reputation, customer experiences, and conversions.
To know more about other ways to manage conversation at scale using 360 SMS, turn to our experts at  sales@360smsapp.com or contact us here.