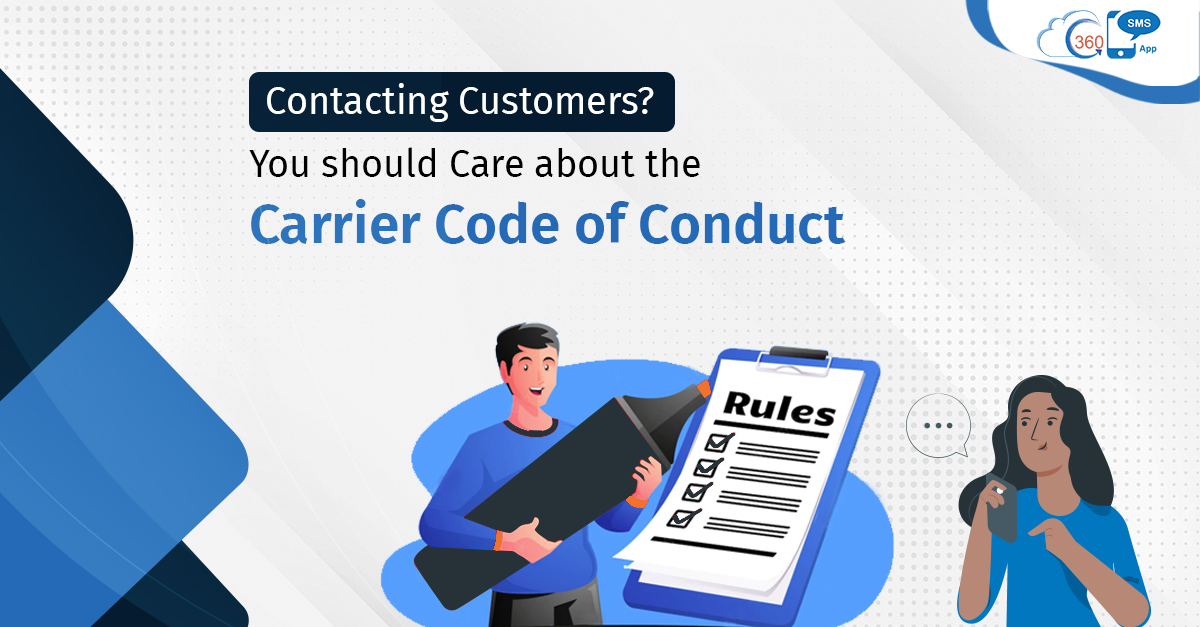 Contacting Customers? You should Care about the Carrier Code of Conduct First
Sending text messages at an unusual time, like at night, may annoy customers, and text messages may end up in the spam folder. Numerous such practices can lead to violation of texting laws and risk of financial penalties. So, there are some messaging codes of conduct that can help users to foster high-integrity business communications. Also, the carrier code of conduct prevents customers and network carriers from abuse. 
What is the Carrier Code of Conduct?
There is certain compliance for texting that helps you text without violating texting laws. Carrier's code of conduct specifies requirements and standards that business users need to follow while texting. This helps users stay compliant while messaging and follow best practices while sending texts.
Carrier Code of Conduct you Should Care About
Consent
The type of consent varies depending on the type of message content that you want to send. One type of content may not work for all types of messages. So it's crucial to understand the carrier code of conduct you need to follow.
Conversational Messaging
If a consumer texts first to a business, then an individual expects a response in return. So, if a business agent responds to an incoming text, it doesn't need additional permission. It's a back-and-forth conversation between a customer and agent, so it needs implied consent only. And implied consent is where a customer initiates the exchange of messages.
Informational Messaging
Informational messaging is when a customer provides the phone number to a business and agrees to receive informational text messages. For this messaging, express consent is required. Business ventures can collect consent through texts, webforms, or verbal communication. Even written express consent will also work.
Promotional Messaging
Promotional messaging is when you send messages to a customer for promotions. This messaging requires express written consent. This means you should collect consent in a written form. It could be through a webform or a checkbox to receive promotional texts.
Opt-Out
Carriers require opt-out compliance also. So, customers who give consent to receive text messages must have an easy option to opt out anytime. To do so, you can add an easy way to support opt-out by replying STOP in your text messages. This will help you to opt-out customers who do not want to receive text messages and stay compliant while texting.
Avoid Snowshow sending
Carriers actively keep a check on snowshoe sending. Snowshoe is a technique in which the same text is sent through different numbers to use unique IP addresses and avoid spam filters and message volume limitations. So, try to avoid this practice.
Steer Clear of Deceptive Content
Even though customers have provided consent, you cannot send deceptive, abusive, spam, phishing, and unwanted illicit content. Such content can compel carriers to restrict your message sending rights. 
So avoid practices like phishing in which text messages seem from a reputed company but intend to collect confidential customer information like passwords by tricking them. Also, texts that contain illicit content and harass, deceive, and threaten customers are not permitted. Besides, texts related to alcohol, drugs, or intends to evade security, etc., are also prohibited.
360 SMS and Carrier Code of conduct
360 SMS is a Salesforce native texting app that is compliant by design. Thus, whether it is about managing selective opt-in or opt-out, the app helps you do that. You can opt-in or opt-out customers the way they want.
Whether they want to opt-in or opt-out a specific channel, person, department, content type, etc., you can do that conveniently. On top of it, no matter what new regulations are coming on your way, you can add your own custom field to handle compliance.
The best part is AI-powered opt-out mechanism lets you manage out-outs like never before. Not only just keywords like STOP help you, opt-out customers, automatically. Instead, 360 SMS also understands the intent in a message and opt-outs customers without a miss.
For instance, if a customer responds, "Don't message me again", the customer will be opted out, which adds great convenience to businesses and allow them to stay compliant.
Reap Texting benefits to the Fullest without Hiccups
Carrier code of conduct help users to continue reaping the benefits of text marketing without interruptions. More importantly, users can easily steer clear of financial penalties, future disputes, and suspension of text sending. Even if a company tries to evade any guiding principles, text messages may fall out of the carrier code of conduct. This may lead to the discontinuation of texting for business communication. But following the carrier code of conduct, organizations can reap texting benefits to the fullest.
To know more about how you can stay compliant while texting using 360 SMS, turn to our experts at care@360smsapp.com or contact us here.