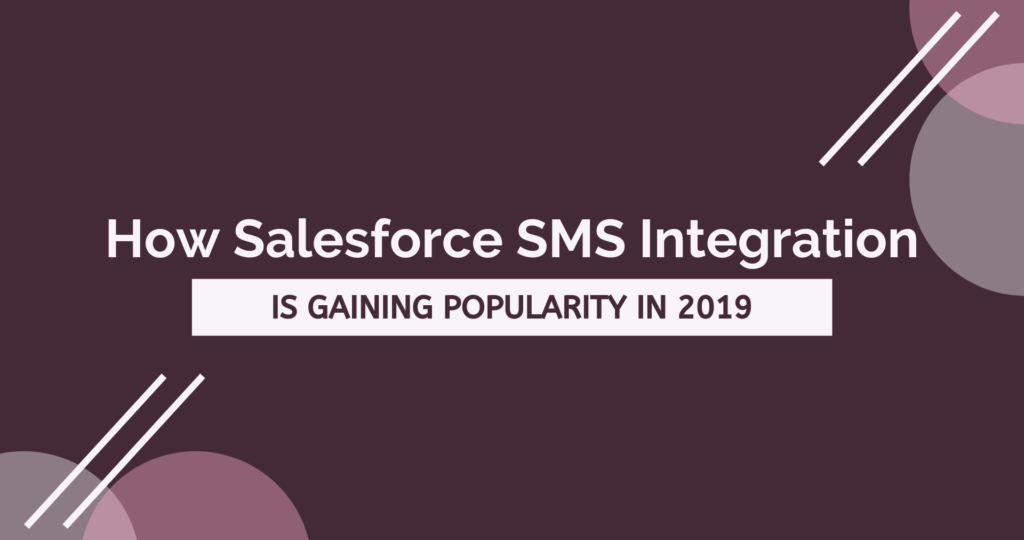 How Salesforce SMS Integration Is Gaining Popularity in 2019
Salesforce never leaves an opportunity to provide the best services to its customers in the best way possible. As everybody knows that text messages are the latest medium to reach out to the maximum number of people in a single go and get some productive results as well. SMS are never out of trend when it comes to communicating with a larger audience to get maximum output. It is really difficult for CRM users to switch between the respective CRM and the texting apps over and over again, so to make it easier for the users; Salesforce came up with another good solution that can serve as a beneficial purpose for all. Salesforce SMS Integration is the best of all because it can serve you well when it comes to mass texting thousands of people in a single attempt so that the message is conveyed well and clear. There are various benefits of opting for the Salesforce powered texting apps to increase the value of your online business.
The following mentioned are some of the prime benefits that it offers to the customers:
1) Reduced Costs- It definitely lessers your cost because instead of two different platforms, you can work on a single platform. Hence, it can save you a lot of money too. Also, for other texting apps, you need to go for various plug-ins too for an advanced and better experience but that is completely not the case here.
2) Saves Time- Switching between various other SMS apps and your CRM platform can be a time-consuming as well as an exhausting process. But integrating your CRM with the required SMS app can save you a lot of your precious time too which can later be utilized in some other important tasks.
3) Better Experience- Salesforce's Integration with the related SMS app will always result in better and productive results. It would make you much more efficient and hence, it would allow you to generate more revenue for your organization. For an enhanced and better experience, people must go for these kinds of integration processes.
So, the above mentioned were a few prime benefits that the users can avail if they go for their SMS app integration with Salesforce. Craving for a better and enhanced quality experience for yourself and your employees? Salesforce SMS Integration might serve you as the best solution. Looking for the best texting app powered by Salesforce? You are just in the right place. 360 SMS App, natively built on Salesforce empowers you to connect with your customers, prospects or even business partners via single/ bulk SMS or MMS. Interesting enough? Connect with us today and book a free trial for yourself now. Unlock the power of texting combined with your CRM solution.