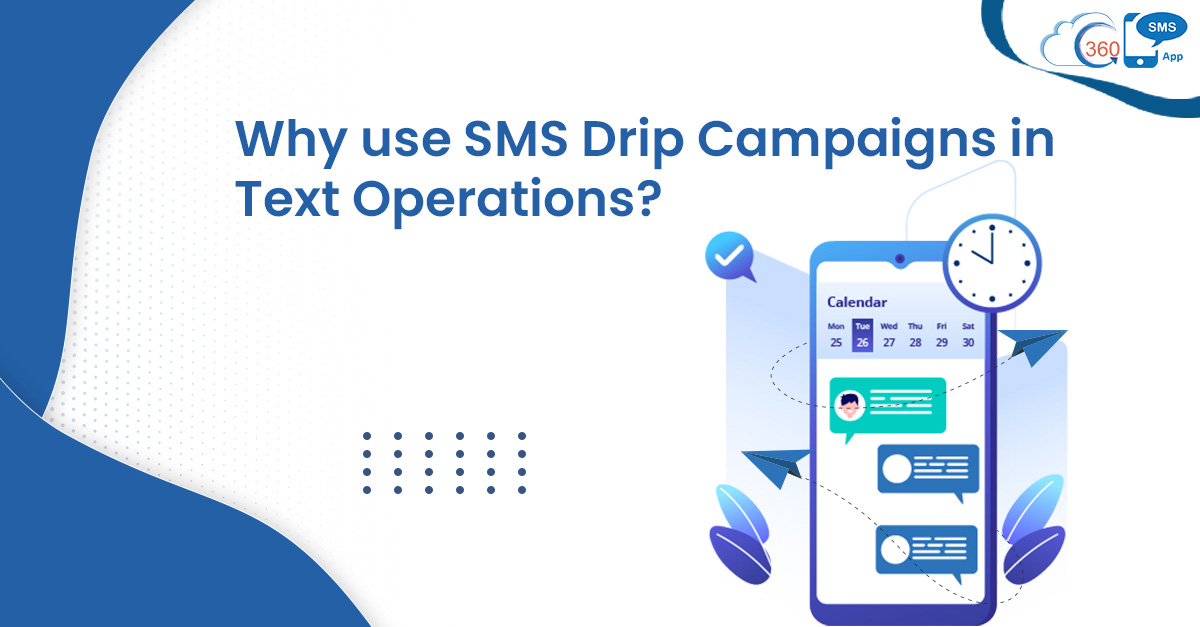 Why use SMS Drip Campaigns in Text Operations?
High lead volume doesn't ensure high conversion. It takes up a lot to nurture and qualify leads and drive them to ultimate conversions. Organizations need to engage frequently with audiences so that prospects don't forget about their brand and business offerings. Thus, connecting with audiences at the right time with the right messages can help organizations qualify leads and maximize conversions. This is where SMS Drip Campaigns come into play.

Significance of 360 SMS Salesforce Drip Campaigns 
360 SMS app is a Salesforce-native texting solution, and users get an easy SMS drip campaign setup with 360 SMS. It gets you DIY-configurable automation capabilities and allows you to automate conversations yourself. Thus, users get With drip campaigns, you can cut back on manual work and automate the texting process without expert help. So, employees can reduce their manual intervention while sending each message and schedule messages defining offset by the number of days and time.
This is not all. There's much more that you get with drip SMS campaigns.
Increased Efficiency of Employees
The more efficient employees are, the better it is for the organization. Too much workload immensely affects employee's efficiency. Text message drip campaigns help employees to reduce a lot of manual work. Also, drip campaigns eliminate the need for the physical presence of employees to send out each message. As a result, employees can schedule a series of tailored messages based on use-cases and sit back or focus on the core priority areas of business like lead generation and conversion.
Better Conversions
Whenever a new lead arrives, it needs consistent follow-ups and engagement. For such Leads, you can set dripped messages to go out on a defined interval. You can automate follow-up messages for consistent interactions with customers and qualify leads. This way, you can forward only qualified leads to the sales team. Else, unqualified or less qualified Leads would only waste the time and effort of your team and lead to fewer conversions.
"61% of B2B marketers send all leads directly to Sales; however, only 27% of those leads will be qualified."

(Source: MarketingSherpa)
Reduced Manual Intervention
Too much involvement of employees while performing text operations has an immense impact on their productivity. Thus, with less work, they can focus more on other core priorities of the business. So, with the help of SMS drip campaigns, employees can reduce much of their manual work and sit back.
All they need to do is schedule text messages, and they can send time-sensitive messages timely without a miss. This adds convenience to agents and customers-both. Agents do not need to keep track of upcoming payment due dates to send texts, and customers can also make payments timely.
Better Targeting & Increased Returns with 360 SMS Drip Campaigns
Automated texting through 360 SMS Salesforce Drip Campaigns has paved several new ways to enhance customer experience with your brand. The incorporation of SMS drip campaigns into SMS marketing helps to reduce employee's manual work and automate follow-up texts, reminder texts, etc., for consistent engagement. On the one hand, employees can steer clear of keeping track of time-sensitive messages to send text messages on a defined day. On the other hand, customers never miss important due dates as automated reminder texts remind them without a miss. Thus, apart from minimizing employee involvement in text operations, SMS Drip Campaigns help with effective targeting by interacting with prospects at the right time. 
To know more about how to make the best out of SMS drip campaigns, reach out to us at  info@360smsapp.com or contact us here.