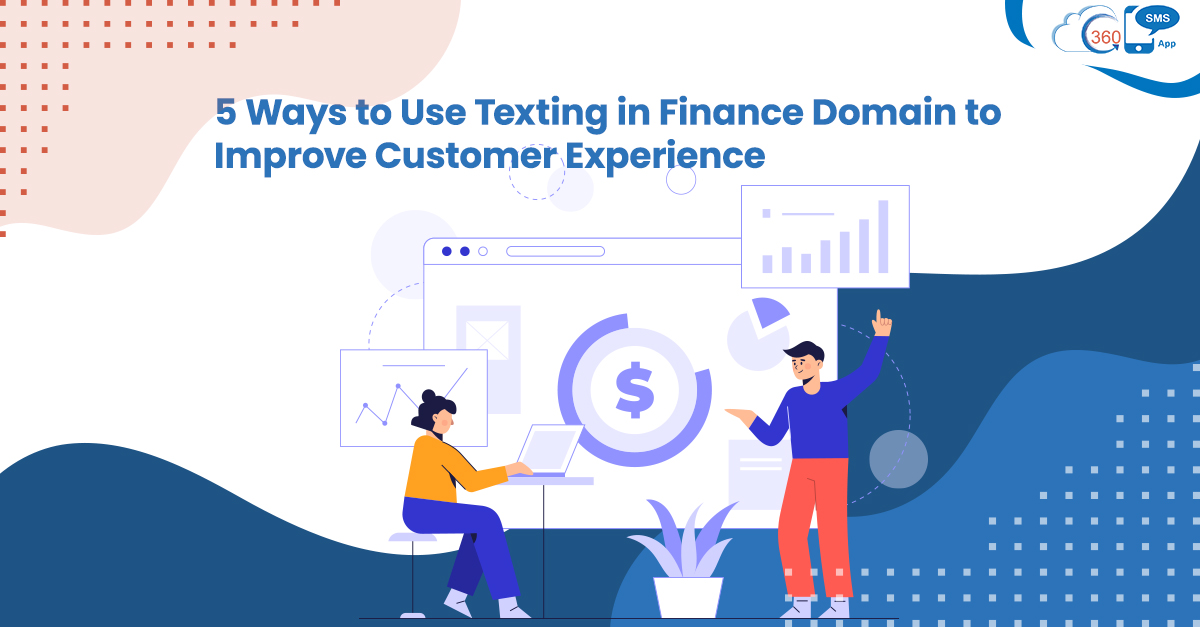 5 Ways to Use Texting in Finance Domain to Improve Customer Experience
Salesforce helps businesses to manage their customer relationship effectively and provide the best experience to the customers. On the other hand, organizations also need effective and quick communication to improve engagement rates and user experiences. This is why Salesforce text messaging has become the critical priority for businesses to interact with audiences without draining much time. So, no matter which industry one belongs to, whether it is education, real estate, recruitment, or finance, every industry opts for Salesforce texting to serve customers with a convenient two-way communication platform. 
The finance industry is one of the busiest industries, always loaded with numerous tasks, from prospecting to document collection. This is where text messages can help speed up the finance operations and reduce manual work.
Texting in finance
Industry
Texting in finance for
Sending Transactional
Alerts
Users are always concerned about every deduction that takes place from the account. So, financial institutions can send text from Salesforce to keep them posted about every transaction.
Agents can send texts in the concern of installment deduction, mutual funds, maturation of financial assets and keep them informed.
Run Surveys 
Financial institutions can run Surveys through automated texts. This way, they can collect data at scale related to their requirement, income, investment plan, etc., and segment prospects based on their responses.
Further, they can use this list to suggest investment plans, schemes, loans, etc., to drive conversions. 
Pitch New Products or Services
Text messaging on Salesforce has allowed finance companies to pitch about new offerings right on their mobile phone.
Whether there's any change in the interest rates or any new online service or investment scheme has been launched, SMS in the finance industry can help to apprise their potential customers.
Provide Quick Support
Quality support is the key to customer retention and acquisition. So, using a full-fledged Salesforce text messaging app for texting, financial ventures can provide quality support services. Though there are multiple two-way communication ways, SMS offers the easiest and the most familiar two-way communication platform to customers.
Thus, they can interact with a financial institution conveniently. Also, it becomes easy for agents to interact 1-on-1 and provide quick support, which helps resolve their inquiries faster. 
Send Updates
It can cause inconvenience to customers if they are unaware of the changes in policies, interest rates, operational time, non-operational net banking due to maintenance, etc.
Thus, to improve the customer's experiences with your institution, you can send bulk texts to update customers at scale using a mass texting app on AppExchange or a business texting app in Salesforce.
Improve Transparency in Processes & Ensure Safe Banking with Texts
Though Salesforce doesn't allow to send text messages from Salesforce, users can opt for a mass text message app from Salesforce or the best texting app on Salesforce on AppExchange to send messages. With texting, finance ventures can redefine the traditional ways of serving customers and take their experiences to the next level. Apart from keeping customers posted about updates, you can improve transparency in your processes and ensure safe banking sending alerts.
To know more about the versatile use of texting with the 360 SMS text messaging app in Salesforce, reach us at sales@360smsapp.com or contact us here.