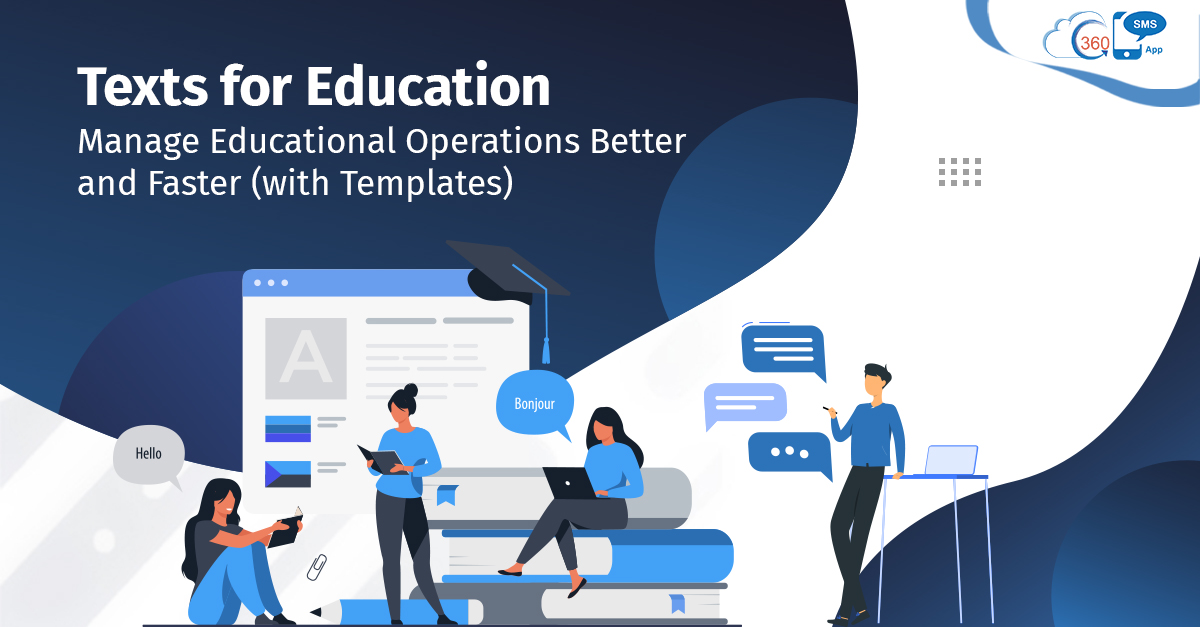 Texts for Education: Manage Educational Operations Better and Faster (with Templates)
Every educational institution needs a dependable communication channel to perform its operations smoothly, whether it is a school, college, or university. Often institutions have to connect with students at scale faster, and for this, they cannot count on call interactions every time. This is where you can count on Salesforce texts for education. Texts can help to accelerate interactions, no matter whether you want to connect regarding admission, documentation, onboarding, or any other purpose. There are various use-cases where institutions can communicate back and forth to accelerate educational workflows and improve the experiences of students and parents. One of the most vital use-cases is admissions and enrollments.
Texts for
Education
Use Cases 
Connect with Website Visitors to Provide Assistance Using
Texts for
Education
One way to use texts is you can follow up with website visitors. If any visitor visits your website and quits on any specific page, you can follow up and ask about their concern.
On the contrary, you can market a keyword on your website and ask prospective students to text the desired keyword on a specific number for any assistance. This way, you can provide an easy way to reach your institution. 
Sample Text 1
Hey,

We noticed that you were exploring various courses on our website. For any assistance, text HELP at 45456.

Study Point
In case of any visitor texts HELP, you can trigger another text using automated texting to take communication forward.
Sample Text 2
Hi, 

This is Rex from Study Point. How can I help you?
If any prospective student enquires about a particular course, you can resolve all the queries in a single chat session by conversing one-on-one.
Also, you can send URLs redirecting to self-help articles or brochures using MMS to intrigue students and parents.
Sample Text 3
Hi,

Based on your inquiry regarding master courses, we've sent you a brochure for detailed information. PFA below.
Sample Text 4
Thanks for showing interest in our master course. Visit here for more info. 

qprcollegeofmgt.edu/courses/viihiyiuhe.
Send Promotional Messages to Increase Admissions 
There are various ways institutions can use Salesforce text messages to communicate with parents and students for admissions.
They can broadcast courses for which admissions are open to increasing admission count.
Sample Text 5
Admissions for courses BE, MCA, MBA, B.Tech are open now. Limited seats are available!

QPR College of Management, 

California
Sample Text 6
QPR College of Management, California, is open for admission for BE, MCA, MBA, B.Tech. Few seats are available. Register here qprcollegeofmgt.edu/admissions21.
Sample Text 7
QPR College of Management, California, is introducing a new course on digital marketing this year. Text DIGI to 45456 and register NOW. 
Broadcast Messages at Scale for Announcements
Educational institutions often need to make announcements at scale. Text messages provide the most convenient way to circulate important information faster at scale. Whether it is about the announcement of results or any exam-related announcements, institutions can opt for SMS to convey messages conveniently.
Sample Text 8
Exam Results are OUT!

Dear Students,

Results for 1st Semester, MBA batch 2021 is out now. Check out your grades on qprcollegeofmgt.edu/results. All the best.
Sample Text 9
Dear Students,

Due to heavy rains and a forecast of heavy snowfall, University exams have been postponed. Wait for further updates on the exam commencement date.

QPR College of Management, 

California
Sample Text 10
Dear Students, 

QPR College of Management will remain CLOSED on 20 & 21 Dec 2021 due to heavy snowfall. Classes will resume on 22nd Dec. as per regular timings.

Regards 

Admin office
Send Fee Reminders and URLs
Due to busy schedules, it is difficult for students to keep track of fee due dates. Thus, educational institutions can send fee reminders and URLs to attract fees timely and make it easier for students to pay the fees.
Sample Text 11
Dear Students,

As the new semester is about to begin, kindly pay your 2nd Semester fees before 3 April 21. To pay now, click here qprcollegeofmgt.edu/fees21.
Notify Students about Attendance 
Out of several ways to use texts for education, one way is to keep students posted about their attendance. In many universities, a fixed percentage of attendance is required to be eligible for exams. Thus, by keeping students posted about their attendance, they can help students to meet the attendance criteria. 
Sample Text 12
Dear Eric,

Your attendance for February month is 20 days with 0 leaves. 

Regards

QPR College of Management
Promote Events at Scale
Another way to use SMS for education is for promotions. Events, fests, and seminars are usual activities in universities. So nothing can be powerful as promoting upcoming events, seminars, etc., right on their hand-held devices. 
So, again mass texting can help educational institutions to promote events faster at scale. You can send the date and time of events and ask for registrations to confirm headcounts.
Sample Text 13
Hi William, 

QPR College of Management is conducting a seminar on the career scope of new technologies for B.tect and M.tect students on 15-05-21 in the community hall from 2 pm onwards. Register here qprcollegeofmgt.edu/seminar.
Run Surveys and collect Student Opinions with Texts for Education
It is important to know what students really feel about the institution to find room for improvement. As it is not feasible to reach out to each student personally and collect opinions, you can count on text Surveys to capture data at scale. You can create Surveys on your own to capture data and gauge students' opinions on a specific topic.
Sample Text 14
Dear Students,

QPR College of Management is planning to organize a trip to Paris.

Text YES to 45456 to submit your interest.

Sample Text 15
QPR College of Management is planning to bring out some changes in the college administration. Kindly fill out a survey to help us plan better. qprcollegeofmgt.edu/survey/hoihu
Stay in Touch with Students at Every Turn for Smooth Operations
Text messages provide enormous ways to communicate with students and parents at various touchpoints. Not only can educational institutions stay connected with students but also improve university operations. 
With bulk text messages and automation, education counselors can cut back on call interactions and manual tasks. This can further help to improve their efficiency. More importantly, colleges can keep their student's attendance high, manage events better, collect the student's feedback, help them with queries, attract fees timely, avoid no-shows in exams using reminders, and much more. 
To more about how to accelerate educational operations using advanced messaging capabilities, turn to our experts at sales@360smsapp.com or contact us here.