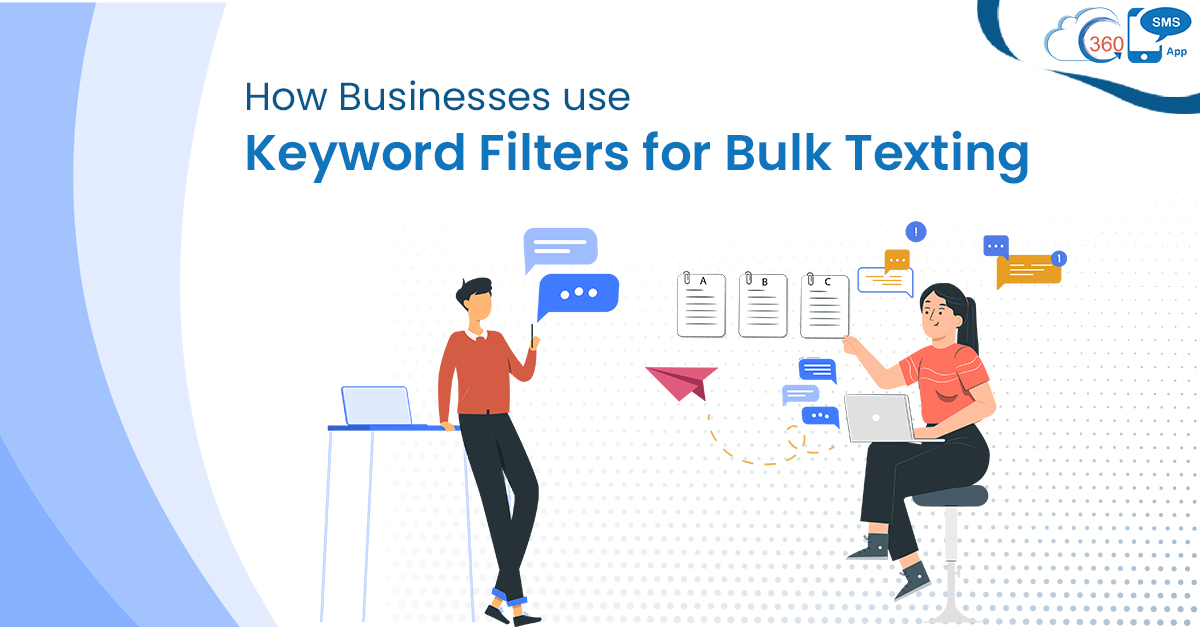 How Businesses Use Keyword Filters for Bulk Texting 
With a lot of busywork now and then, executives are hardly free to take responsibility for other tasks apart from core work. And time-constraints in businesses, always urge to cut back on time invested in every process to minimal to improve organizational efficiency.
Due to the fact, incorporation of text messages for business communication is one of the moves taken by business personnel to communicate with the audience in a much faster and effective way.
Despite having the fastest communication tool by the side, management of conversations drains up a lot of precious time due to multiple window operations. But Salesforce understands that well.
Make manual edits easier
Salesforce native texting app is pretty much familiar with time-gaps that stems due to long-drawn messaging ops. When users keep on navigating multiple windows for every trivial messaging task, there's a lot of inconveniences that employees face, and it makes the whole conversion process more tedious. Keeping in view users' inconvenience, the Conversation Manager feature of the 360 SMS App is a single-window solution for all messaging ops with no navigation.
Here's how industries can make the best use of a Conversation Manager for a seamless conversation experience.
Manage Conference Invites, reply to responses in bulk
As any new theory or medicine rolls out, several conferences are likely to take place. And it can be quite challenging to send invites to doctors across the globe and confirm how many will be able to make their presence at the conference. But this uphill task can be easily dealt with the Conversation Manager feature. 
Using 360 SMS app's bulk SMS functionality, you can send invites to as many doctors as you want. And the ones, who confirmed their presence, simply apply filters to get the list of attendees, and if required, you can export the list into Pdf or excel too. Further, with the list, you can reply to bulk chat responses with relevant details of the events.
The best part of the whole conversation is, you do not need to hop over multiple windows to take required action as all these functions can be performed from the same window pane. 
Send donation links to interested donors as a Non-Profit
Donations are the foremost requirements of non-profit organizations to carry their operation successfully. To do so, the more audiences you contact, higher the chances would be to get donations.
Through bulk SMS, one can request donations from a wide range of prospects stating the noble cause. The interested ones, who replied with a 'Yes', you can get a list of such prospects through filters and reply to bulk responses embedding a donation link in the text.
Going forward, you can track the no. of clicks made on the donation links through the Link tracking feature and gauge donors' response.
Share details to students interested in a program
Coming to the education sector, the Conversation Manager feature of the 360 SMS app has a vast role to play, streamlining processes, and driving down manual efforts.
Seminars, Olympiads, and events have always been an essential part of the education sector to enrich students knowledge and make them more interactive.
With the 360 SMS app, you can send bulk messages to convey information on seminars, Olympiads, or events. Further, you can ask students to confirm their interest by replying 'Interested' through text.
Further, using the Conversation Manager feature, you can fetch a list of 'Interested' students by applying filters and reply in bulk about the registration fee, date, time, or venue.
As a result, neither teachers have to invest their time finding 'Interested' students, nor they have to provide other relevant details to each interested student individually.
Reduce 'Page-loads', 'Window-switching'
Undoubtedly, if you keep on switching tabs to perform messaging operation like a reply, filter, or update a record, etc. it will drain much more time in comparison to performing tasks in a single window.
Thus, regardless of vertical, the Conversation Manager feature makes it much easier to manage the conversation and take necessary actions with zero navigation. Consequently, making the process effortless to handle for users with no additional time investment.