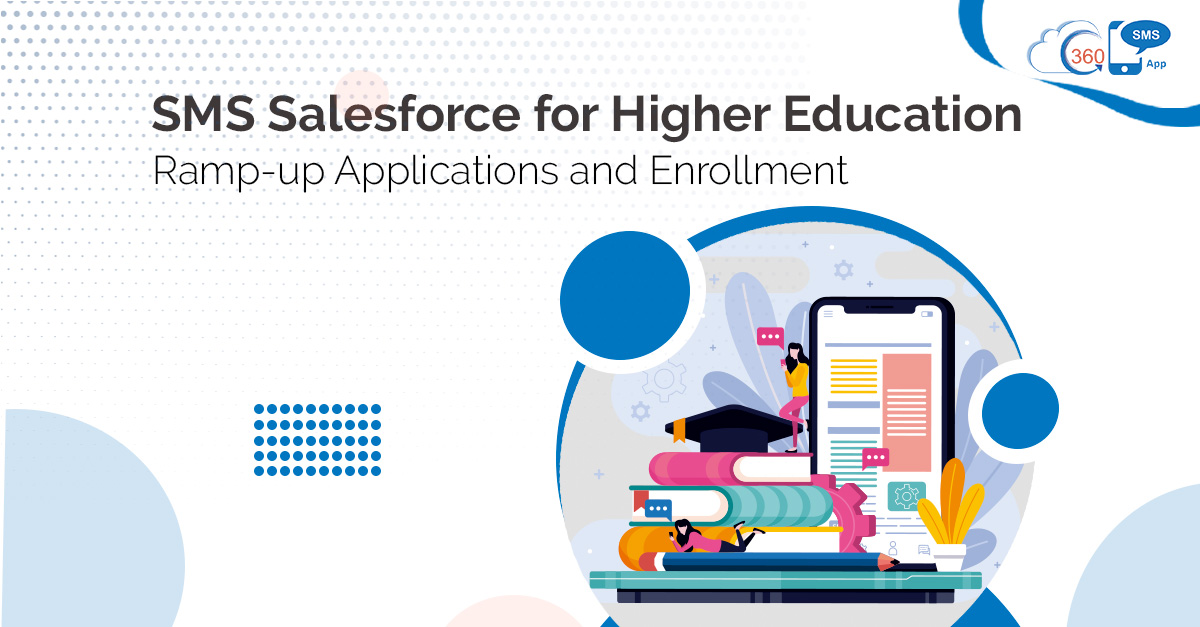 SMS for Higher Education: Ramp-up Applications and Enrollment
Undoubtedly, 2020 was the least productive year for every industry, and the education industry is no exception to it. The pandemic has severely affected the counts of enrollments and applications, which immensely impacted the overall revenue of educational institutions. Thus, there was a need to change the entire approach of prospecting and counseling to ramp up applications and enrollments. This is where WhatsApp & SMS for higher education paved the way to interact effectively and intrigue prospective students.
How to use WhatsApp & Text Messages Salesforce for Higher Education
Use SMS for Higher Education to Flaunt the Best Things about your Institution
The very first thing to intrigue prospective students is to put the best face forward. While choosing an educational institution, students have plenty of institutions to choose from and look forward to reasons to choose a particular institution. This is where you can use WhatsApp and text messages for education to give them reasons to consider your institution and enroll in a course. 
Many times just words aren't enough to describe your achievements. This is where you can use WhatsApp or SMS for Higher Education to send visuals. You can send short videos through MMS or WhatsApp to flaunt your campus, stadiums, infrastructure or present a glimpse of events. Further, you can blast texts and audios related to student's exemplary work or achievements of alumni. This is how you can entice students and make them excited about your institution, which could eventually help ramp up applications and enrollments.
Acquaint Students with Easy Enrollment and Application Process
There are many ways to use text messages for education and one of them is to make the application process quick and easy. A long-drawn and complex application process can bring down your application and enrollment counts or lead to a delayed process. Thus, there are chances that students can change their minds anytime due to any reason. So, by transforming the application process, you can add convenience to students. 
Commence the application process with WhatsApp Salesforce for higher education. This would help you cut back on plenty of paperwork and prevent students from paying frequent visits to educational institutions. You can use WhatsApp for the exchange of necessary documents as it is encrypted and highly secure. Besides, you can send traceable enrollment URLs embedded in texts and gauge student's responses through clickthrough rates.
SMS for Higher Education to resolve Students Queries Right Away
Before applying and enrolling in any course, there can be multiple queries that potential students are dealing with. Thus, there are chances that students get in touch with multiple education counselors of different educational institutions to get their answers as soon as possible. 
So, the one who would reply faster would get into the conversation and engage first with the potential student. So, to handle incoming texts, you could use triggered texting to elicit an instant response without intervening. Besides, you can get into 1-on-1 conversations through texts or over calls to resolve their queries faster. So, faster resolution of inquiries helps students with enrolment decisions and institutions can expect more enrollments.
Interact the Way you Want and Boost Enrollments
WhatsApp and SMS for higher educations provide the best medium to deliver the required information in the best way. Whether it is about adding a visual appeal to simple text messages or gauging student's interest, WhatsApp and SMS messages make it feasible to interact the way you want using audios, videos, texts, images, and gifs. So, you can easily achieve desired goals with the versatile use of texts and interacting on the right channel.
To know more about how you can simplify the process of managing applications at scale with texts, reach us at sales@360smsapp.com or contact us here.