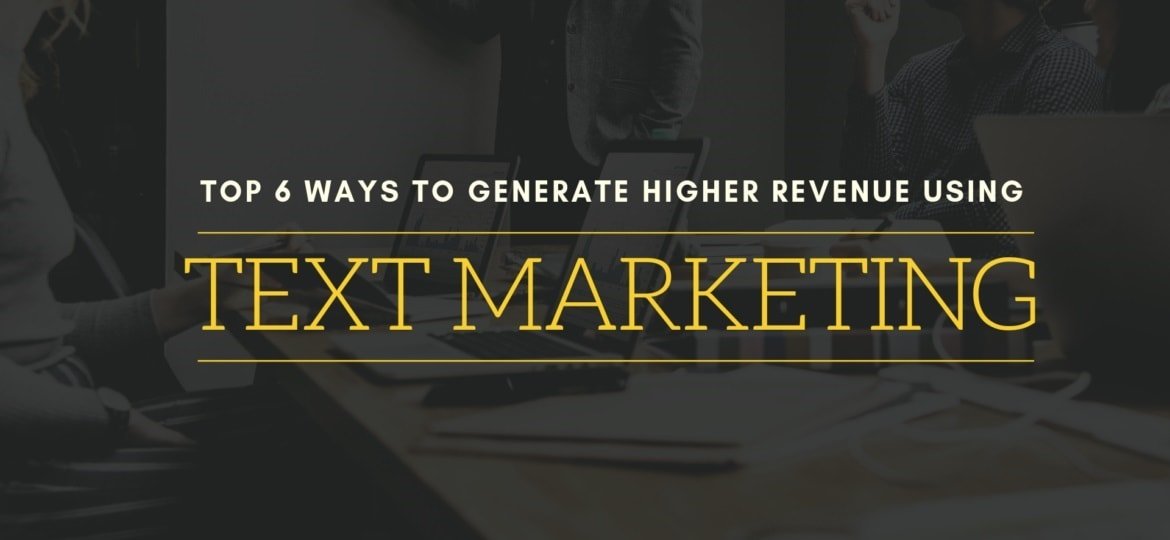 Top 6 Ways to Generate Higher Revenue Using Text Marketing
SMS Marketing or text marketing is among the latest trends these days. Online businesses always look for marketing methods to reach out to the maximum target audience in a single go. Text messages have become the most frequently used method to get in touch with the prospects or even the already existing customers. The main and the ultimate goal of each and every business is to generate revenue and make profits, the blog focuses on the various ways by which an online business can easily make more profits. Continue reading to get more useful insights on the same.
The following-mentioned are the top 6 ways in which text marketing can help your business to generate higher revenue, and hence, making more commercial profits than usual:
1) Get More Conversion Rates-
In comparison to emails, informative promotional texts result in 95% higher conversion rates at the first attempt only. You get to know the prospect in a more detailed manner so that you can respond to them in a better and more personalized way. SMS will never disappoint you when it comes to making greater benefits from the same.
2) Be Available for First Responses-
Customers feel offended if they do not get a reply in an immediate manner as soon as they responded to your text. Make sure you are always available to reply to their first responses, or if you are not there, ensure that an automated message must be sent to them instantly.
3) Pay Attention to your Audience-
Paying relevant attention to your target audience must always top your priority list. Sending messages mindlessly to anybody won't fetch you results, but keeping their needs & interests in mind may help you with the same. You must know your audience well in order to grab their attention at the first attempt only.
4) Never miss a Message-
You may think that skipping a message won't do that much harm, but unfortunately, this is not true. Missing even a single text can make your prospect changing his/ her mind. This might make them feel unimportant, which is never a good thing from a customer's point of view.
5) Interact Seamlessly with Customers-
Conversing with your prospects, customers in a seamless manner is never bad. In fact, it might bring you some good by helping you generate more revenue from your business. This also makes your customers realize they are really important to you and they hold a special place too.
6) More Personalized and Customized Approach-
Approaching your customers in a more personalized way can yield you better results than expected. Customers like it when they are approached in a customized manner, and obviously, it is good for every business to get loyal and faithful customers that can help them to make huge profits in the future too.
So, the above-mentioned were a few points in which text marketing (if wisely used) can help a business to grow and generate higher revenue in the coming years. In order to reach to a wider target audience in a limited budget, text marketing is the best way to get in touch with your customers, prospects or even business partners. Looking for an SMS app to take your business to great heights? 360 SMS app, natively built on Salesforce is the top-rated texting app on the AppExchange platform of Salesforce. It provides the users with some amazing functionalities so that they can maximize the use out of the same. Wish to try it for free? Book a free demo today and get started with the best Salesforce powered texting app you would ever come across.