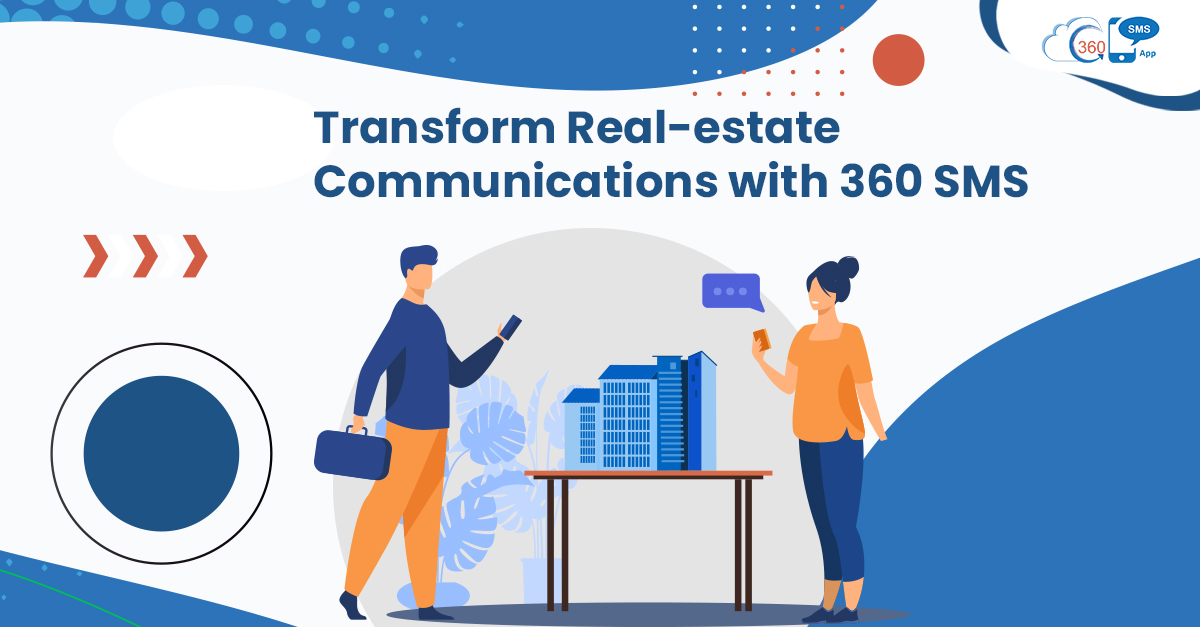 Transform Real-Estate Communications with 360 SMS
In a world where everything is at the fingertips of people, texting has become the most popular channel to connect with family and friends. Texts have become a vital mode of communication not only for personal but for professional communication too. Thus, every industry has discovered its unique way to sell, market, and serve its potential customers through SMS. Even SMS for real-estate has made it feasible to scalable communications with minimal time investment.
But to tap into more versatile use of texting, 360 SMS is an app you can count on. 360 SMS is a Salesforce-native texting app, which gets you a host of innovative capabilities and allows realtors to transform their communication workflows.
360 SMS for Real-Estate
Text-to-Vote with SMS for Real Estate 
The very first thing to serve the aptest property to the prospective buyers is to understand their needs. This is where you can use 360 SMS DIY-configurable conversation trees to run Surveys and polls. You can design your own series of questions and answers. Further, you can assign different questions to each response and trigger the next question based on the incoming response. This way, you can easily collect data at scale and use it for prospecting.
Besides, you can use text to probe what matters the most to your prospects and ask them to vote. This is one way you can use SMS Salesforce for Real-estate.
Hi James,

We need your valuable vote.

Would you prefer a school, a gym, or a shopping mall near your residence? Reply with your answer.
Instant Follow Up with Triggered Texting
Before making any buying decision, potential buyers go through several real-estate websites.
So, you can use triggered texting for automation and follow up instantly with the prospects who have visited your website. You can ask and assist them with their queries. Instant responsiveness can help you capture the immediate attention of website visitors and prevent them from switching to any other website.
Thanks for visiting our website. For any query, reply here.

 Dream Homes
Response Prioritization Based on Text Arrival Time
Delay in responses can cost you many opportunities. Hence, it is vital to minimize the time gap between incoming inquiries and the outgoing response. 360 SMS allows you to do this much efficiently with its color-coded messaging. You can decide on three colors, i.e., Green, Yellow, and Red to identify between the newer and older texts. Also, you can decide the time gap for each color you've picked. So, you can effortlessly prioritize to reply to older SMS first to avoid missed opportunities.
For example

The pink color is for one hour older text, green if for 4 hours older text, and so on.
Call Interactions for Prospects with High Buying Intent
360 SMS gets you six pre-integrated channels, and one of them is CTI.
On the one hand, you can automate the lead qualification process to build quality lists of prospective buyers. On the other hand, you can use it to drive conversions through 1-on-1 conversation.
More importantly, you can cut back on text conversations to save time and switch to CTI for calling.
Using CTI, you can filter your call-down list and call prospects with high buying intent. This would help to close deals over a single phone call without any need for multiple conversations.
Take Interactions to the Next Level with 360 SMS
Effective communication plays a vital role in any business vertical. Salesforce text messages for real estate empowers users to redefine their communication process. How realtors communicate and manage communications with prospects immensely affects conversions. Thus, 360 SMS makes it feasible to reduce manual work while texting and streamline communication to take it to the next level. With its advanced texting capabilities, it becomes much easier to scale interactions and target audiences at the right time.
To know more about how realtors can speed up the communication process and manage it effectively at scale with 360 SMS, turn to our experts at sales@360smsapp.com or contact us here.