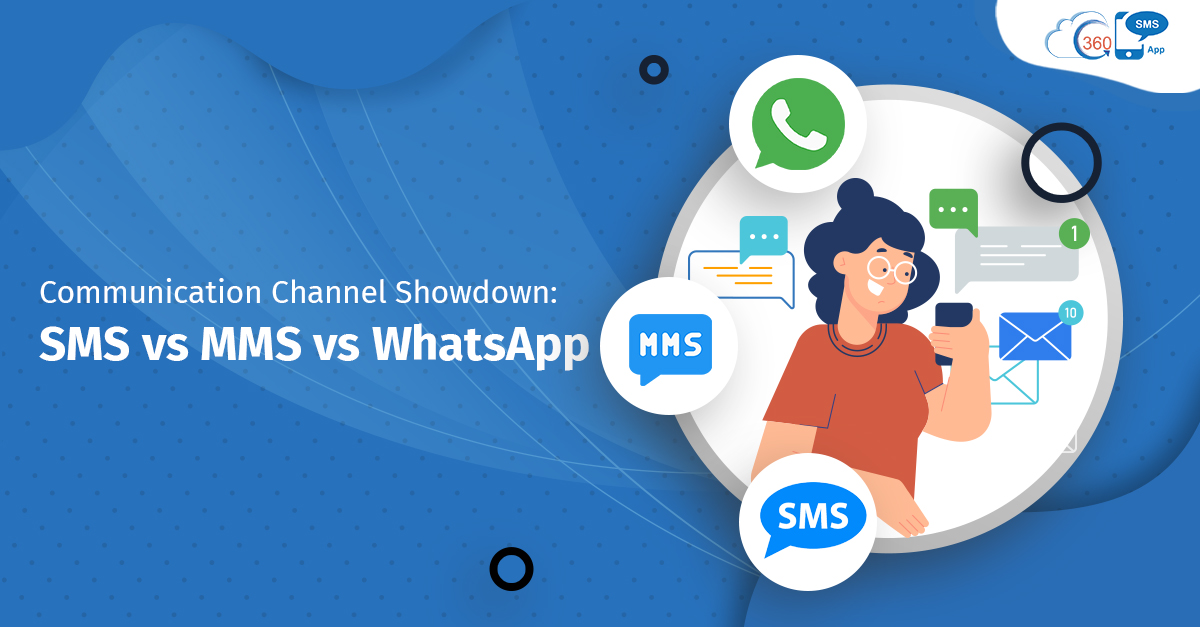 Communication Channel Showdown: SMS Vs. MMS Vs. WhatsApp
In case users thought that SMS has taken a backseat with the emergence of WhatsApp, no, it's not. Though WhatsApp has a user base of around 2 billion, which is still more in comparison to SMS with a user base of 1.5 billion, SMS has its own audience segment and importance. SMS, MMS, and WhatsApp, all three business communication channels have their unique value proposition. So, it's crucial to consider various aspects associated with SMS, MMS, and WhatsApp to choose the right communication channel and understand which channel can cater to your mobile messaging needs.
Choosing Business Communication ChannelS: SMS Vs. MMS Vs. WhatsApp
A comparison of SMS Vs. MMS Vs. WhatsApp is equally important as Text Vs. Calls Vs. Images to understand different business communication channels and their unique value proposition in the attention economy.
Connectivity of Business Communication Channels
SMS & MMS
The best part of using  Salesforce SMS and MMS as business communication channels is they work on the cellular network. All you need is a wireless plan from network carriers, and you're all set to go. Thus, you don't have to depend on internet connectivity to send and receive SMS and MMS.
WhatsApp
For sending and receiving WhatsApp messages, internet connectivity is a must. So, this could be a hindrance while you're trying to connect with your customers. It's because some customers may have an internet connection, but some may not have an active data pack every time. So this could hamper your message delivery.
Reach
SMS & MMS
Without a doubt, SMS and MMS provide you with the most convenient and faster way to connect with audiences at scale. But when it comes to scaling a business in different countries, SMS & MMS could limit your reach. This is because network carriers don't support country-to-country texting in many countries. Also, SMS charges are high in many countries, which restricts the use of text messages, and this hampers incoming SMS responses.
WhatsApp
WhatsApp messages provide you with an easy way to scale your business globally as there are no country-to-country texting barriers. Therefore, you can conveniently target and connect with offshore audiences.
Accessibility
SMS & MMS
Irrespective of the type of mobile phone customers are using, SMS gets delivered. Even if a customer is using the most basic mobile handset, an individual can receive and access messages. This is why SMS has better accessibility than any other channel. 
But when it comes to MMS, not all mobile devices can receive MMS. On many phones, a recipient is redirected to a webpage instead of opening a media file, and this needs an internet connection. This again hampers MMS accessibility.
WhatsApp
If we talk about accessibility, WhatsApp messages are accessible only by smartphone users. At this point, SMS is better than WhatsApp as basic mobile handset users cannot access WhatsApp.
Pricing
SMS & MMS
SMS bill is calculated based on SMS segments used by an organization. Also, if you are embedding media files in an SMS, it turns into MMS, and MMS costs more than SMS. Thus, you have to pay for each SMS or MMS your send to audiences.
WhatsApp
WhatsApp is a more cost-effective messaging channel than SMS. The reason behind this is you don't have to pay for each WhatsApp message and media file you send. Instead, you have to pay for each chat session that remains active for 24 hours. You can send videos, images, Gifs, and voice notes for media-rich interaction without additional investment. With voice notes, you can reduce typing work and communicate faster. There are many such reasons why voice notes work.
Who wins the battle? SMS & MMS or WhatsApp
Both SMS & MMS and WhatsApp add distinct value to business communications. So, it's better to have multichannel for business interactions. This will help you gain a competitive edge over competitors. Also, you can choose the best-suited channel depending on the goal you want to achieve and also connect with audiences over their preferred channel.
To know more about how you can use SMS, MMS, and WhatsApp for your vertical, turn to our experts at care@360smsapp.com or contact us here.