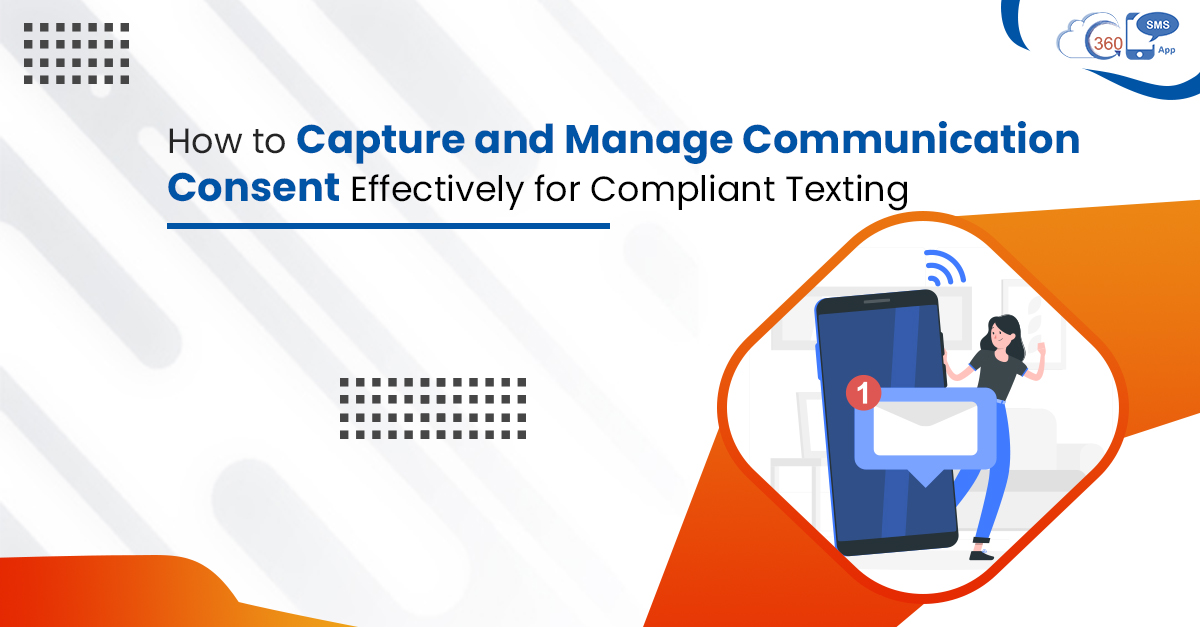 How to Capture and Manage Communication Consent Effectively for Compliant Texting 
Every effort pays off if done appropriately. And this applies to texting as well. There are texting and rules and regulations that users must follow to avoid financial penalties and maximize returns. Else, if users send text messages without adhering to texting laws, it could lead to monetary losses. So, when it comes to SMS compliance, it primarily focuses on consent. Texting without the consumer's consent is one of the biggest violations of texting rules and regulations as per the Telephone Consumer Protection Act (TCPA). Thus, it becomes crucial for businesses to capture and manage communication consent carefully.
Different Ways to Capture Communication Consent for Texting
Before starting with text marketing or messaging, understanding opt-ins and opt-outs is a must. Authorization of consumers to receive text messages explicitly knowing the purpose is a must. So, there can be various methods to that organizations can opt to obtain communication consent in writing. When customers sign up to receive SMS, they must clearly know why they are signing up. Else, if customers sign up considering incorrect or misleading information, it could lead to increased opt-outs.
Run Advertisement to Capture communication consent 
Advertisement is one of the powerful ways to obtain communication consent from the customers. You can advertise a keyword and ask your customers to text you with the desired keyword to opt-in to receive text messages.
Also, do not forget to mention the purpose. This would help customers know what kind of messages they will receive if they opt to receive SMS. This is one way to obtain written consent.
Collect communication consent through Web Forms
When a customer visits a website and fills up a web form, you can ask them for their phone number stating the purpose. This is another way to collect a potential customer's contact number to send text messages without misleading them.
For example, By clicking 'Submit', I agree to receive company updates through SMS from ABC enterprise to the given contact number and also agree to the ABC enterprise's terms and privacy policy. Message & data rates may apply.
Allow Customers to Sign up In-person 
Apart from digital sign-ups, you can allow your prospects to sign-up in person at a physical location. In-store promotion is also a way to increase opt-ins. Many times customers are not aware that they can receive product updates, offers, and coupon codes via SMS.
So, when customers pay a visit to your office or store, you can inform them and ask them to opt-in to receive SMS by filing up a form if they are interested. This is also a way to obtain written consent from customers to receive SMS.
Offer Some Value in Exchange for Opt-in
When users get some value in exchange, they are more likely to opt-in.
So, you can run contests on social media and ask for opt-in to enter the contest. Besides, you can approach your existing customers or those who are in transition to buy something. As they are already interested in your business offerings, this could be the right time to ask for opt-in to receive product updates and offers.
Managing Consent with 360 SMS
360 SMS is a Salesforce native texting solution that consists of a well-defined compliance mechanism to manage opt-ins and opt-outs based on custom preferences. It has a layered consent management system to manage opt-ins.
360 SMS allows users to design an exception opt-in template to send the first SMS. They can use this template to seek consent and ask customers to opt-in, defining the purpose for which texts would be used.
Further, you can opt-in and opt-out customers based on a number, specific user, specific department, geography, content type, channel, a specific branch of an organization, or any other custom preference.
Manage Opt-ins and Opt-outs the Way your Prospects and Customers Want
Managing opt-in and opt-outs at scale is not a child's play. Non-compliant messaging not only increases the risk of financial losses but can lead to disputes in the future. So, by obtaining written consent, you can make text messaging compliant with TCPA rules and regulations and steer clear of heavy fines. On top of it, 360 SMS makes it more convenient for its users to manage opt-ins and opt-outs based on the customer's preferences. This allows customers to receive text messages from their preferred channel, department, person, number, location, etc. 
To know more about how 360 SMS helps to stay compliant while sending text messages, get in touch with our experts at sales@360smsapp.com or contact us here.