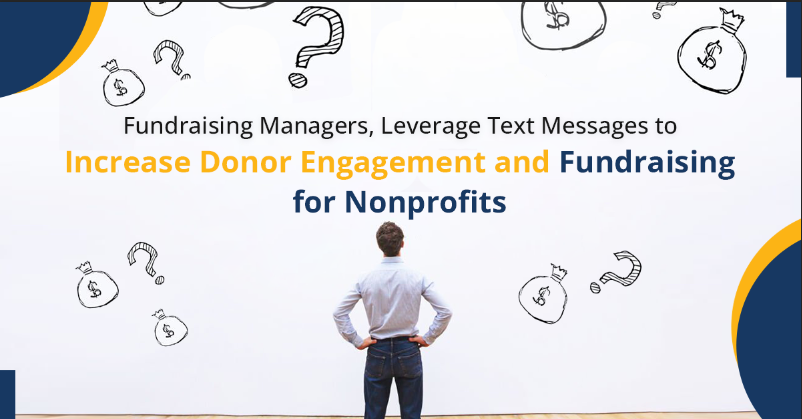 Fundraising Managers, Leverage Text Messages to increase Donor Engagement and Fundraising for Nonprofits
Are you a part of a nonprofit organization or a fundraising manager who often looks forward to increasing donations and engagement from fundraisers? If so, have you ever tried achieving your goals with the help of text messages?
If not, you're missing out on the advantages of the most reliable tool that can be a game changer while raising funds. 
Text messages have become the most integral part of people's daily life for quite a long time. People developed a habit of checking their phones and messages frequently. So, you can stray close to your potential donors without investing much effort.
Taking advantage of the text messages open rate, you can communicate reliably with donors. This not only helps you with sure-shot visibility of the information you send but also helps you drive more engagement, increasing donations. Apart from driving donations, nonprofits can count on text messages to increase nonprofit productivity.
In this blog, we'll explore why fundraising managers should count on can use text messages and can use text messages to raise funds from donors. So, get ready to discover how text messages can help take your fundraising efforts to the next level!
Why Salesforce SMS Messages?
Higher Open Rates 
Did you ever get a chance to think about why people engage less?
The primary factor that leads to low engagement is when your intended information does not reach your audience. 
When you are looking forward to raising funds, your priority should be effectively communicating the intent, purpose, and requirements to potential donors. Until they don't have any information, you cannot expect a response from their end.
Therefore, text messaging provides a foolproof solution to your problem. People check their phones frequently and messages too which results in a higher open rate. This means that your message is more likely to be seen and read.
Most people carry their phones with them everywhere and tend to check text messages immediately. This means that your message is more likely to be seen and read quickly.
Instant Delivery
People carry their phones with them every time, which means you can communicate with them no matter where they are. 
Sending SMS from Salesforce, you can deliver any information instantly. In return, you can expect quick responses from donors. 
This helps you build connections with them faster and drive donations faster, squeezing the time frame of the fundraising process.
Less Intrusive 
We all know that text messages are less intrusive, unlike calls. This helps you respect your donors' privacy without annoying them by being intrusive. 
Donors can read and respond to your text message at their convenience, which helps you leave a positive impression. And you can expect positive responses from them, too, concerning donations.  
Quick to Read and Understand
A defined character limit for one SMS segment compels you to create a concise text message without exceeding the character limit. 
Short messages are easy to read and understand, which intrigues customers more than long messages containing a wall of text. This helps you drive more engagement as it gets easier for donors to understand your message at a glimpse and take the required action. 
Cost-effective
When using a Salesforce SMS app, cost-effective communications are the most crucial advantage you can reap. Compared to calls and emails, you can cause effectively communicate at scale SMS for Salesforce. You can connect with a large segment of potential donors cheaply.
How to Use Salesforce SMS Messages for Fund-Raising
Donation Requests 
The first step to raising funds is to request donations. The fewer people you reach and make requests to, the fewer donations you get. You can raise a large amount of funds by reaching a large segment of potential donors. With Salesforce SMS, you can request donations at scale in no time.
Further, to simplify the donation process, you can send a URL redirecting to the donation page or a short code using which they can donate directly through SMS. Also, you can count on the text-to-donate process for easy and fast donations.
According to a Nonprofit Source report, the average donation amount is $107 for text-to-donate fundraisers.
Matching Gift Campaigns 
Matching Gift campaigns are a great way to drive more donations of a bigger amount.  this can really make a big impact on the operations of nonprofits. For the success of such campaigns, ensure that a maximum number of potential donors know about them.
You can easily do this with the help of a Salesforce SMS app for nonprofits. You can send an SMS from Salesforce to promote matching gift campaigns and encourage donors to donate more during the campaign period to make a more significant impact.
Event Reminders 
Nonprofits often organize fundraising events, galas, or auctions, which must be communicated to potential donors. 
For this, you can count on Salesforce text messages. Besides, you can send event reminders to increase their participation in such events and funds.
Thank-you Messages
Repo-building is another factor that you should focus on to build long-term relationships with donors. They shouldn't feel that your sole purpose was to drive donations from them. 
Send a 'Thank you' message once a donation is made and make them feel valued, informing them that their donation will make a big impact. This will help with relationship building and increase the likelihood of donations in the future.
According to the American Economic Association research, thanking donors helps with relationship building and increases the probability of future donations by 80%.
Urgent Campaigns 
In times of emergency or crisis when quick communication and response are needed, a Salesforce SMS app can be your best bet to communicate conveniently and quickly to raise funds.
You can send an urgent message to your donor list requesting donations to help those affected by the crisis.
Increase Donations Simplifying Communications with Salesforce SMS App
For good reasons, Salesforce SMS messaging is a highly effective communication tool for nonprofits. Its high open rates, instant delivery, non-intrusiveness, brevity, and cost-effectiveness make it an ideal solution to reach potential donors faster and simplify fundraising. By leveraging SMS, organizations can engage with donors more effectively, promote events, raise funds during crises, and build lasting relationships, allowing them to conveniently raise funds in the future. So what are you waiting for, get SMS integrated into Salesforce today by reaching out to experts at care@360smsapp.com or click here to contact us.