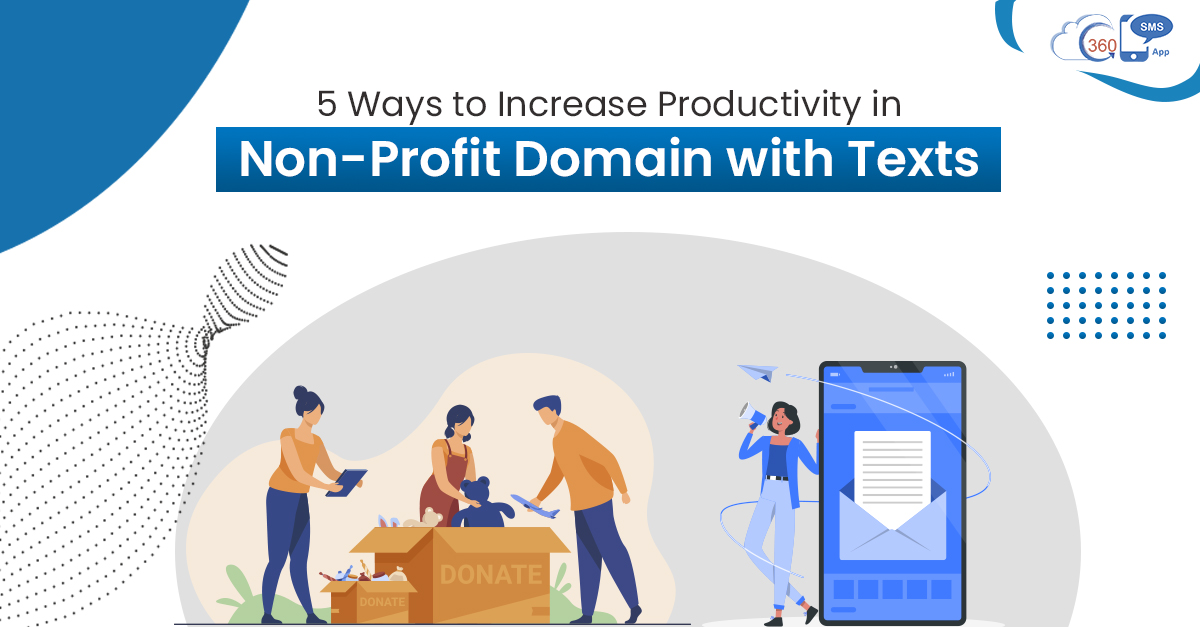 5 Ways to Increase Productivity in Non-Profit Domain with Texts
Every business needs a reliable and faster communication medium to interact with the audience irrespective of vertical. And even non-profit organizations are no exception. This is where Salesforce SMS for non-profits can help to communicate faster and effectively with donors and volunteers. Like any other business vertical, there are various touchpoints where non-profits can get in touch with their target audiences and communicate effectively to achieve the desired goal. 
Let's check out various instances where non-profits use text messages for communication and improve productivity.
Ways to use SMS for Non-profits
Send Relevant Resources and Educate Potential Donors and NPO Groups
Not every individual is well-versed with the working pattern of an NGO or various domains an NGO works for. Thus, before donating and volunteering, a person would obviously like to know about the operation process and gather sufficient information about a non-profit organization.
So, if workers count on calls to impart relevant details and educate prospective donors, it would limit their reach as they can make a limited number of calls in a day. But with texts, workers can scale their reach in minutes, send URLs redirecting to helpful articles and educate people and NPO groups.
SMS for Non-Profits help Appeal Donations at Scale
Donations are a primary requirement of non-profit organizations for smooth operations. SMS provides the best way for easy fundraising. We cannot expect NPO workers to follow the door-to-door approach for appealing donations. Its because it is a traditional method and requires an extensive workforce and time.
This is where mass texting can help make an appeal for donations at scale without investing much time. This would save effort for workers and accelerate the process.
Attract Volunteers and Donors
There could be many volunteers and donors who want to render their services for noble causes. But many times, they do not find a way to do it. So, to provide an easy way to them, you can market different keywords for various purposes. Further, you can use keyword filters for targeted bulk texting and quick responses.
For example, you can advertise keywords like 'DONATE' to attract donors who want to donate voluntarily and 'VOLUNTEER' to recruit volunteers. This way, it becomes easier to recruit and attract volunteers and donors for speedy processes.
Send URLs for Quick Donation
The more you add convenience to your donors, the better it is for NGO reputation. So, to make it convenient for them and improve your services, you can send donation URLs for quick and easy payments.
This would help to reduce navigation and simplify the donation process. The best part is, you can track URL clickthrough with Salesforce 360 SMS link tracking. Further, you can follow up with the ones who couldn't donate using texts.
Appreciate your Donors and Volunteer with SMS
A token of appreciation means a lot to every individual. Also, you can value your donors and volunteers for their contribution and nurture long-term relationships by appreciating them.
So, again you can use SMS for non-profits for sending a few words of appreciation. This would help to value them and attract more donations and services in the future.
Ensure Readership and Maximize Response for your Non-profit with SMS
Despite different goals and work areas, every non-profit organization strives for effective communication. SMS for non-profits offers the reliable and fastest way to communicate with donors, workers, and volunteers at various touchpoints and simplify processes. Whether it is about non-profit marketing or simplifying communication processes, SMS serves as a robust tool to send information right in front of the eyes of donors and ensure readership of text content to maximize response.
To know more about how 360 SMS advanced capabilities can help to transform your non-profit workflows, connect with our experts at sales@360smsapp.com or contact us here.