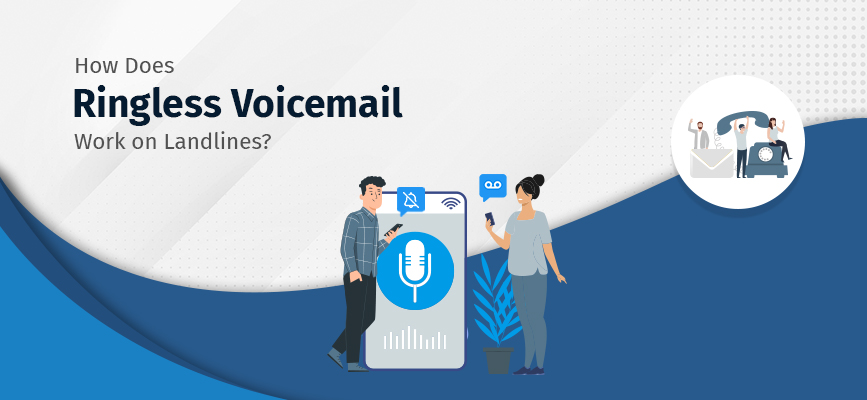 How does Ringless Voicemail work on Landlines? Is it Even Effective for Businesses?
How does ringless voicemail work on landlines? This question is really worth considering if firms are looking forward to incorporating Salesforce ringless voicemail in their operations. 
A zeal to become a better version of themselves every day compels business ventures to adopt new technologies and improvize existing communication strategies. The adoption of ringless voicemails in business operations has paved several new ways to render more pleasant customer experiences and steer clear of unattended calls. 
Still, many business ventures are deprived of Salesforce ringless voicemail advantages due to several concerns. To quote one, the effectiveness of Salesforce Ringless voicemails and how they work on landlines have always been a matter of concern among businesses. So, first, we need to understand that.
How does Ringless Voicemail Work on Landlines?
Can we even send voicemails over a landline? This is something businesses are always skeptical about while choosing ringless voicemails.
What makes them worth opting for is firms and organizations can send Salesforce ringless voicemails to even landline numbers if customers are ready to receive voice messages with some prerequisites. 
All they need is a voicemail box that a phone service provider provides. So, if a teleservice provider offers voicemail services, businesses are good to go with voicemails. 
Are Ringless Voicemails even Effective?
Yes, Of course. Ringless voicemails have a great potential to take communications and marketing to the next level. Even its non-intrusive nature plays a vital role. This is why ringlessness matters for voicemails.
All you need is an understanding of various aspects of ringless voicemails to make the best out of them.
1. Get Around with Unattended Calls
Business firms adopt several approaches to connect to their audiences. This includes cold calling and texting. 
The biggest drawback of cold calling is a prospect may or may not attend a call due to a busy schedule or several other reasons. 
This leads to wastage of time and effort of employees. The best solution to get around with unattended calls is Salesforce ringless voicemails. 
It eliminates the dependency on the other end's recipient to receive voicemail-like calls and allows firms to drop the required information right in their voicemail inbox. 
2. Provide Ease of Accessibility to your Recipients
Unlike calls, Salesforce ringless voicemails do not put implicit pressure to receive them right away.
As voicemail drops directly into your recipient's voicemail inbox, it provides easy accessibility to your recipients, and they can access it at their own will. 
This prevents voice messages from losing their impact. This is how a ringless voicemail works for businesses.
3. Add a Human Touch Even While Communicating at Scale
There are enormous reasons why voice notes work for businesses. Personalized and humanized communications at scale are a few of them. Personalized interactions can make a world of difference in business interactions.
But this doesn't have to be done over calls always. Because businesses need scalable interactions channels which are not possible with calls due to human limitations. 
Ringless voicemails allow you to reap both benefits together. You can use instantly record a personalized voice message adding a human element, i.e., voice, and connect with thousands of your contacts in just one go. 
Retain the Impact of your Voice Messages being Accessible
Voicemails do not administer their presence by ringing the cell phone of contacts like calls and text messages. This makes the ringless voicemail the aptest medium to communicate with audiences silently. 
Its ability to get stored in voicemail inbox add more convenience to customers due to ease of accessibility. This is how voice notes retain their impact as they don't get distorted or lost. 
More importantly, recipients do not have to go through the long wait times being on hold like it happens in the case of calls.
To penetrate deeper into the potential of ringless voicemails, get in touch with our experts at care@360smsapp.com or contact us here.