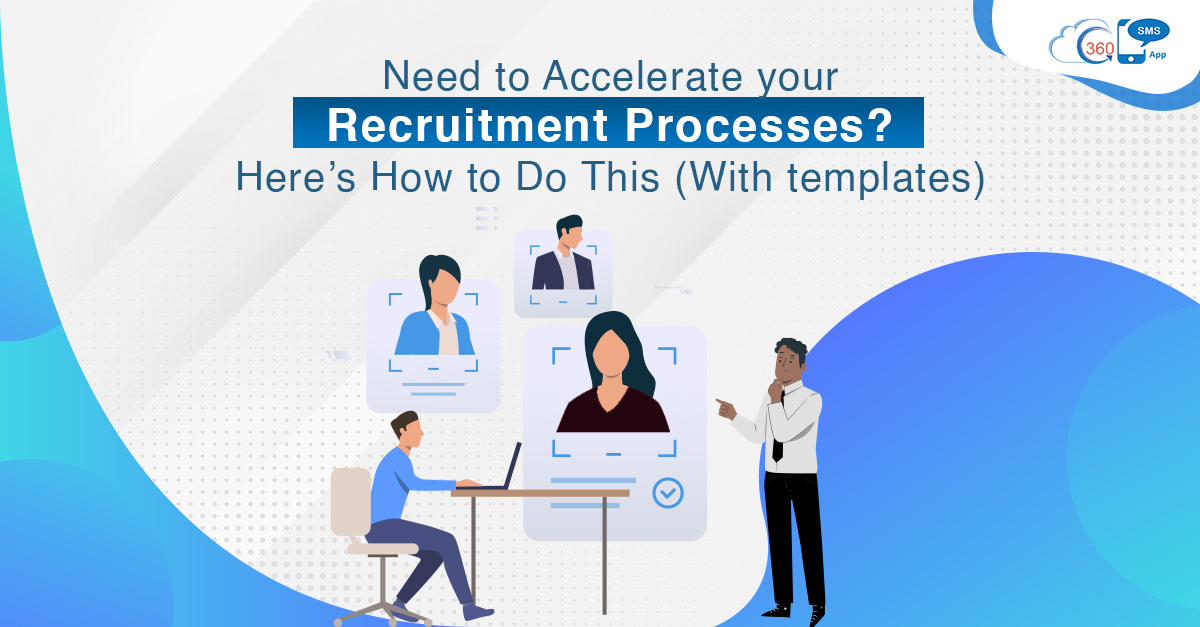 Need to Accelerate your Recruitment Operations? Here's How to Do This (With templates)
Recruitment is an ever-going process as companies often need resources. The reason could be filling up the vacant positions or expanding the teams to meet specified project deadlines. Therefore, either recruitment requirements are fulfilled by the organization's human resource department or external recruitment agencies. In both scenarios, recruiters are compelled to close the desired job opening faster and within specified timeframes. Thus, from sourcing to onboarding, recruitment agencies and recruiters need quick and reliable communication channels at every turn. And nothing can beat SMS for recruitment when it comes to connecting faster and conveniently at scale with candidates.
Different Ways To Use SMS for recruitment
Begin with Job marketing or Sourcing
There are numerous ways to increase productivity in the recruitment industry with SMS. The very first step to take the recruitment process ahead is job marketing. Like other products and services, jobs also need marketing so that job vacancies can reach maximum candidates. Also, recruiting agencies have a massive database of candidates, which they can use to confirm the candidate's job status and update records before sending any job vacancies.
Sample text 1
 Hi Alex,  

This is Elina from Career Booster. 

Are you looking for a job or job change?

Reply with YES or NO
Sample text 2
Hi,

Career Booster is hiring for several job profiles. Please answer a few questions using the given URL to receive suitable job openings.

https://careerbooster/details-gyugtjewbnd
Collect Resumes for Screening
using SMS for Recruitment
Once you have lists of candidates who replied YES or filled out the given forms, you can send another text based on their profiles and ask for resumes.
Sample text 1
Thanks for confirming. 

Kindly share your resume at 

careerbooster@gmail.com.
Sample text 2
Hey John, 

Thanks for sharing the required details.

Career Booster is hiring for the profile of project manager for an MNC. If interested, kindly share your resume at careerbooster@gmail.com.
Send Updates after Screening 
After the screening round, you can send updates and test assignments based on the candidate profile using automation and Salesforce bulk texting. This way, you can connect with multiple candidates at once for collecting resumes rather than contacting candidates one-by-one over calls. This would help to distill weeks of work into hours.
Sample Text 1
Congratulations John, 

Your resume has been shortlisted for the further round. Here's a quick assignment that you need to complete. https://careerbooster/assignment/gyugtjewbnd

Kindly submit it before 31-11-21.
Sample Text 2
Hi John, we are impressed with your profile and work experience. We'd love to take your candidature ahead. Here's an assignment to complete and submit by 31-11-21.

https://careerbooster/assignment/gyugtjewbnd
Schedule Interviews with the Qualified Candidates
When you reach out to candidates over calls to schedule interviews, it limits your capability. It's because you can reach a limited number of selected candidates in a day. This drains a lot of time. But with texts for recruitment, you can reach out to millions in one go. So, again you can use text messages to schedule interviews with numerous candidates in one fell swoop.
Sample Text 1
Congratulations Joe, 

You have been selected for the interview round with our Marketing head.

We're conducting interviews till 01-12-21.

Kindly fill out your earliest preferred date and time here. 

https://careerbooster/interview/gyugtjewbnd
Send Interview Confirmations and Reminders w
ith SMS for Recruitment
As candidates fill out their preferred date and time, you can use automated texting to trigger a confirmation text. Also, you can use SMS for recruitment to send reminders and reschedule texts to reduce no-shows in interviews.
Sample Text 1
Hi Joe,

Your interview has been scheduled for 25-11-21 at 11:00 AM. 

Career Booster
Sample Text 2
A Gentle Reminder!

Your interview has been scheduled with us for 25-11-21 at 11:00 AM.

Text CON to confirm and RES to reschedule.
Update Candidates about Job Status after Interview
Once interviews are done, candidates are eager to know about their interview results. So, recruiters can use text messages to send updates about interview results.
Sample Text 1
Congratulation Joe,

You have been selected for the profile of Project Manager. Kindly, report in the Career Booster office on 10-12-21 at 10:00 AM. 
Speed up Interactions and Close Desired Job Openings Faster
Effective and reliable communication channels are one of the top priorities
for every business vertical. In the recruitment industry, recruiters need to send updates, reminders, etc., at various turns. Thus, text messages make it feasible for recruiters to connect faster with the candidates without depending on call interactions. This saves a lot of recruiter's time, allows them to perform more efficiently, and fill required job vacancies within the specified time.
To know more about how to use you can use advanced texting features to redefine recruitments processes, get in touch with our experts at sales@360smsapp.com or contact us here.