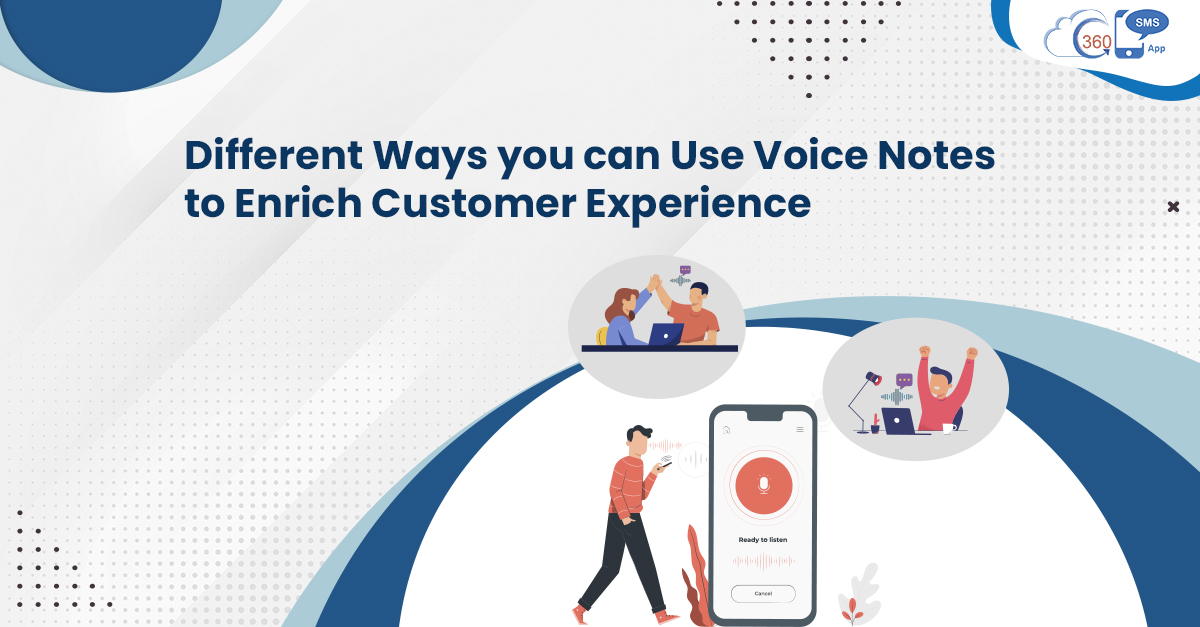 Different Ways you can Use Voice Notes to Enrich Customer Experience
Not only just texts and calls are fast and reliable means of communication for businesses. Equally important, even voice messages are competent enough to serve as an important and quick means for interacting with customers and enrich their experiences. Voice messages make it feasible for organizations to communicate at scale without investing much time. Employees can either record voice notes instantly or use pre-recorded messages to interact faster without any need for typing work. Here are a few use-cases of voice notes for improving customer experiences.
Unique ways to use Voice notes for Support Cases
Use Voice Notes to Be There with Callers at Every Turn
It could be many frustrating situations for customers when they call. It could be when no one addresses their call, they have to wait for so long, or their call is disconnected by agents without any information. Leaving customers clueless in all such situations can lead to the worst customer experience with a brand. This is where agents can program voice notes to address callers on their behalf when they are busy attending to other callers. 
This is the best way to show your callers that you care about them and apprise why it's taking so long to connect to the support agent or why the call is disconnected. If agents disconnect a call, they can leave a voice note informing callers that agents are busy and they will contact them shortly. Besides, agents can also trust the ringlessness of voicemails for silent marketing.
Engage with Customers after Working Hours
There are chances that potential customers may call after working, being unaware of the office timings. This could again ruin the potential customer experience. Here, again organizations can count on voice notes to inform customers about the office timings and prompt them to leave their name, contact number, and a brief message and expect a call shortly. 
This way, organizations do not have to rely on a receptionist, secretary, or customer service agent to attend to customers 24*7. Also, businesses can use voice messages for sending various reminders.
Reduce Support Session Time through Voice Messaging
Many times, customers prefer connecting with businesses through chat rather than call due to extended wait-time. So, agents and customers can get into one-on-one conversations to reduce calls and resolve support cases faster. But with the help of voice notes, agents and customers both can be at great ease and communicate like never before. 
With text message interaction, customers have to wait for responses when agents type messages. This somewhere extends the support session time. So, sidestepping the typing work, agents can instantly record and send voice messages for communication. Also, they can encourage customers to send voice notes for faster and convenient interaction.
Build Voice Templates for Common Inquiries
Agents have to type and send the same lines and answers to address the most common inquiries of customers. But with the help of Salesforce voice notes, agents can save themselves from a lot of repeated work.
They can build voice templates in advance for the most common and frequent questions and use them repeatedly. This would help agents reduce manual work and accelerate support services for better customer experiences.
Cut Back on Typing Work and Accelerate Customer Service Processes
Many times words fail to convey the exact emotions behind them, but voice notes don't. Voice messages allow organizations to humanize their interactions, nurture relationships with customers and accelerate communications. More importantly, users can eliminate typing work and speed up one-on-one interactions by exchanging Salesforce voice messages. 
Not only just customer services, but users can also improve customer experiences, as voice notes give a feel to customers as if a person is contacting them personally. So this is the best way to send wishes to customers on their special occasions and value them.  
To know more on how to make the best out of voice messages for your vertical, get in touch with our experts at sales@360smsapp.com or contact us here.