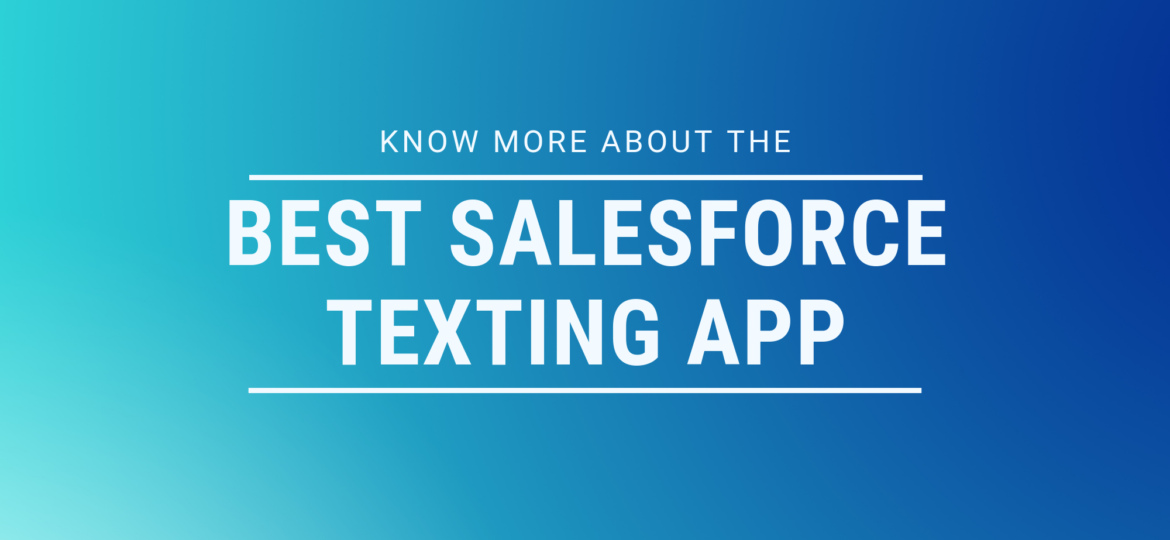 Know More About the Best Salesforce Texting App
Salesforce provides its users with a wide range of functionalities which they can take well advantage of. It also allows them to take their business to the next level in the long run. As we all are aware of the fact that trends have been constantly changing in the market almost every day. People have been switching over various marketing methods available to them to get better results every time. Earlier, emails were among the best methods to reach out to the target audience and get the desired results. But now, text messages have already replaced them. People now use SMS to get in touch with their customers, prospects or even business partners. They consider it as the best method because of the improved, valuable results they get after using it at a reduced cost.
In order to get the latest trend on board, Salesforce CRM also came up with another concept of Salesforce Texting App which allows the users to send SMS/ MMS to their users with the help of their CRM platform only. They would not be needing to switch between their CRM and the respective texting apps to send them the text messages over and over again. Also, there is no denying the fact that people are more stressed over to get the results rather than the efforts they are making for the same. These kinds of text messaging apps which are easily available on the AppExchange platform of Salesforce empowers users to create beneficial bonds with the respective persons.
These kinds of Salesforce powered texting apps are quite beneficial for almost all size of business firms. It is also really helpful even for those whose main source of revenue generation is marketing, which covers the majority of them all. It is also a considerable fact that most businesses survive only on marketing and sales processes. That means it plays a really important role in the development of a business in its initial as well as later phases. The blog focuses on the importance of using such apps for the better and brighter future of your company. Also, in a nutshell, it can be said that these texting apps powered by Salesforce must never be underestimated. They can either make or break your business empire depending upon their usage. Looking for the best Salesforce Texting app in the market today? We have got you covered. 360 SMS App is natively built on Salesforce and can be your one-stop texting solution. Thinking of giving it a try? Connect with our SMS experts today and book a free demo for yourself now. Unleash the best Salesforce can do with the top-rated texting app on AppExchange.