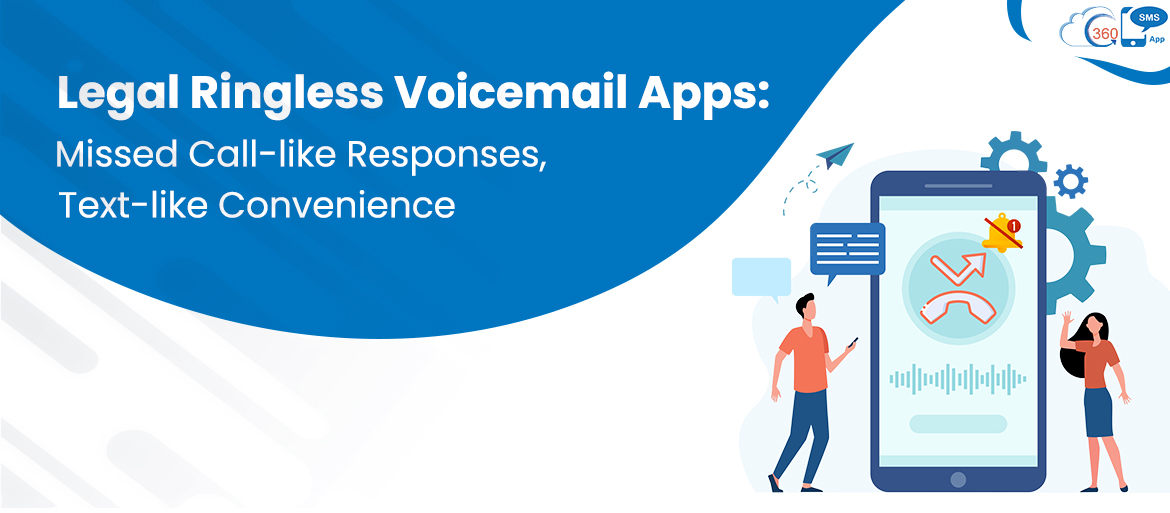 Legal Ringless Voicemail Apps: Missed Call-like Responses, Text-like Convenience
Voice is more of a human thing, but ease, comfort, and convenience that come along with a blend of voice and machines have drastically transformed the work pattern of businesses and users. Voice capabilities have become a buzzword in the sphere of technological advancements.
New illustrations of voice features like Google Assistant, now and then, have raised the bar for techies to incorporate more voice-enabled functionalities while heading towards any new development. Thus, to accomplish new expectations of advanced users, Salesforce has come up with its Ringless Voice Drop feature embedded in the 360 SMS app, a native texting solution.
But before jumping to the use of voice messages in business, it's necessary to understand-
Is ringless voicemail legal?
The answer to this question is Yes. Ringless voicemails are 100% legal in all states thanks to FCC rulings and Telephone Consumer Protection Act (TCPA) terms.
Illusion of a Missed Call,
without an intrusive ring
The 360 SMS flagship, Ringless Voicedrop feature, allows users to reach their prospects using extended voice capabilities without actually disturbing them. Cutting back on typing work, instead of conversing with customers through text, now users can interact with customers by dropping a voice message, which is a much time-savvy approach.
Even for connecting with business personnel, who are often busy with meetings and conferences, you can use voice messages. This is because it administers a quiet presence over the receiver's phone screens in the form of a missed call notification. This way, you can convey your messages at scale without even ringing their phone with the best Ringless Voicemail capabilities.
Lend your voice, 
Incorporate a Human Element into automated Messages
Without a doubt, the Ringless Voicedrop feature enables you to save plenty of time, which you'd invest in typing messages either to send to prospects or to build templates. With this feature, not only can you send voice messages by recording and uploading them, but also create voice templates for future use.
While running any campaign, there's a need for mass texting to target a wide range of audiences. So using the 360 SMS bulk voicemail feature, one can easily send or schedule voicemails, either recording them instantly or using pre-built voicemail templates.
For instance, scheduling voice messages to go out at a specific time on special life events like birthdays and anniversaries is much easier to deliver a sense of belonging. Even without taking the initiative to remember and wish them the same day, you can project that you value your customers and went the extra mile to send a wish by scheduling voicemails.
Bulk, Scheduled and pre-recorded Voicemail
With the 360 SMS App, limitations of choosing recipients beyond a certain threshold can never be a concern for users. Bulk messaging is not only for texts, as it works for voicemails too. Users can reap the advantages of voicemail blast free of cost. Even if you are looking forward to sending voice messages to specific clients based on their replies to a particular message like 'Interested' or 'Not-interested' ones, Voicemail through List Views will solve the purpose. All you need to do is, customize your list using filters or logic and drop or schedule voicemails accordingly.
Further, if a particular campaign member fits the requirement of the audience that you want to target, you can shoot voicemails adding or modifying members of existing campaigns.
On the contrary, if your recipients' list is crossing over 2k clients, the Voicemail from Reports feature is there to accommodate your need as while sending Voicemails through List Views and Campaigns, you'd be selecting contacts one-by-one after a certain threshold of chosen recipients.
Convey Vital Information over voice,
Without intruding
Hence, we can conclude whether it is about dropping a single voice message or in bulk for ringless voicemail marketing, the Ringless Voicedrop feature allows you to convey vital information silently without annoying them. This revolutionary functionality of the 360 SMS app empowers its users to qualify new leads, attract new prospects, and drive awareness without communicating in-person but still giving a sense of personalization due to voice potential.