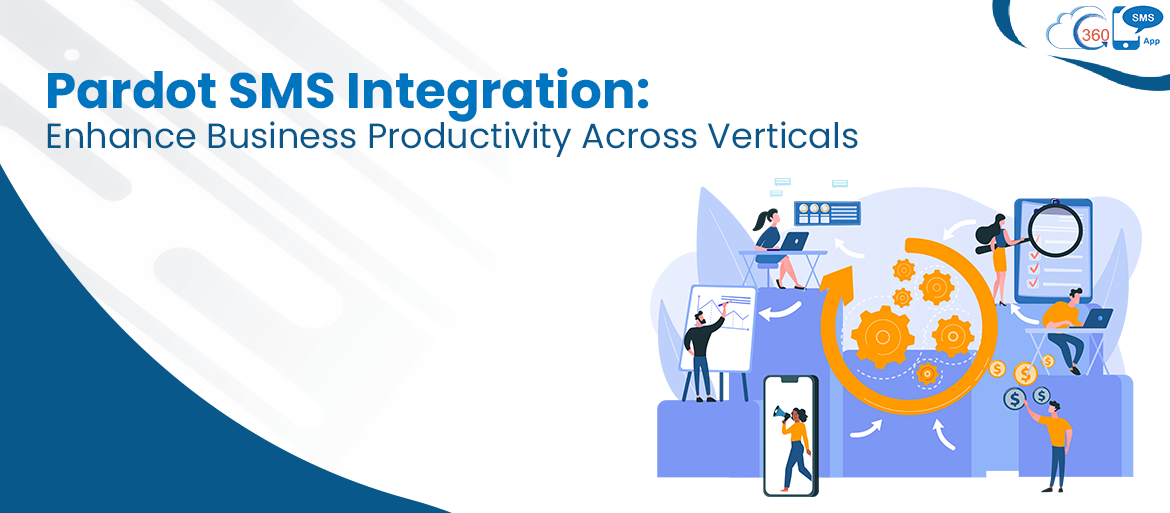 Pardot SMS Integration: Enhance Business Productivity Across Verticals
In a customer lifecycle, there are immense opportunities to interact, engage, and drive conversions. But a lack of an analytical approach to gauge client's behavior and understand prospects can ruin every effort businesses make. When a competitive environment is a consistent factor to be taken into account, it's not easy to attract, intrigue, and multiply the conversion rate.
Thus, to deliver a smooth customer journey, the capabilities of Pardot and Marketing Cloud can help. You can redefine your marketing strategies and drive more sales through automation. 
Bringing along the power of automation and text altogether, Salesforce native texting solution, the 360 SMS app, has opened several new ways to head towards smart marketing and selling with Pardot and marketing cloud.
With Pardot text messaging, businesses can easily boost their B2B marketing strategies targeting users on their hand-held devices. For texting capabilities, there are platforms like SMS magic, SMS drift, and Twilio Pardot texting platform for B2B communication. Let's find out how this robust merge of Pardot & Marketing Cloud with the texting potential allows B2B and B2C companies to engage and sell better. 
E-commerce- Track & Target With Marketing Cloud And SMS 
Every potential buyer goes through a unique journey before the ultimate conversion. A strategy that works for one while driving conversions may not bring the same results for others. Due to differences in customer's tastes, preferences, purchasing history, etc., organizations need to analyze the unique needs of the customers. This could help to deliver a personalized journey across all channels and touchpoints. 
Hence, with Marketing Cloud and Pardot SMS integration, you can track your prospect's behavioral patterns and trigger a text message at every step. If a customer looks for a specific product on your website, you can find the area of interest and specifications a client is looking for through analytics. Further, you can trigger messages related to offers, discounts, or similar products to close the deal. 
For example:
Understanding the brand preference of customers, you can trigger a message like:
Hi Eric

We noticed you added a product to your cart, but you didn't checkout. Make a purchase by 10 April, 2021 and avail of a 20% extra discount
If customers are looking to book a flight, you can trigger a message with a link redirecting to the booking page. Also, you can track the no. of clicks made over that specific link through the Link Tracking feature.
Hi Bob,

Want to book a flight to California? Click here https://www.fly.com/flights/ California to book a flight at an extra 10% off
Education- CRM Platform & SMS Fostering Personalized Marketing 
The transformation of existing strategies  by analyzing market demands and students' interests is no less than a profitable move to attract new subscribers to online classes.
Through the marketing cloud analytics, you can find interest areas of prospective students and send details of relevant or newly launched courses based on their interest. With the help of the 360 Bulk SMS feature, you can drop bulk messages to potential students reminding them of the end date of free trial classes, count the number of students enrolled, and much more. 
Banking- Text & Marketing Platform Capturing New Customers
Financial institutions can also attract more credit card buyers or loan seekers with the help of marketing platforms. Understanding the behavioral pattern of users, it becomes easy to send relevant messages in bulk, based on their activities.
On the other hand, based on the prospect's activity, you can find interest areas of visitors and offer attractive interest rates, special deals, etc. accordingly. Ultimately, such deals and offers entice visitors and give them a reason to opt for a debit card, credit card, or any other product or service.
Build Relationships with Impactful brand presence & Personalization 
Pardot and Marketing Cloud Integration with SMS paves the way to efficiently manage your brand interaction with existing customers and prospects through texts. Irrespective of channels you want to target, you can build a personalized journey for your potential clients and nurture relationships with them. With the power of automation rendered by the 360 SMS app, it becomes much more effortless for marketers to trigger messages against defined actions like lead generation, form submission by tracking their real-time behavior. As a result, with marketing platforms, users find enough room for intelligent interactions using text and anticipate customer needs for personalization.