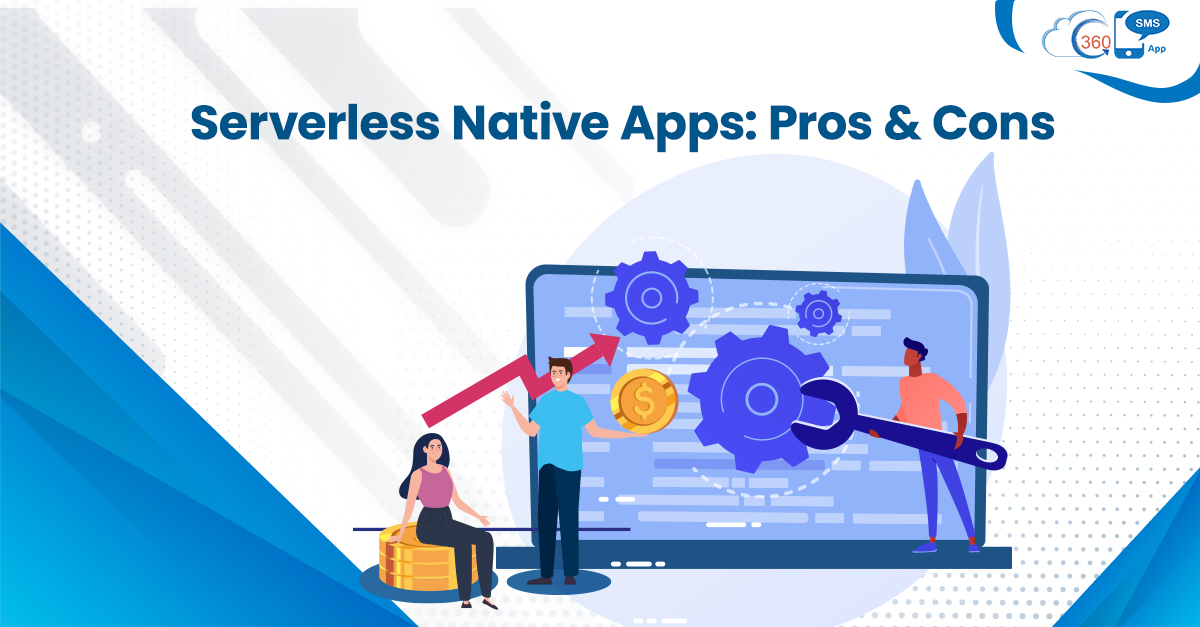 Serverless Native Apps: Pros & Cons
Quick and seamless business operations lead to better efficiency of employees. The better and advanced processes one has in place, the more convenience it adds to users. And the perfect instance of this is Serverless Native Apps. On the contrary, the serverless architecture of apps needs time and effort for server management. Thus, the more is there to manage, the more complexities come associated with it. So, while looking for bulk text message app on AppExchange or a text marketing app on AppExchange, serverless native apps are worth considering.
What is Serverless? 
Serverless architecture is where a cloud provider allocates machine resources when required and takes care of the servers on behalf of their customers. Cloud providers offer an infrastructure that is vital to the users to run the applications. Also, they handle every complexity and headache that comes with server management on their own without bothering the clients.
Serverless Native Apps:
Pros and Cons
Pros of
Serverless Native Apps
Performance
Whether you are looking for an SMS app for Salesforce or any other, Salesforce nativity must be considered. Though there are many advantages of native apps, seamless operations, and high performance are a few vital advantages that users get with serverless native apps. Salesforce native apps don't require a separate Salesforce integration using APIs. As they are built inside the Salesforce environment, it integrates well with CRM and acquaints you with a seamless experience. More importantly, you don't have to worry about server loads as well.
Data Security
Being serverless and native, no data is stored on external servers. 
Instead, it is stored in your Salesforce instance, which keeps your data secure without worrying or adding any extra security to it.
Cost-effective and Scalable
Server apps can blow a hole in the user's pocket as they have to pay for 24*7 maintenance. But that's not the case with serverless native apps, as users only pay based on the number of executions.
In addition to this, native apps help users to cut back on integrations and maintenance costs. This makes them more cost-effective. The best part is, serverless apps are automatically scalable. This eliminates the need for any additional assistance from the developer. 
Highly Flexible
Serverless native apps are highly flexible and can cater to any business use-case through customization. So, you do not need to adjust your business needs as per the app. Instead, you can transform it as per your need and make it work for you.
Cons of
Serverless Native Apps
Networking
The downside of a serverless app is you need an API Gateway set up as they are accessed only as private APIs. Though it doesn't impact the overall pricing or process, you can't access the app through the usual IP.
Vendor lock-in
The app is entirely dependent on a third-party provider, which limits your control over your application. This is another drawback of using serverless apps. But this is not actually a disadvantage for those who do not want to spend time managing servers and handling their complexities.
Difficult to switch
It is quite difficult to switch from one serverless platform to another. To change your platform or service provider, you need to make significant changes to your application. Also, it could take time to hire the right developer as not all developers are familiar with all available systems.
Pros or Cons: Which one is the Least Affecting Your Business?
Every type of app has its own pros and cons, whether it works with a server or without a server. But serverless native apps are much better in terms of performance, cost, flexibility, and security compared to non-native apps. And all these factors matter the most to any business for better business growth and development. But knowing the pros and cons of native apps can help users identify which aspect is worth considering and which can be overlooked based on value-added by them.
To know more about how you can make the best out of the serverless architecture of an app, reach our experts at sales@360smsapp.com or contact us here.