Salesforce SMS Integration:
How to Get Started with Texting in Salesforce
Salesforce users! Are you one of those who consistently try to step up their business communication game? Do you make continuous efforts to drive customer engagement without investing much time? 
Well, you're in the right place. 
Today we are going to talk about a channel that has a huge potential to engage audiences and improve business communications- SMS. 
Yes, you read that right. 
According to the G2 report, 85% of customers wish to receive an SMS rather than a voice call or an email.
As all segments of users embrace text messages, it helps you establish better connectivity across your target audience. With the help of Salesforce SMS integration, you can incorporate the most convenient communication tool that lets you target audiences even with lower-end mobile devices. 
With Salesforce text messaging, you can be agile with communications and reliably heard by your audiences, even if they don't have internet connectivity.
What more can you ask for to redefine business communications drastically?
So read along as we'll discuss how you can set up SMS in Salesforce, use SMS in Salesforce Digital Engagement (and improve communication made through Salesforce DE), and scale up SMS communications from Salesforce.
How to Set Up SMS in Salesforce (For Digital Engagement Users)
It is often considered that Salesforce offers no texting capability by default. 
Still, you can use Salesforce SMS natively if you're a Salesforce Digital Engagement user using Salesforce's Lightning version with Enterprise, Unlimited, or Developer editions with Sales or Service Cloud. 
Here's how to get started with the native SMS service Salesforce for Salesforce :
Navigate to the

Quick Find box

in Lightning Experience setup ⮞

Messaging Settings

under the

Messaging

section.

Navigate to the

Channels section ⮞New Channel ⮞Start ⮞SMS

.

If you want to use an existing US or Canadian landline number, download and fill out a Letter of Authorization (LOA); otherwise, you can skip the form and get a new number. Once done, click "Finish."

Now, contact the support team and get a new SMS channel created.

Click "Create Case," providing relevant details.
Now, you only need to wait to get your request processed by the Salesforce team, right? If you're a new number, the approval process may take up to eight weeks.
But wait, there's more to this story.
Salesforce Digital Engagement: The Noteworthy Factor
Salesforce Digital Engagement's basic version can be limiting, and so cab its messaging and engagement capabilities. 
By extending Digital Engagement capabilities using the DEOS or Digital Engagement On Steroids ( a 360 SMS add-on), you can access DE's capabilities over more channels and clouds, including channels like Telephony and Ringless Voicemails and clouds like Marketing Cloud and Pardot. 
Apart from this, you can overcome Digital Engagement's limitations like inaccessibility on mobile phones, limited chatbot conversations per user per license, dependency on Process Builder for text automation, and many more. 
You get out-of-the-box features to perform advanced text automation over different channels faster. Whether it is text surveys, chatbots, one-on-one conversations, automation, or bulk messaging, you get every capability to extend and redefine Salesforce DE capabilities.
To maximize your DE's potential, you can simply connect with our experts; they can do this for you.
Being a Salesforce Digital Engagement user, now you're pretty familiar with how to start with SMS.
But what if you're not using Salesforce Digital Engagement?
No worries. We've got you covered.
Find out how you can Send SMS using Salesforce a lot faster. 
How to Set Up SMS in Salesforce (For Non-Digital Engagement Users)
      2. Search for the 360 SMS App in the search tab and click on the 360 SMS App listing.
  3. When you click on the 360 SMS app listing, you have three options to choose from 
You can install the app straightaway by clicking Get It Now.
As you click Test Drive,  it will prompt you to enter their details for an app's test drive, as shown below.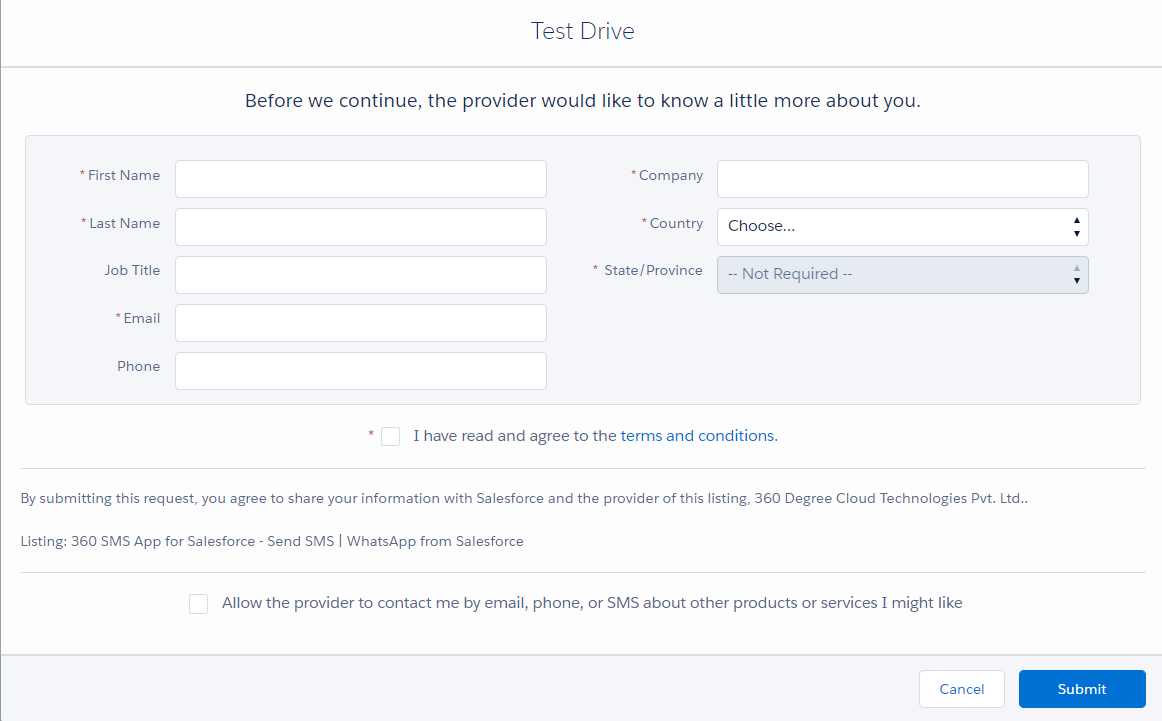 As you click More, you can watch a demo or add the app to your favorite list. As you click Watch Demo,  it will prompt you to enter their details for an app's demonstration, as shown below.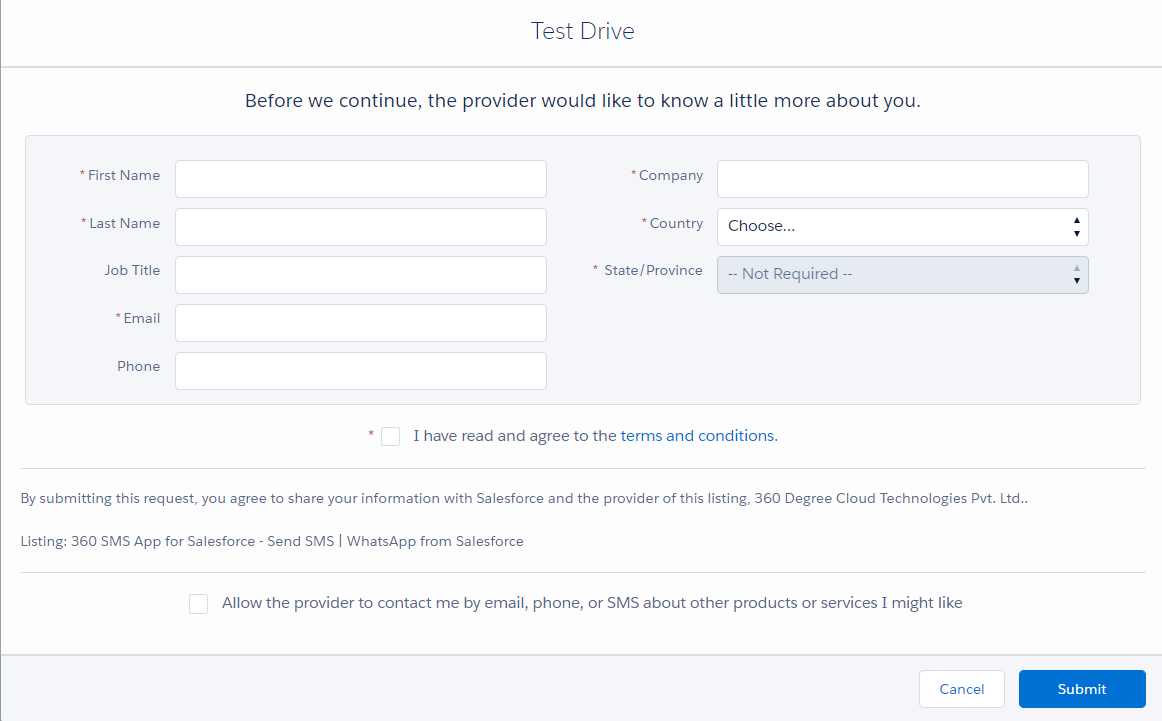 Once the app is installed, you can use it for SMS for Salesforce, reap the advantages of its wide range of features, and streamline your text operations.
How to UpScale Texting Operations with 360 SMS Native SMS Service for Salesforce
360 SMS offers a wide of advanced texting features to simplify and accelerate text operations. Not only this, you can manage communications at scale without investing much time. Here are some features listed that are simply WOW.
Access to 11 Channels in One App
Picture this. 
Instead of having one or two business communication channels, you have 11 channels integrated to send SMS from Salesforce and communicate with audiences over their preferred channel. 
And you get all these channels with one app integration instead of 11 channel integrations in Salesforce.
Isn't it amazing?
Yes, you can get this for real with 360 SMS, as the app comes with 11 built-in channels, which allows you to target audiences based on their geography or preferences. 
Therefore, by connecting with audiences where they already are, you can step up your customer support and service.
SMS Templates and Pre-Written Responses
Creating SMS templates in advance is a commonplace activity that almost every SMS user does in business. No wonder, there's barely any texting solution that doesn't support SMS templates.
So, you might be thinking, "What's different with the 360 SMS for templates"?
It's the way you create SMS templates.
Traditionally, you would count on a writing expert to type and create text templates for various purposes. We need experts to ensure that sentences are appropriately structured,  content is correct, and text messages are well created. 
But when it is about creating multiple variations of templates for the same purpose, you can witness a lack of innovation in content. Above all, the process becomes a bit time-consuming.
The fascinating aspect of template creation with 360 SMS is you can give prompts based on your requirements and get ready-to-use templates in seconds with Chat GPT. You can even ask for as many variations as you want.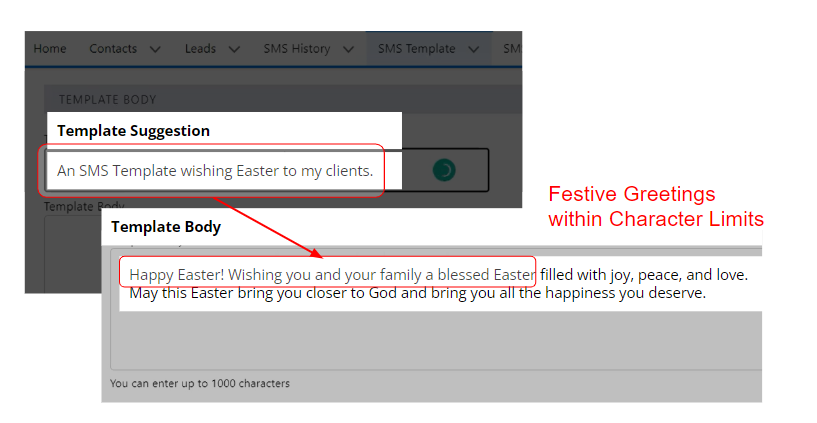 In addition, you also get pre-written responses to respond with one click while chatting one-on-one with your audiences. Based on your ongoing interactions, it provides you with inbuilt suggestions which you can use as it is or tweak as per your requirements, allowing you to chat faster without errors.

Multi-Channel Drip Campaigns
The most challenging aspect while running a text messaging Salesforce campaign is driving customer responses. 
Reaching audiences over different channels is one of the most common approaches followed by marketers to expand their network and get more replies. But this takes repeated efforts and plenty of time.
Just visualize how good it would be if you could target audiences over different channels through a single text campaign.
Don't you think it would be time and effort-saving?
Yes, it will be, and this is something the 360 SMS drip campaign allows you to do so. 
You can repurpose the text messages, text campaigns, and multimedia that got you great results over one channel and other channels.
With 360 SMS, you can schedule a series of texts to go out over different channels. Even emails can be included in a series of messages to run campaigns more innovatively.

Decision Trees
Data capturing is one of the crucial aspects that every business needs to make informed decisions. 
But the worst part is they must invest every time they want to capture unique data, whether they opt for a questionnaire, survey, or any other form of data capturing. 
With 360 SMS, you can configure decision trees on your own without coding. Consequently, configuring Salesforce chatbots, surveys, questionnaires, and polls is much simpler and faster. And the best part is you don't need additional investment or development effort.

Phone Number Management
Phone number management is one of the tedious and time-draining tasks businesses have to deal with. Every lead owner invests time and effort to build and strengthen the relationship with their leads. They know and understand their leads better which helps them personalize communications and drive more conversions.
But before that, you must ensure that each lead is successfully assigned to its lead owner. This process is time-consuming when done manually.
But the case is different with 360 SMS; you can automatically assign incoming replies from leads to their respective lead owners. And the best part is this phone number management capability works even when you send SMS with Salesforce in bulk.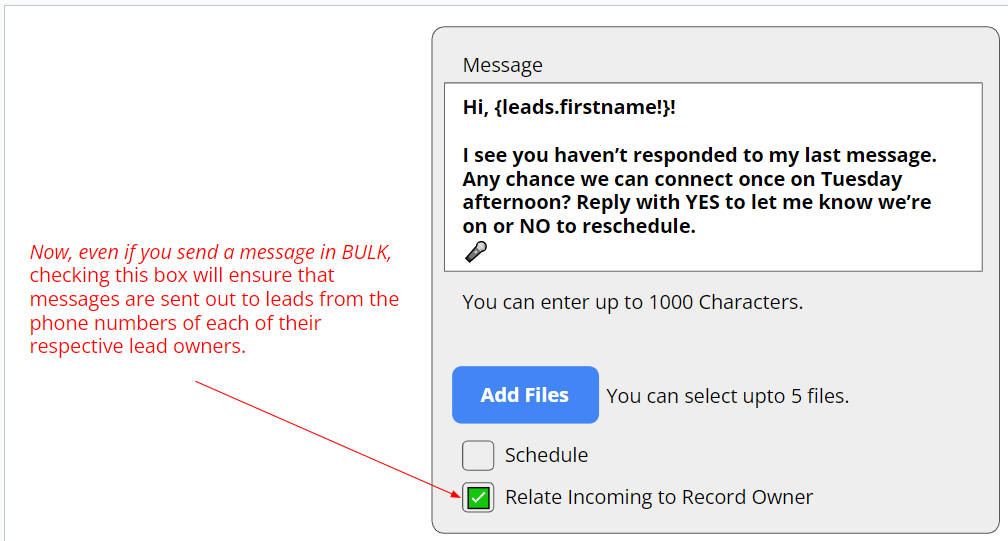 Apart from this, you can also automatically select the last used number throughout the customer journey while messaging a specific customer. This helps to maintain consistency in sender identity and improve brand recognition. 
Salesforce SMS Integration Providing Out-Of-The-Box
Compliance Mechanism
Whether it's new or old texting regulations, compliance can never be a problem with the 360 SMS compliance mechanism. 
If a customer wants to opt-in or opt-out of Salesforce text messages from a specific number, person, department, branch, etc., you can easily manage it with selective opt-in or opt-out. 
Over and about, you can add the custom field to manage new texting laws and requirements that come your way. This eliminates the need for additional arrangements to cater to new texting requirements. The interesting part is you can do all this with just point-and-click.
Zapier Integration and Other Integrations We Offer
In addition to our flagship product-360 SMS, we are experts in other Salesforce integrations that you may ask for to streamline your business operations. 
This includes Zapier integrations with Salesforce too. Quickbooks, Xero, Zendesk, WordPress, Bullhorn (previously Job Science and Talent Rover), Jungo, VeevaCRM, MailChimp, and Teamwork are some other Salesforce integration we offer. 
So, if you're looking forward to getting any of these for your business, look no further than 360 Degree cloud experts for top-notch consultation and services. Also, we have over 650 resources specializing in Salesforce that integrate into pretty much any 3rd party or industry platform you can think of.
Salesforce SMS Integration:
360 SMS for business messaging That creates High-Lead-Conversion, High-Retention, scientifically
Salesforce SMS integration with the help of 360 SMS provides you with all the necessary capabilities required to accelerate and simplify text messaging Salesforce operations that are usually unavailable with traditional SMS API integration. 
It offers multiple channels for business communication that allows you to cater to the demands of modern users. You can connect with them where they already are. Therefore, you can easily redefine business communications and boost customer experiences, creating a loyal brand following.
So, to dive deeper into other advanced capabilities provided by 360 SMS and get the best SMS integration for your firm, turn to our experts at care@360smsapp.com or click here to contact us.