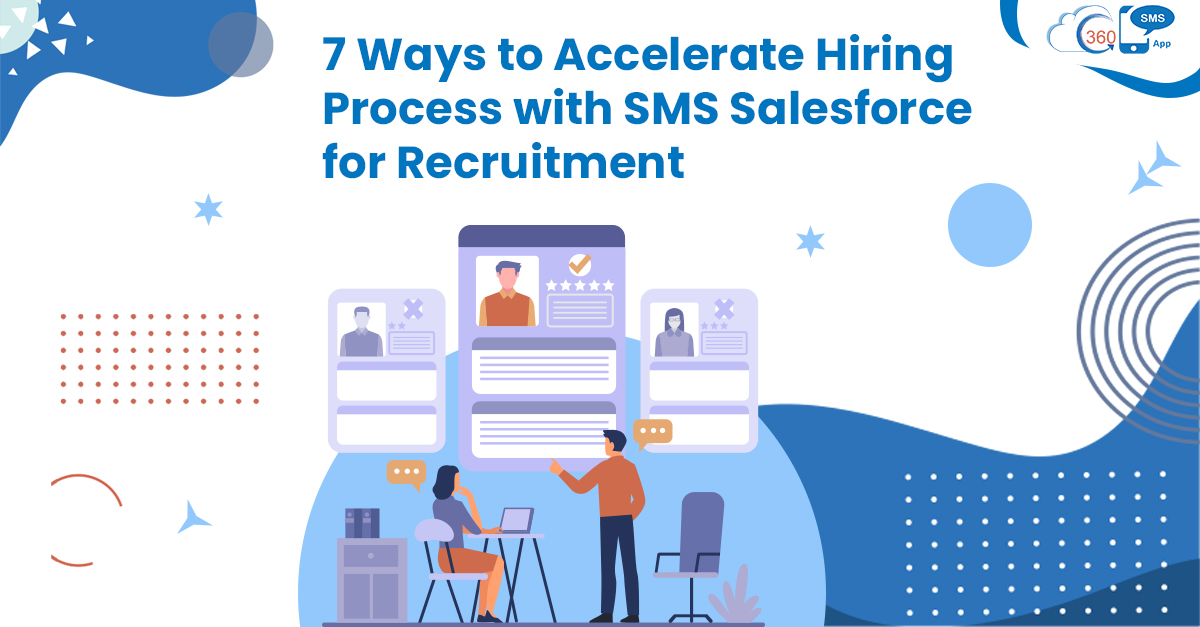 7 Ways to Accelerate Hiring Process with SMS Salesforce for Recruitment
Urgent requirements of the workforce can arise anytime in organizations. Recruitment of a qualified workforce in a short or defined time is one of the most challenging tasks that organizations deal with now and then. So, to fulfill these urgent requirements, organizations and recruitment agencies need a fast and convenient recruitment process in place to close job postings in a definite period. This is where SMS Salesforce for recruitment can prove to be a game-changer and transform the entire recruitment process. Here's how recruitment agencies can incorporate texts in their recruitment process and accelerate it.
SMS Salesforce for recruitment
Check Job Status of Candidates using SMS Salesforce for recruitment
Before reaching out to any candidate, it's vital to know their job status. This would help save SMS bills and send texts to only relevant candidates. So, using bulk messaging, you can send texts to millions in one go and check whether a candidate is looking for a job or job change. This is just one way to use SMS for recruitments when it comes to communicating at scale. 
Run Surveys to Send Relevant Job Postings
The more information you have about your candidates, the better it is for you to send relevant job postings. You can automate series of texts and run Surveys to automate the process of candidate profiling using SMS Salesforce. Further, you can segment candidates and create lists based on their years of experience, annual package, job profile, etc. Using these lists, you can send the most relevant job posting to the candidates.
Send URLs to Schedule Interviews
Once candidates show interest in the job postings, you can ask for their resumes for screening. In the next step, you can send updates about their job application status using automated texting.
Congratulations Mark, 

Your resume has been shortlisted for the next Interview round.

JB Recruiters
Further, you can send a URL to candidates to schedule interviews.
Use SMS Salesforce for recruitment to Send Confirmation Texts
By sending URLs in text for scheduling, you can add more convenience to your candidates and cut back on manual work like calling. So, once a candidate fills up the relevant date and time, you can send a confirmation text with the selected date and time to avoid any confusion.
Send Reminders to Reduce No-Shows
Interview no-shows lead to wastage of time and effort of recruitment agencies and interviewer. Hence, text messages for recruitment can also help to reduce no-shows. You can automate reminder texts to remind candidates of their interviews, venue, and time.
Share Final Results of Interview
After an interview is over, candidates wait eagerly for their final results. This leads to the bombardment of calls and texts on recruiters. This is where recruiters can use triggered texting to push out the final results automatically as the stage changes for a candidate from interviewed to selected. This would reduce plenty of manual work and time for recruiters.
Document Collection for Onboarding
Not only just texts, but WhatsApp has also become an integral channel for effective communication.
So, to speed up the onboarding process, recruiters can collect necessary documents either through MMS or WhatsApp. This way, recruiters can simplify the process of documents exchange for themselves and candidates-both.
Accelerate Recruitment Process and Close Job Postings Faster with Texts
Timebound recruitments definitely need a speedy and convenient process for faster recruitment. SMS Salesforce for recruitment enables organizations to connect with candidates faster at every turn. Thus, recruiters can easily cut back on calls and emails for various purposes. Also, recruitment agencies can close the desired number of job postings within specified timelines.
To know more about how SMS Salesforce can help your vertical to speed up your business processes, talk to our experts at sales@360smsapp.com or contact us here.