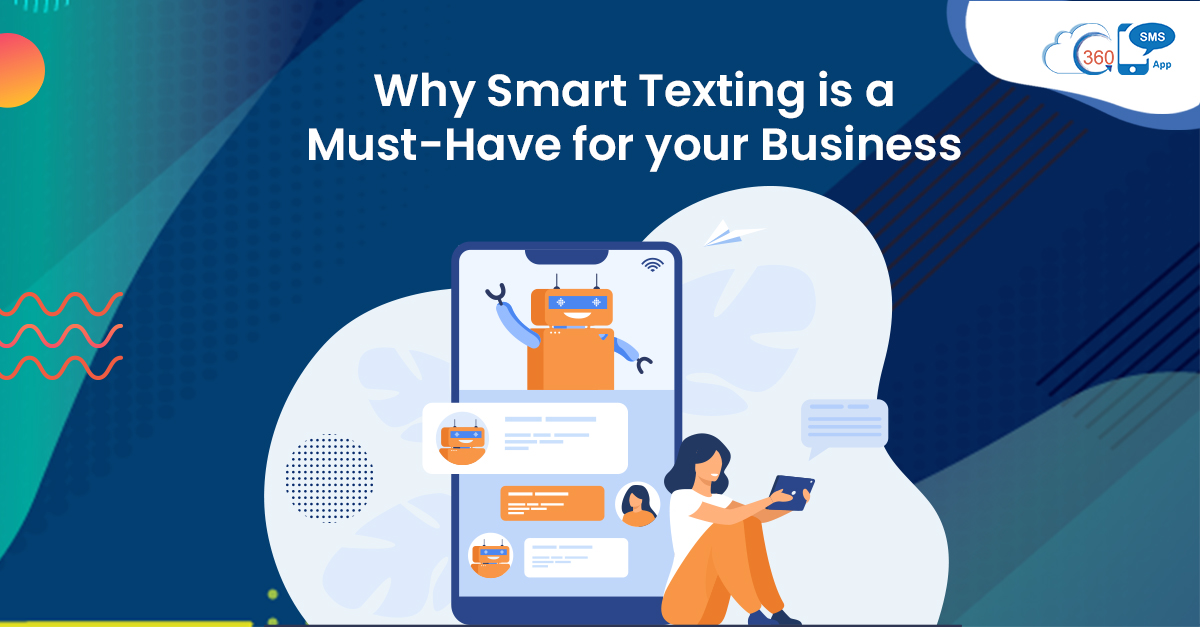 Why Smart Texting is a Must-Have for your Business
Business ventures constantly strive to make their business communications processes better day by day. Organizations look forward to cutting back on time investment, effort and improve employee's efficiency. Thus, people look for a scalable and user-friendly Salesforce texting app on AppExchange to send text messages. Further, smart texting has also opened the floodgates of opportunities to reduce manual intervention while texting and improve communications between organizations and their clients. Thus, organizations can easily nurture and build better relationships with clients.
What is Smart Texting?
Smart texting provides you an easy way to manage interactions with clients without much manual intervention. Out of multiple two-way communication processes, automated series of text messages is also one way to tap into the two-way conversation without actually being present on the spot. Consequently, users can easily focus on the high-value generating business areas without worrying about each incoming message.
How does Smart Texting Help your Business?
Automated Reminders
As intelligent texting intends to reduce a lot of your manual work, it helps you cut back on manual intervention while sending each text, even if it is time-sensitive. You can send reminders for payment, appointments, interviews, etc., on a specific day and time, defining the frequency of messages weekly, monthly, bi-annually, or annually.
Automated Process for Data Collection at Scale 
The collection of data at scale can be one of the tedious processes for organizations. But that's not the case with smart texting. You can design the series of questions and answers with 360 SMS itext for any industry depending on the purpose and type of data you want to collect.
Further, you can assign and trigger the next question based on each response selected by a person. This way, you can collect data at scale and perform other tasks simultaneously, which leads to overall improved efficiency.
Automated Support Process
Instant response to any incoming inquiry is what can help you provide quality support services. And when it comes to 24*7 availability for 1-on-1 interaction, nothing can beat Chatbots. In layman's terms, chatbots are nothing but automated chat programs. 360 SMS is the best SMS app in Salesforce for a self-designed chatbot.
It eliminates the need for any separate integration for chatbot and allows you to design your own chatbot to provide quality service and reduce cases. So, considering the most common and repetitive queries, you can create answers and trigger them immediately as an inquiry comes in with the designated keyword.
Automated Interactions
Not every lead is worth pursuing. This is where again, you can switch to Intelligent texting and put it at work on your behalf. You can configure automated follow-up texts to engage with the cold or lost leads.
Also, you can automate the lead qualification process to hand over your sales team only qualified leads that are worth pursuing. This way, you can prevent your sales team members from investing time and effort on low-value leads and drive more conversions.
Put Smart Texting at work on your Behalf and Reduce Manual Intervention
Smart texting works on the principle of smart work rather than hard work. Thus, employees can effortlessly reduce their involvement in text operations without hampering overall productivity. In fact, they can put smart texting at work on their behalf and focus on core priority business areas. So, on the one hand, it helps to reduce the time and effort of employees. On the other hand, it eliminates the need to hire an additional workforce to handle text operations.
360 SMS is one best SMS app for Salesforce for no-code smart texting. To know more about you can distill weeks of work into hours with its out-of-the-box capabilities, reach us at sales@360smsapp.com or contact us here.