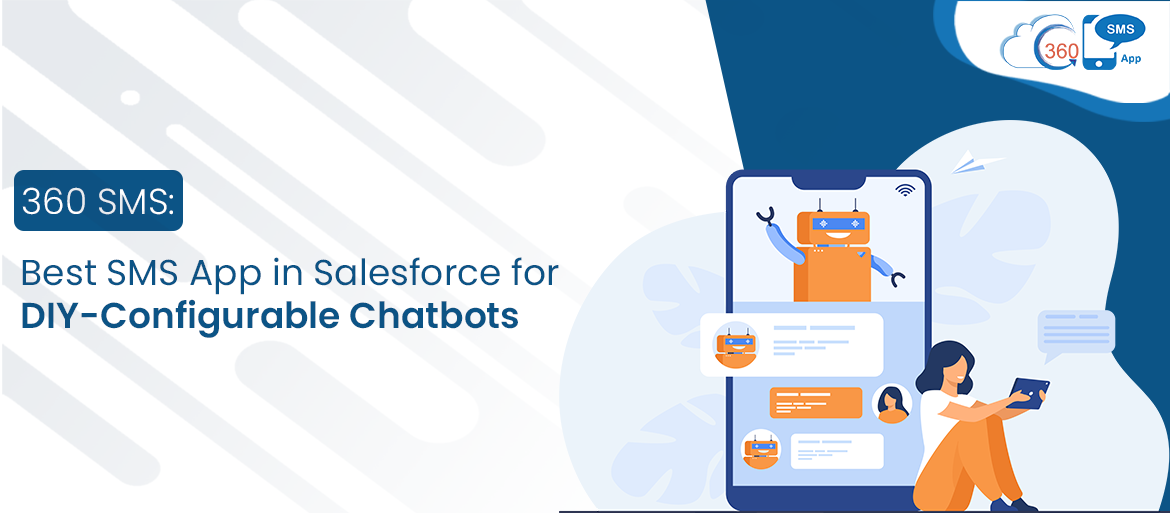 360 SMS: Best SMS App in Salesforce for DIY – Configurable Chatbots
Apart from reaching and connecting with prospects, constant evolution in text usage has led to numerous innovative ways to indulge with audiences and get their opinions.
Uniquely extending the use of text, Salesforce texting app 360 SMS works like magic for non-technical staff. It empowers its users with advanced texting capabilities like iText for data capturing. Without a doubt, it is the best SMS app in Salesforce for self-designed chatbots, or we can say Intelligent texting. 
A Zero-code Chatbot
This intelligent texting feature handles much of your text automation work when it comes to collecting customer's opinions without using Salesforce native tools like process builders, apex, or workflows. It eliminates the need for a separate Salesforce bulk SMS app for Surveys. You can easily install this SMS app from AppExchange and start creating your Chatbot.
With a view of knowing your prospect's intent or responses upon a particular matter and gauge their interest, iText is a perfect pick to create Surveys effortlessly and in no time. As per need, you can create a series of questions for keyword-based automated conversation and provide optional answers to recipients to reply. 
Further, based on each provided option, you can align a different question to trigger as a customer responds.
Besides, if you are not looking forward to triggering Surveys instantly and want them to go out on a specific day, the 360 SMS app for Salesforce makes it feasible to do so. Using the Drip Campaign feature of this Salesforce messaging app, you can schedule surveys, voicemails, and templates on various intervals using days offset or minutes offset along with the time for them to go out.
Automate Surveys, Responses, Campaigns, Actions
Now, here comes an interesting complementary part of this feature, i.e., Action Handler. It is an advanced feature that comes as an add-on to iText.
As you design any survey, you can automate a different question against each response. But what if you want to take any action in Salesforce based on customer's response?
iText comes with the Answer path(Action Handler) feature to take action in Salesforce.
Surveys, also known as Chatbots, are only for triggering defined questions, whereas Action handler allows you to perform actions based on responses you get to your iText.
As a customer replies with any defined answer options, you can perform actions in Salesforce based on iText responses. With the Answer path, you can create tasks, alert users, add the prospect to a drip or email campaign, update any specific field of a customer, and much more.
Why Use iText?
Sidestepping complex automation ways that eat up a lot of developer's time, iText comes with zero-code technology and 'Click and Type' configuration.
Being the best SMS app for Salesforce Chatbot, it adds a lot of convenience to users. For non-techies, iText keeps Salesforce-native tools like process builder, workflows, or apex at bay when it comes to automation. With drastically less time, one can drive automation itself and go live within seconds.
Only the Most Superior Text Automation
for Salesforce
Creating and managing surveys can be a daunting task if it is all manual.
But the 360 SMS app has made it easier to capture data at scale with automated Salesforce text messaging. iText serves you DIY automation and lets you avail of response-triggered actions and data capturing in minutes. So, eliminating the need for technical knowledge, you can create and run Surveys, SMS polls, Forms, etc., on your own. SMS 360 app in Salesforce gets you the 'Click and Type' configuration and ease-of-use.