Bulk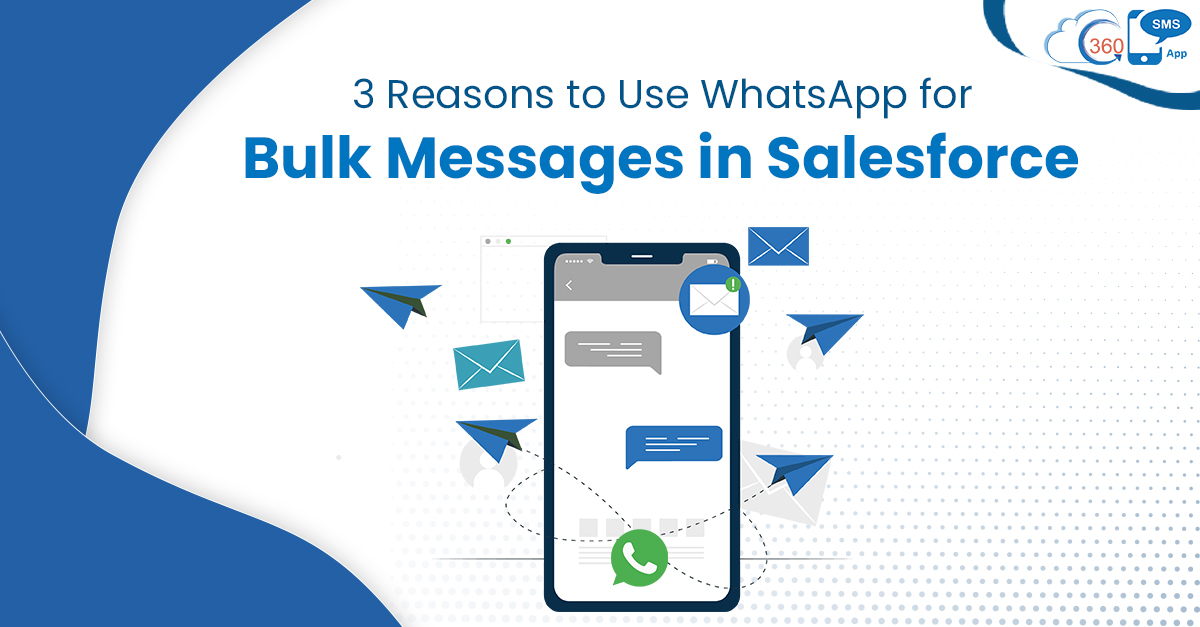 3 Reasons to Use Salesforce for Bulk Messages in WhatsApp
Text messages have become the most effective and reliable tool for marketers to send vital information right in front of the eyes of audiences. In addition to this, WhatsApp has equipped businesses to tap into the world of rich media communication and connect with audiences over the most popular messaging channel. Thus, business ventures who haven't touched WhatsApp yet are heading to Salesforce WhatsApp integration in addition to SMS integration for Salesforce to reap WhatsApp benefits along with texts.
After reading this, the chances are high that readers might think
"Why opt for WhatsApp if we have an SMS channel ?"
The question makes sense, but every channel has its own importance and capabilities that add value to businesses in a unique manner. Here are the best three advantages that you get with WhatsApp over SMS.
Verified & Authentic Business Account
Trust in your brand is an important key that unlocks several new opportunities and leads to new and repeat business. 
When you set up your WhatsApp business account, your profile is labeled with a grey question mark, and as soon as the account is confirmed, the question mark turns into a grey tick mark. This keeps you posted about the progress of your WhatsApp business account.
With WhatsApp, there are no chances of fake business profiles as WhatsApp itself verifies a business firm and labels it with a green tick mark in their WhatsApp profile for business. This green checkmark presents the authenticity of your brand profile and instills confidence in your prospects and customers to engage with your brand. With WhatsApp, you can send bulk messages on Salesforce WhatsApp and interact with audiences at scale.
Instant Analytics
This is another amazing benefit that you get while conversing with prospects and customers through WhatsApp. It gives you instant insights into how many text messages are sent, delivered, and read by recipients. Thus, you can anticipate more accurate results considering the available analytics. So whenever you send mass SMS from Salesforce WhatsApp, you can simply identify how many messages have reached customers.
No Country-To-Country Texting Barriers
More importantly, the ability to extend global reach is the biggest advantage that businesses get with WhatsApp. This is because where SMS can't reach, WhatsApp messages can. In some countries, mobile network operators don't support country-to-country texting or SMSes are quite expensive which limits the business outreach. This is where WhatsApp can help to break country-to-country texting barriers and improve business outreach.
360 SMS for cost-Effective WhatsApp Integration
SMS 360 is a no-code app on AppExchange that solves multiple purposes with just one app. The app provides six pre-integrated channels at no extra cost and allows you to provide multi-channel support seamlessly. It eliminates the need for a separate integration of channels like SMS, MMS, CTI, Voicemails, Facebook messenger, and WhatsApp. You can send bulk SMS from Salesforce bulk investing much time and connect with WhatsApp lovers at their preferred channel.
The best part of using WhatsApp for business is it's connected to a single contact number. This provides more authenticity to a WhatsApp business profile compared to multiple and less authentic points of contact. Further, this helps to win the trust of customers, drive engagement and increase sales.
To know more about what 360 SMS app WhatsApp can do for your business, reach out to us at  info@360smsapp.com or contact us here.