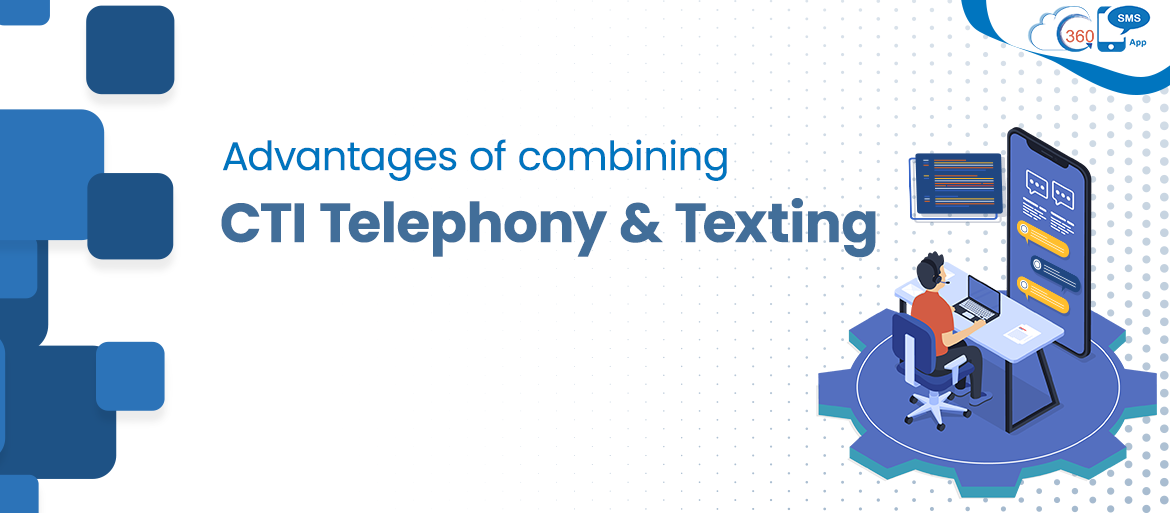 Advantages of combining CTI Telephony & Texting
The way any business interacts with clients creates a notable difference in its success and failure. On-call interaction with clients is one of the most common activities in organizations to resolve concerns faster. With no access to data, it becomes challenging for representatives to help with the necessary information or solutions a customer wants.
So, inadvertently, business ventures lack a collaborative approach, responsive customer support setups, and fail to close a good number of deals owing to a lack of information.
To address such concerns, 360 SMS enables businesses to outperform competitors with quick issue resolution through parallel texting.  Salesforce 360 SMS App serves its users with computer telephony integration (CTI), allowing representatives to multitask without holding up any call.
What is CTI?
CTI technology allows the computer to interact with telephones. Using this feature, employees can manage all their calls through computers rather than relying on cell phones. With telephony and desktop interactions, executives can perform better and serve users in a much more enhanced way. 
Whether it's sales or service, the 360 SMS CTI feature offers tremendous opportunities to nurture relationships with customers, manage their information effortlessly, and gain insights into meaningful data that you could use to redefine customer service.
How Does CTI Ease Your Customer-interaction Process?
With 360 bulk SMS features, you can bring thousands of customers to your website by embedding website links within texts. While exploring your product and services, customers can directly call executives and get their concerns resolved then and there. At the same time, the CTI setup retrieves all customer data from your CRM. Consequently, with all the relevant customer information on their screen, the executive can resolve queries quickly and effectively.
Keep hands free to do work with Automatic Dialing over Contact Lists
Connecting with hundreds of customers through calls can be inconvenient for your sales executives. They need to pull out their numbers and contact them individually, which makes the task more time-consuming. 
Through CTI, one can get away with the hassle of finding and dialing contact numbers with much ease. Telephony integration allows you to get customer contact numbers without any struggle. You'll experience the power of automation through automated dialing. Using the feature, the salesperson can spend more time on core activities like prospecting and less time searching and dialing contact numbers.
Call Routing-Getting to the Right Person at the Right Time
The CRM ability to identify who the caller is and pull relevant customer information from the database helps a lot. With CTI, you could connect callers to the relevant person based on their availability, saving much of your time. Else, finding the concerned contact person or account representative or checking availability could waste much of your time. But with CTI, you can shift your attention to high-priority, high-value tasks.
High-level support & parallel multitasking, simultaneously
As an interface that's geared up for multitasking, CTI over 360 SMS enhances the productivity of human agents. It allows them to complete or add relevant details to the profile of a client while talking to them over calls. Also, they can make in-line edits to customer details and send them knowledgebase articles if required. 360 CTI has a click-to-dial UI that lets agents make calls without switching pages or clicking dial-pads manually. Agents also have gainful insight into call data to gauge customer interaction levels, the average response to the emails & phone calls, average handling times, first-call (FPOC) resolution, and much more. 
This improves decision-making capability of agents based on customer behavior, improving your service, support, and prized CSAT indicators.