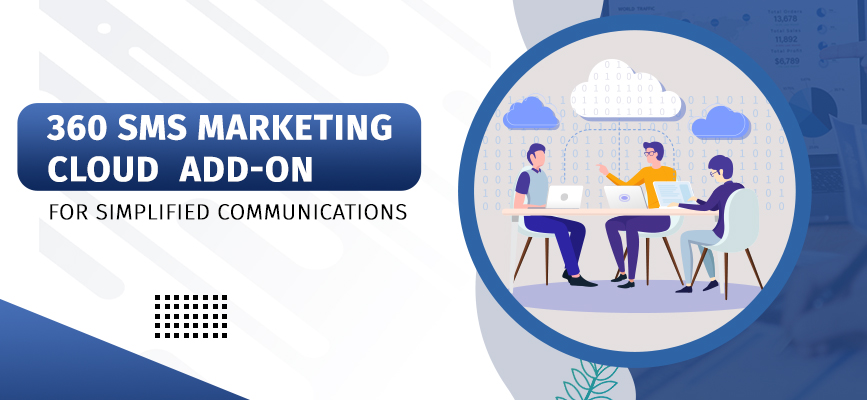 Want to Simplify Marketing Cloud Communications? Here's an Add-on You Must Try
Effective marketing is what every brand aims for.
And fortunately, the Salesforce marketing cloud has made it feasible for brands to gain insight into a consolidated data of customers, track their behavior in real-time and get into more intelligent communication with customers for effective marketing.
With Salesforce Marketing Cloud, marketers can easily run tailored marketing campaigns that cater to customer needs.
But certain aspects might be a cause of concern for you and your marketers while using the marketing cloud and mobile studio for messaging and communication.
What about the high messaging expenses that come with Marketing cloud mobile studio messaging?
What about the tedious and long processes while sending each message?
This is where the 360 SMS marketing cloud add-on comes into play.
What is the 360 SMS Marketing Cloud Add-On?
The marketing cloud add-on is a 360 SMS add-on that intends to simplify and accelerate communications through the Marketing cloud.
Also, it lets you cut back on messaging expenses while messaging through the Marketing cloud.
How Does the 360 SMS Marketing Cloud Add-on Help?
Integrating this 360 SMS marketing cloud add-on, you can sync the marketing cloud journey and messaging history with Salesforce.
Thus, you can reap the benefits of actionable data from the 360 SMS app and  Salesforce and redefine the marketing journey by sending email and text messages at various touchpoints.
Reduces Messaging Expenses
You might have observed that the Marketing Cloud mobile Studio is far more expensive for text messaging through Marketing Cloud. This leads to a high messaging bill and shoots up business expenses overall.
This is where the 360 SMS marketing cloud add-on comes to the rescue.
Do you know that while messaging through Marketing Cloud mobile studio, it takes 40 credits to send just one message?
This means you pay for 40 SMS when you send one text message. But this is not the case with the 360 SMS marketing cloud add-on.
You pay the usual charges as you would pay for business text messages. This makes this add-on 670 times cheaper than a mobile studio for texting.
Eliminates Dependency on Tasks for Automation and Messaging
As a traditional way of texting from the Marketing Cloud, you build automation and depend on tasks while sending each SMS.
With this add-on, you can eliminate dependency on Tasks for automation and messaging. You can automate messages with point-and-click capabilities.
Allows You to Get Into Convenient and Faster Messaging
You can harness the power of convenient drag-and-drop capabilities into the Marketing Cloud by integrating the 360 SMS marketing cloud add-on,
You can even push out text messages in an email journey with point-and-click.
Besides, you don't have to follow the long-drawn and tedious process of composing messages and sending them out.
Instead, you can count on an out-of-the-box message composer in the marketing cloud to create messaging journeys faster and schedule them.
Helps with Targeted Marketing and Effective Mobile Marketing using Existing Data
Integration of the 360 SMS marketing cloud add-on provides insights into actionable data like 360-degree views in Salesforce, analytics, and past interactions.
Thus, you can use smart texting, apply filters in the marketing cloud, and export custom field values from Salesforce data to deliver a tailored journey to each customer and improve Marketing Cloud communications.
Further, you can use our existing marketing data for personalized and effective mobile campaigns and obtain more returns by reusing what you have.
Run More Personalized, Targeted, and Effective Campaigns using the Marketing Cloud
The 360 SMS marketing cloud add-on helps users reduce their messaging expenses by cutting back on per messaging price. This is far more expensive while texting through the mobile studio. More importantly, users can get into more meaningful marketing conversations and create targeted campaigns. This is because they can use a consolidated view of marketing data from marketing data, the 360 SMS app, and Salesforce. Surprisingly, you can incorporate SMS also in your email marketing journey if required to run campaigns effectively.
To know more and penetrate deeper into the capabilities of this 360 SMS marketing cloud add-on, head to our experts at care@360smsapp.com or contact us here.