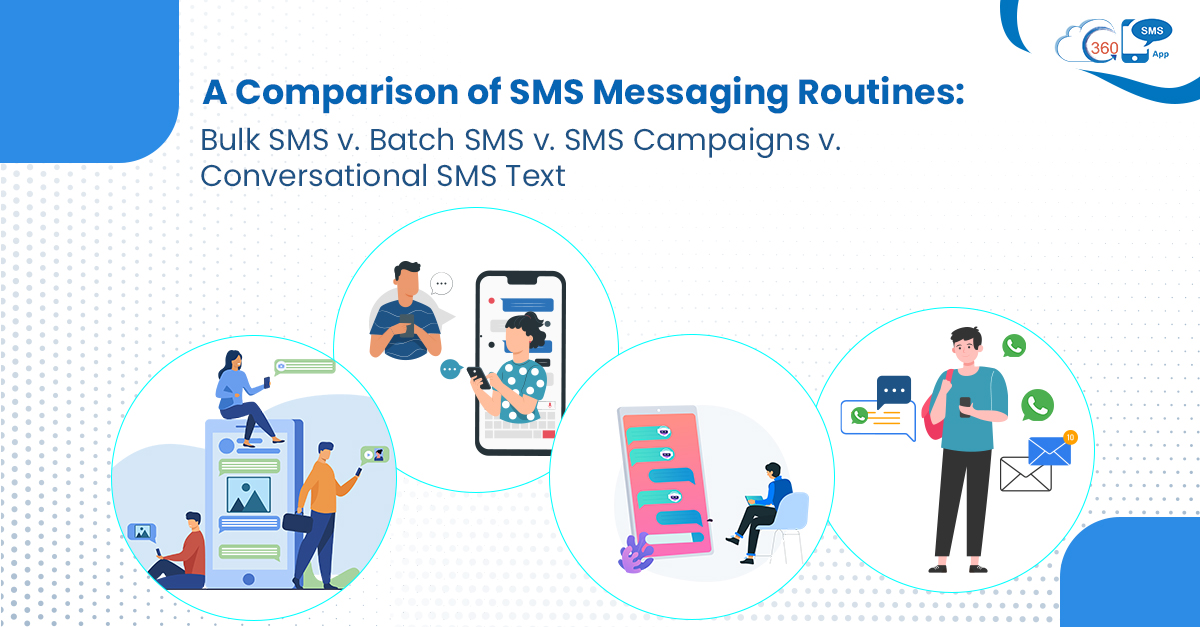 A Comparison of SMS Messaging Routines: Bulk SMS v. Batch SMS v. SMS Campaigns v. Conversational SMS Text
A scalable and convenient interaction channel is key to effective communication. Quick response rate and the high open rate has turned text messages into a reliable and effective communication channel to interact at scale. With texts, organizations can connect with millions with a much-reduced workforce, whereas call interaction requires an extensive workforce to perform call operations. Further, connecting with prospects over call needs more time and effort compared to text messages. Thus, possessions of various messaging routines can help to target audiences more effectively choosing the most appropriate one.
organizations look for a text marketing app or a bulk SMS app on AppExchange that supports user adoption and time-savvy operations.
Outbound Message Sending Routines
Text marketing apps on AppExchange are not just for marketing purposes. Instead, it lets you educate, sell, and serve audiences using automated texts, calls through CTI, conversation management window, and batch texting capabilities. Whether you are looking forward to communicating with a single person or at scale, you can do it much more conveniently with various outbound message sending routines and redefine your communication strategies.
Let's compare different messaging routines that you could use to interact with audiences.
1-on-1 Conversation
1-on-1 conversation through the Conversation view helps agents to reduce the flow of incoming inquiries. This lets them cut back on their workload further. Agents can chat 1-on-1 with multiple audiences simultaneously and resolve their queries right away. Thus, audiences can get their answers on the spot, and they do not have to wait longer to get responses from the agents. This leads to time-savvy interactions, which makes it convenient for agents and audience-both. 
Conversational Texting
Conversational texting is another messaging routine that organizations can use for automated interactions. You can create a series of questions and answers depending on the use-cases and collect data at scale. Like in the 360 SMS app, it is dubbed as iText and helps you with DIY-configurable decision trees. You could use this to run Surveys, Polls, Live Voting, Lead qualification, and much more. The best part is you can use this to send instant replies and eliminate the dependency on human resources to respond to your target audience. 
Bulk Texting
When it is about connecting with audiences at scale, bulk texting is need of every industry.
You can send texts to millions on the fly using Salesforce Reports. Besides, you can target smaller segments of audiences using custom List Views and existing Campaigns. Thus, you can interact with target smaller and larger audience segments based on their audience size with minimal time investment and improve your business outreach.
Batch Texting
This is another way to target audiences in bulk. Instead of sending text messages to millions in one go, you can define text segments and send texts to thousands of audiences, depending on the requirement. So, you can create different text content for various groups of audiences and process batch messages the way you want.
SMS Campaigns
SMS drip campaigns enable you to run SMS campaigns more effectively by targeting audiences at various touchpoints. You can schedule a series of texts at various intervals defining offset by no. of days or minutes. Also, you can decide on the time of messages when you want them to go out. This is why, SMS drip campaigns are more effective and can help you cut back on manual intervention while sending each message and focus more on core priority areas.
WhatsApp Communication
Without a doubt, WhatsApp has become the most popular and familiar messaging channel for personalized communications. So, connecting with audiences over WhatsApp is not a bad idea. You could invite clients on personal WhatsApp who are known and closer to you. On the other hand, you could also use business WhatsApp to contact new customers where they already are. More importantly, you can tap into media-rich communication, which could help you entice prospects and customers through visuals.
Tap Into more Meaningful Interactions with Multiple Messaging Routines
A single messaging routine isn't enough to cater to different communication objectives. On the one hand, you probably need WhatsApp for personalized communication. On the other hand, you might need scalable texting for quick interactions. Thus, messaging routines can make a world of difference to your interactions if you choose them prudently based on the texting objectives. 360 SMS is one such app that enriches you with multiple message-sending capabilities for convenient interactions.
To know more about 360 SMS capabilities for valuable interactions, contact us here.