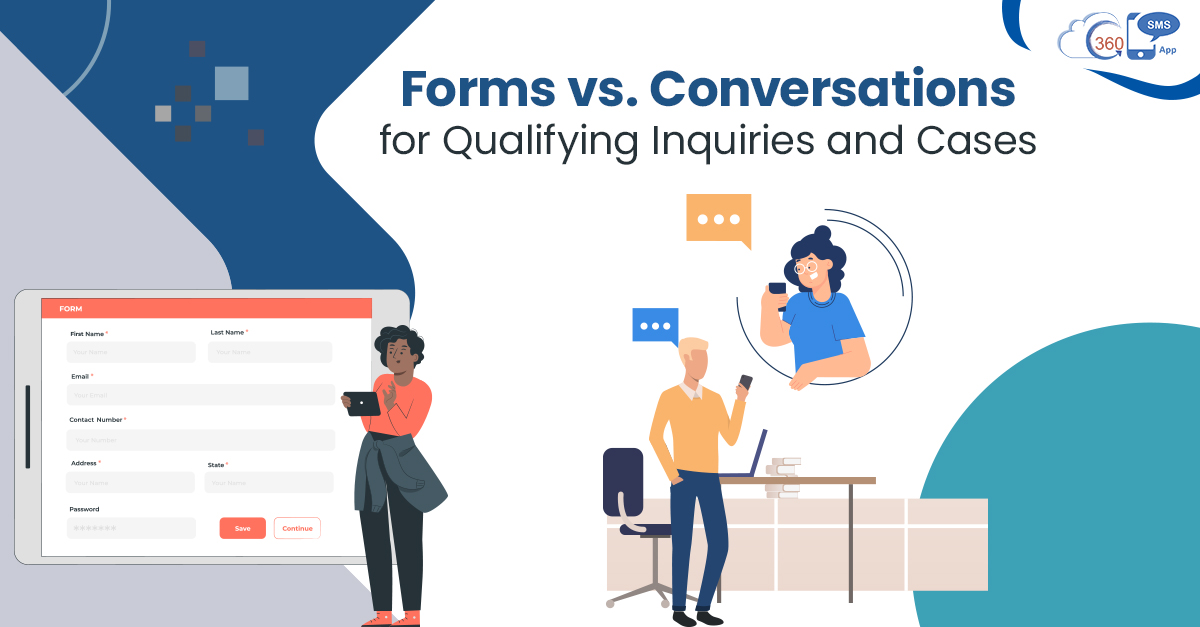 Forms vs. Conversations for Qualifying Inquiries and Cases
No matter which business vertical you deal with, the time of every team and department is crucial. Thus, proper time management has become a top priority for every business, irrespective of their vertical. With more time, employees are equipped to interact, engage and work on more leads to maximize revenue. Out of several business processes, inquiry qualification is also a vital business process required to hand over only qualified leads to the sales team. This drains a lot of time for employees and hampers their productivity. But knowledge of forms vs. conversations can help you to accelerate the inquiry qualification process by choosing the appropriate method. This way,  you can hand over only quality leads to the sales team that are worth time-spending.
Why is it Important to Qualify Inquiries?
People inquire with different purposes. It could be they want to enquire about exclusive product functionalities, additional benefits, or any other. So, every incoming inquiry is not worth chasing or needs your time investment. 
Else, if your sales team would invest time without qualifying inquiries, they may end up wasting their time on inquiries that are unlikely to convert. Therefore, inquiry qualification becomes extremely important to identify which inquiry is worth your time and which is not. If organizations know how to qualify inquiries with texts, it could save a lot of time for them.
Ways to Qualify Inquiries-
Forms Vs. Conversations
Forms
Before working on any inquiry or lead or pitching in your business offerings, it is vital to know whether your products or services matching to the requirement of a prospect or not. To do this, you can automate the process by triggering forms in the event of the specified incoming keyword. 
In inquiry qualification forms, you can add multiple questions related to the various aspect, which could help you gather important information and understand their requirement. This includes name, email, website address, phone number, address, company name, job role, company size, location, industry, business challenges, budget, area of interest, etc. 
This way, you can easily capture their personal details, identify whether they are within your target market or not, and find out their business issues.  This is one way to qualify inquiries faster with the help of automation. Not only for inquiries but firms can also count on automated texting for meaningful and speedy interactions too.
One-on-one Conversation
Many times, people inquire through SMS or WhatsApp messaging, and their inquiries do not contain specified keywords to trigger automated forms. So, agents can also get into the one-on-one conversation to resolve their inquiries faster and capture crucial details while interacting. This is also a productive way to qualify inquiries with personalized interactions through Salesforce messaging.
Forms Vs. Conversations: Which one is better?
Understanding forms vs. conversations, organizations can pick the case-appropriate method for streamlined processes. As employees cannot converse personally with each client, automated inquiry qualification forms can help to capture details at scale faster. Also, they can qualify numerous inquiries at once this way.
On the other hand, when customers interact through various channels like SMS, WhatsApp, Facebook, Viber, WeChat, etc., agents can get into the one-on-one conversation to answer their queries and qualify inquiries simultaneously during the conversation. This way, they can find out the potential of every incoming inquiry through different channels.
Handover Only Pre-qualified Inquiries to Team Members and Maximize Revenue
Every incoming inquiry is vital to a business that should never go unchecked. Else it could cost you a loss of opportunities. So, organizations can opt for the automated inquiry qualification process for bulk qualification. Also, they can choose conversational messaging to engage one-on-one and find out the potential of an inquiry if required. This would help to save a lot of time for the sales team. Also, if organizations transfer pre-qualified inquiries or leads, teams members can invest their time in hot leads and maximize conversions.
To know more about how you can qualify inquiries and leads faster and conveniently, get in touch without our experts at sales@360smsapp.com or contact us here.