Improving Salesforce Appointment Booking with Salesforce SMS Messaging
Undeniably, appointments and meetings are worth considering aspects of business and open up ways for more business opportunities when handled properly. 
Ineffective handling of appointments and bookings in Salesforce can lead to loss of opportunities and slower business growth.
When appointments are not managed properly, businesses may witness an increase in customer no-shows. In case of customer no-shows, it is difficult to use resources effectively as businesses cannot schedule new appointments at the last moment. This affects the overall productivity and efficiency of resources. As a result, the available resources are not utilized properly.
Above all, one of the major setbacks businesses may face due to improper handling of appointments is customer discontentment. This is because it can make your customers wait for a longer time, leading to customer frustration and adversely affecting your brand reputation.
But SMS in Salesforce can make the life of employees much easier when it comes to managing appointments in Salesforce. 
In this blog, we will dive deeper and understand how businesses can streamline their appointment booking process and create new business opportunities by sending SMS via Salesforce. Also, we will discuss how businesses can use SMS before and after scheduling appointments.
Using SMS for Salesforce for Managing Appointments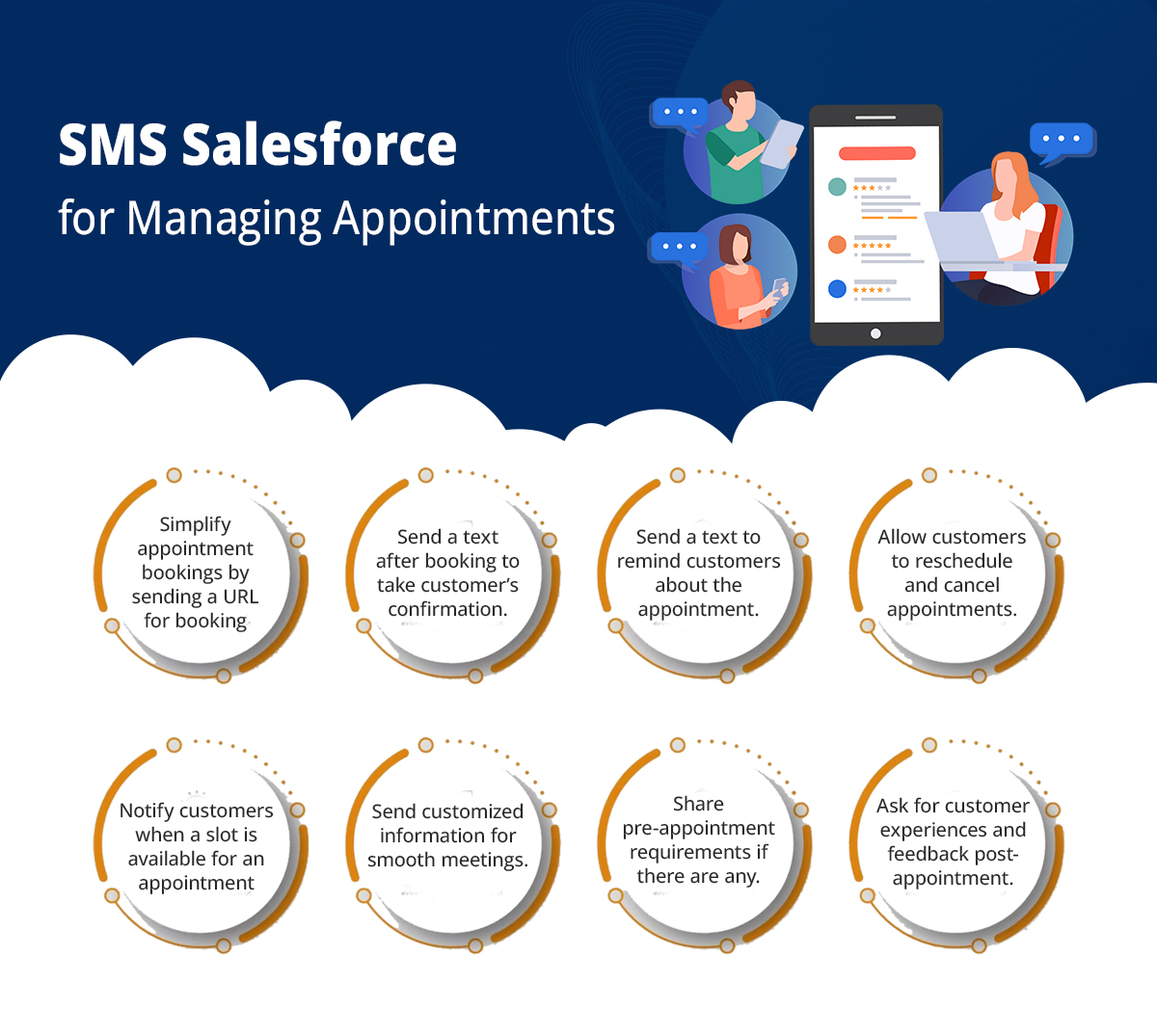 Not only just to schedule and manage appointment bookings, but you can also use SMS for Salesforce before and after booking appointments for meaningful conversations. So let's find out the potential of SMS messaging for appointments.
Simplify Appointment Bookings with Salesforce SMS
Convenience is the best thing you can offer to your customers. And this is something you can offer concerning appointments also. For this, Salesforce SMS messaging can help you to a great degree. 
According to statistics by G2, 85% of customers wish to receive an SMS for communication instead of a voice call or an email.
You can send a URL in Salesforce SMS for Calendly booking and allow your customers to choose their preferred appointment date and time, simplifying the booking process. 
Apart from this, if you don't wish to send a URL, you can ask them to text a specific keyword to schedule an appointment. 
Send Confirmation after Booking
You can automate a confirmation text once a customer books a meeting using a Calendly URL. With this method, your prospects can review the appointment details and ask for changes if needed. This will prevent them from back-and-forth efforts to request changes in appointment details.
And if a customer text you the desired keyword for booking an appointment, you can choose a date and time depending on the slot's availability and send a confirmation text asking customers to confirm or change. 
Send a Text to Remind of the Appointment
No-shows at the time of appointment are the major issue that most businesses face concerning appointments. 
Sending SMS appointment reminders is a simple yet powerful way to reduce no-shows. You can schedule automated SMS reminders a day or a few hours before the appointment, ensuring that customers are well-prepared and less likely to forget.
According to Webinar Care, a reduction of 29% in no-shows has been witnessed with the help of automated reminders.
Allow customers to Reschedule and Cancel
Customer convenience is always a top priority for every business. No customer should feel stuck after booking an appointment with a brand. Therefore, you should be flexible enough to support rescheduling and cancellation of appointments. 
With the help of  Salesforce SMS, you can facilitate the rescheduling or cancellation of appointments. You can send a link or keyword that customers can use to easily modify their appointments via text.
Notify Customers When a Slot is Available for an Appointment
Many times, customers realize after booking an appointment that they can't make it to the scheduled appointment day or time. This leads to cancellation or rescheduling of the appointment, which frees up a slot for other prospects and customers.
If an appointment slot becomes available due to a cancellation, you can notify customers on the waitlist via SMS, giving them a chance to snag the open slot.
Send Customized Information about Appointments
Once an appointment is booked, you can do much more with the help of Salesforce SMS to add convenience to your customers and improve their experiences. At the time of the appointment, prospects may have several questions in their mind, including whom to meet, where to meet, etc. You can easily assist your prospects with this concern also with SMS.
By using SMS Salesforce, you can provide customers with specific details about their appointments, such as the name of the staff member they'll be meeting, the location, and any instructions they need to follow, making things easier for your customers.
Share Pre-Appointment Requirements 
For successful meetings and appointments, sometimes documentation is also required. Using SMS Salesforce, you can easily share pre-appointment requirements if any specific document needs to be carried by the prospect. 
If any other important information needs to be shared with customers, you can also share that conveniently through SMS.  This can help you avoid repeated meetings and also prevent your customers from repeated visits that may be required due to a lack of required documents. 
Ask for Customer Experiences and Feedback Post-Appointment
Gestures from a brand can help build long-term relationships. After meeting customers, you can send a 'Thank you' SMS to thank your prospects for their visit and time. In addition, you can also request them to share their meeting experiences and feedback. 
This can help you understand what needs to be improved when meeting your new prospects and customers. Further, based on the collected data, you can tweak your approaches.
Manage Appointments Better and Faster with Salesforce SMS
There are enormous ways to use Salesforce SMS for appointments and bookings. With the knowledge of different types of texts, you can send before, after, or while scheduling an appointment, you can manage your appointment and booking in a much better way. This helps you streamline the most important business activity that can open doors for several new opportunities. Also, you can reduce no-shows and effectively use available resources, leading to more successful meetings and more deal closures.
Want to get started with advanced texting for effective management of Salesforce appointments? Turn to our experts at care@360smsapp.com or click here to contact us.
FAQs
The fastest and most effective way to manage appointment booking is through Salesforce messaging.
By sending a Calendly URL in the text, you can allow your customers to book an appointment by choosing their preferred date and time. Also, if you don't want to send a URL, you can ask customers to send a desired keyword so that you can book an appointment as per the available slots.
You can send a variety of texts to manage appointments effectively. You can send an SMS asking for the desired keyword to book an appointment. Once an appointment is booked, you can send a confirmation text with the appointment date, time, and venue. In the confirmation text, you can ask customers to send specific keywords if they want to confirm, cancel, or reschedule an appointment. You can also schedule automated appointment reminders at different intervals to reduce no-shows.
Quiz Time
What is the powerful way to use SMS to reduce no-shows at the time of appointment for businesses?
A) By automating voice calls for appointment confirmations.
B) By allowing customers to schedule appointments through emails.
C) By sending automated SMS reminders about appointments.
D) By providing in-person customer service for appointment bookings.
Show Answer: C) By sending automated SMS reminders to reduce no-shows.