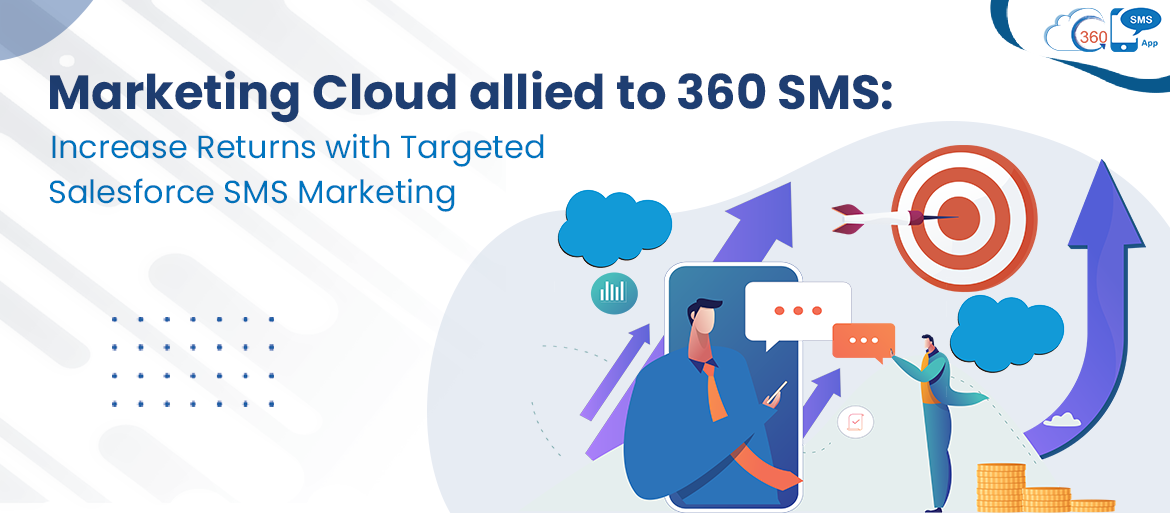 A Comprehensive Study of 360 SMS Ringless Voicemail
A thin line between the leads and qualified leads makes it more challenging for marketing and sales representatives to find and qualify high-quality leads. Not only, it drains time and effort, but it hampers the overall efficiency and productivity of the team. So, being the most effective marketing automation tools, Marketing Cloud and Pardot fade away such lines and lets you identify the most promising leads in no time using text messages.
Significance of Salesforce Marketing Cloud Text Messaging
Text messages allied to platforms like Pardot & Marketing Cloud opens floodgates of opportunities to track and target audiences and connect at various touchpoints. Thus, by integrating an advanced texting app with Salesforce marketing cloud SMS setup, users can effortlessly head to effective Salesforce SMS marketing and obtain high investment returns.
Sidestepping traditional methods like door-to-door marketing, organizations can revamp their marketing strategies with Salesforce marketing cloud text messaging. Also, they can nurture and build long-term relationships understanding their customers.
The 360 SMS is a Salesforce native and advanced texting solution loaded with numerous innovative capabilities. With this app, you can extend the texting capabilities of the Pardot & marketing cloud. Further, this helps you boost your B2B and B2C marketing pursuits.
How Does Pardot & Marketing Cloud Integration with 360 SMS Can Help You?
360 SMS is a highly customizable tool that can easily fit your company's specific use-case. By integrating 360 SMS, you can perform actions in Salesforce based on survey responses. You can create a task, update fields, alert Salesforce users and add or remove recipients from campaigns with the Action Handler feature.
Further, with Marketing Cloud and 360 SMS app, you can automate the most usual marketing and sales tasks. This helps to cut back on manual work by putting them on autopilot. On defined actions like creating or updating a record, users can trigger an automated SMS through Process Builder. 
Decide on SMS Day & Time to go out, in Advance 
Apart from this, SMS scheduling is also a functionality that 360 SMS adds to your Pardot & Marketing Cloud. The marketing cloud and 360 SMS integration makes it feasible to schedule and send text messages at a preferred time.
More importantly, 360 SMS allows you to do it much cost-effectively and speedily through its automation capability. Also, it prevents you from paying high Salesforce marketing cloud SMS pricing.
Out-of-the-box Automatic Integration
Apart from standard automation through Process Builder, Flows, workflows, etc., the 360 SMS adds out-of-the-box automation capabilities to your Marketing Cloud.
With a unified view of customer's data, agents can design Surveys, polls, or decision trees to capture data at scale. Agents can create a series of questions and trigger the next question based on keyword response without expert assistance. The best part is you don't need a separate Salesforce marketing cloud SMS shortcode to send SMS. You can bring your own numbers to perform MessagingOps at scale.
Get Meaningful Insights and Personalize Interactions at Every Turn
The powerful integration of 360 SMS with the marketing cloud and Pardot lets the sales and marketing executives gauge prospects' behavior across all marketing channels and incorporate the power of text messages accordingly. For targeted marketing, marketing cloud SMS integrations empower teams to intrigue users, identify quality leads, nurture, and convert them.
The capabilities of 360 SMS and marketing cloud make it easy for marketers and sales personnel to communicate effectively. They can personalize communications and connect with the audience at the right time with unified customer data, insights on customer journey across the various channel, and texting capabilities.